MainGate has begun selling a variety of Indianapolis Super Bowl XLVI merchandise—the first products available for the 2012 Super Bowl, to be held next February at Lucas Oil Stadium.
Through an agreement with the National Football League and the Indianapolis Colts, items ranging from T-shirts and sweat shirts to mugs and pennants are available exclusively through ColtsProShop.com and at the Colts ProShop in Lucas Oil Stadium and Circle Centre mall through the end of July.
In August, the NFL will release the 2012 Super Bowl items at other retail outlets nationwide.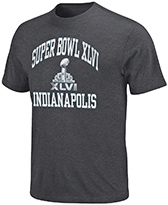 2012 Super Bowl merchandise will be available exclusively in Indianapolis through July 31. (Photo Courtesy MainGate Inc.)
Super Bowl XLVI merchandise went on sale locally July 1, and will continue beyond the event date. The assortment of products available locally will change and grow as it gets closer to game time, said MainGate CEO Dave Moroknek.
The stores at both Circle Centre and Lucas Oil Stadium have been reconfigured to highlight 2012 Super Bowl products, Moroknek said. And a new tab for Super Bowl merchandise has been placed on ColtsProShop.com.
Indianapolis-based MainGate is the exclusive merchandiser of the Colts, Detroit Lions, Minnesota Vikings, Washington Redskins, Tennessee Titans, NHRA, IndyCar Series, Susan G. Komen Race for the Cure, and Danica Patrick Racing, among other properties. MainGate also operates the online merchandise business for the St. Louis Rams, Kansas City Chiefs, U.S. Golf Association, LPGA and Kentucky Derby.
Please enable JavaScript to view this content.