The city is bidding work to repair concrete and add a green roof to the Meridian Street Bridge adjacent to downtown Union Station.

The project's cost is estimated between $350,000 and $400,000. It will be funded with a $50,000 grant from Citizens Energy Group, with the remainder coming from proceeds from the downtown tax-increment financing district, said Sarah Holsapple, a spokeswoman for the city's Department of Public Works.

Use of downtown TIF district funds, which go to pay off debt on projects or fund improvements in the downtown area and nearby, have been scrutinized in recent months. Some critics argue those could instead be used to pay off debt more quickly.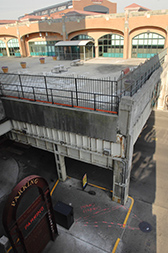 The city will spend about $350,000 to replace the bridge's concrete deck. (IBJ Photo/ Perry Reichanadter)
In the last year, the city has set aside $24 million for projects that include renovations at Indianapolis City Market, infrastructure for the North of South development and, most recently, a renovation of Bush Stadium, which lies outside the district.

The bridge repair work includes putting in a new concrete deck with improved drainage. That will help eliminate leakage underneath the bridge.

The green roof is designed to capture some of the water, which eases strain on the drainage system, particularly in heavy rains.

The project is expected to start later this month and be complete by late September.