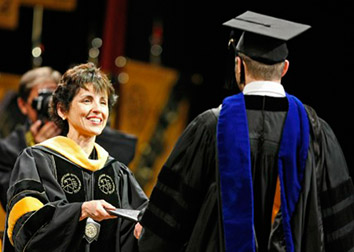 A 12-member committee of Purdue University trustees, administrators, professors and students has been named to head up the search for a new school president.
The committee announced Thursday will be looking to replace Purdue President France Cordova, who said last week she would step down next summer when her contract expires.
Purdue trustees chairman Keith Krach tells the Journal & Courier that he believes the opening will attract some very distinguished candidates.
The committee will be led by Board of Trustees member Michael Berghoff, who is the president of Lenex Steel Corp. of Indianapolis. Other committee members include athletics director Morgan Burke and the immediate past president of Purdue Student Government.
Krach says he doesn't expect the Board of Trustees to discuss the presidential search during its meetings next week.
Please enable JavaScript to view this content.