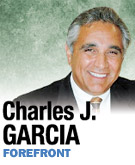 "It always makes it easier to fight a war if you demonize people so that you're not killing human beings, you're killing the devil," retired Army Col. Harry Summers once said.
The concept of demonizing groups of people is not new. Slavery in this country was justified in the minds of slave owners.
"Slaves were not considered human beings, and since they were not human beings, anything could be done to them," Kenneth Stampp said in "The Peculiar Institution." America demonized Italian immigrants in the early 1900s and Japanese-Americans in the 1940s.
Germany demonized Jews in the '30s; England did so with Irish immigrants in the '70s; and Iraq with the Kurds in the '90s. American cities have demonized to varying degrees: San Francisco with the influx of Cambodians in the '70s and Postville, N.Y., with the influx of Chasidic Jews and Hispanics in the late '90s.
It is in the demonization of any group that all minorities become targets regardless of their citizenship or country of origin.
Some vote-hungry politicians feed their constituents with half-truths, enabling them to believe that some of these groups are to blame for job shortages, economic problems, criminal activity and drug smuggling. They use scapegoat tactics to gain votes by pandering to fears—stoking the fires of hatred, polarizing communities, and furthering the division between Republicans and Democrats.
Within parties, we have seen reasonable politicians cave to the extremism of their party-mates who fuel their constituents' senses of suspicion, resentment and hatred. Reasonable politicians begin their descent into hell as they look away while others within their constituency have their civil rights eroded.
There are those in this country who claim that their issue with illegal immigrants is one of "fairness," akin to waiting in line at Disneyland, the bank or the grocery store: No cutting in; wait your turn!
The majority of immigrants who enter the United States legally qualify for visas because they have family here who can sponsor them. A smaller number are granted visas because they have advanced degrees and/or specialized skills and have jobs awaiting them.
Under current law, a person who wants to immigrate to the United States, but has neither family nor a job waiting for them, has two options: Enter illegally or stay in his or her country of origin.
Like any caring parent wanting better lives for their children, the majority choose the first option. It is a serious risk, but to remain locked in poverty and corruption and do nothing to escape it is a death sentence for many. What the average American does not know is that the immigration line can take a lifetime, and while children are starving and families are being murdered, one simply cannot wait; one must act.
We in this country would behave no differently if it were our family in jeopardy.
Nationally, there is talk of changing the 14th Amendment to make it easier to expel illegal immigrants' children or to deny them rights. If we grant our politicians the right to rewrite the 14th Amendment, what is to stop our country from rewriting other parts of the Constitution to keep us down, out and powerless?
Today, in the Hoosier state, a state that prides itself on hospitality, we have begun our collective descent. Many have forgotten on what shores they live. Unless Native American, one is an immigrant or the descendent of one.
In the hunt for brown-skinned illegal immigrants, all brown-skinned people become targets. The demonization of Mexicans and South Americans is upon us, and certain of our politicians are looking away while civil rights of their own constituents are being eroded.
I urge us to stop the polarization, to be a wiser Indiana, to emerge as thoughtful leaders who require their politicians to support with evidence-based facts the claims they make. I urge us to come together with sensibility and compassion for all, for, as George Santayana said, "Those who cannot remember the past are condemned to repeat it."•
__________
Garcia owns Garcia Construction Group in Indianapolis and is a past chairman of the Indianapolis Chamber of Commerce. Send comments on this column to [email protected].

Please enable JavaScript to view this content.