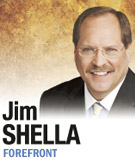 The Indianapolis Star was hit hard by recent layoffs ordered by Gannett Co., its parent company. As a result, we've all heard dire predictions about the future of print journalism. And there is a defensive attitude at the Star, where Editor Dennis Ryerson promises that the paper will be around for a long time. Here's a little peek at what the future may bring from my perspective.
I started competing against the Indianapolis Star in 1982. (At least I'd like to think that's the case. If there is some disagreement at the Star, I understand.) Then, I mounted that competition using a manual typewriter, and when I was out of the office, someone took phone messages for me on little pink slips of paper (how did we live without voice mail?) We created TV stories on videotape in 1982 and used electronic editing, not the digital video and computer editing we use now. We had three newscasts a day instead of six—or is it seven? There was no Internet, no websites, no Facebook, no Twitter.
It was a different world.
Let me just back up a little and explain how newspapers play an important role in my life. When I was growing up, my mom and dad subscribed to three daily newspapers. We lived close to Sioux Falls, S.D., so we depended on the Sioux Falls Argus-Leader for most of our news. We lived two miles across the state line, however, and identified more with Minnesota. That meant we also had home delivery of the morning Minneapolis Tribune (with sportswriter Sid Hartman) and the afternoon Minneapolis Star (with columnist Jim Kloubuchar.) I read all of them. It may be why I'm in the news business now. (By the way, the Argus-Leader is now a Gannett paper. The Star and Tribune merged to become the StarTribune, and you can't get the daily print version in my hometown.)
Subscriptions for the Jasper Journal, my hometown weekly, and the Pipestone Star, a weekly published in the county seat, also came to our home. At school I would read yet another daily in the library, the Worthington Globe, because it had the best local sports coverage in our area. Looking back, my newspaper reading habits were a lot like surfing the Internet before there was one.
Now, I hold true to long-held habits and subscribe to both the Indianapolis Star (popular name, eh?) and IBJ. My daily routine requires me, upon awakening, to get a treat for Astro the dog, start the coffee pot, and head out to grab the paper. I read from front to back every day. I have it saved when I'm on vacation.
But lately, it takes a lot less time to read the paper, and I find that's OK because I feel the need to go online before I head out to work. On the Internet, I read portions of The New York Times and the Washington Post and check out websites including Politico and the Huffington Post. I also feel the need to check out wishtv.com (I know, cheap plug, but it's true) and other local websites to see what's happened overnight, even indystar.com.
It's a different world.
Years ago, I watched a presentation where the leader of a think tank predicted that newspapers would always exist because, he said, "You can't take a computer in the bathroom." That was before the invention of smartphones. Now you can.
I don't want newspapers to go away. I enjoy absorbing my news in silence in the morning. I appreciate the fact that a team of people go through a day's worth of information and try to prioritize it for me. But I also know that I'm in a shrinking minority. I sit in meetings at work where it's clear that I'm the only one who has read that day's newspaper.
And I recently dropped my subscription to the Jasper Journal. It was taken over by the Pipestone Star, and I can read that online.•
__________
Shella is WISH-TV Channel 8's political reporter as well as host and producer of the Emmy-nominated "Indiana Week in Review." Send comments on this column to ibjedit@ibj.com.

Please enable JavaScript to view this content.