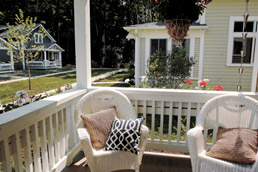 Inglenook, Carmel's new "pocket" neighborhood, is designed to emphasize community over cars. (IBJ Photo/ Perry Reichanadter)
A veteran local homebuilder is tearing up the suburban residential playbook with a new project in Carmel that offers tightly spaced bungalows clustered around grassy courtyards.

Homes at the Inglenook neighborhood along 99th Street west of Haverstick Road feature living and dining spaces up front while garages are situated on a stone-paved alley in back.

Houses are clustered around the courtyard, and mailboxes are arranged together with a sitting area where residents can peruse their mail as they catch up with neighbors.
Land
"We're trying to put the emotion back in buying a house," said developer Casey Land, who launched Land Development & Building Inc. in 2008 after stints at Shiel Sexton and the predecessor to Simon Property Group. "You're buying a lifestyle, not a box."

Land finished up the first six cottages and opened a model unit in late June. The first phase of the project calls for 27 units on about five acres, to be built one cluster at a time so no one has to live on an empty courtyard. Ultimately, the 27-acre site could accommodate about 130 homes.

The colorful homes have custom finishes including built-ins, large walk-in closets and hardwood floors. Windows are strategically placed to allow for proximity without sacrificing privacy.

Prices range from $225,000 for a two-bedroom, single-story cottage up to about $400,000 for a three-bedroom, two-story cottage with a finished basement and 2-1/2-car garage. Sizes range from about 1,000 square feet to 1,700 square feet. Finished basements add another 1,000 square feet.

One home has sold, one has been reserved, and three buyers are discussing trim levels.

"I have been playing with this idea on and off in bits and pieces for more than a decade," said Land, 55, who lives in Indianapolis with his wife and has three adult children. His degree is in civil engineering from the University of Notre Dame.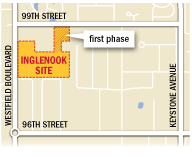 Land paid about $4 million—or $150,000 an acre—for the property. The seller was Steve Pittman, who had rezoned the land to allow for row houses and quads. Demand for those fell apart with the housing market.

Land pitched the cottage idea to several banks. The bankers said they loved the concept, but of course, could not finance it. So he recruited private investors, which he declined to identify.

The project is named for the nook beside an open fireplace; the community is designed to create a similar feeling of coziness.

Land tapped architect Ross Chapin, an advocate for and developer of infill cottage neighborhoods across the country, to design Inglenook. Chapin has partnered on six such projects and designed another 40 out of his office in Langley, Wash.

The essential features of Chapin's "pocket neighborhoods" of six to 10 homes are an orientation toward a shared community garden and a diminishment of the influence of cars.

"The main active rooms of the houses—the living room, kitchen and eating area—look out to the shared commons," Chapin said. "Privacy is gained by design, not distance. Your next-door neighbor can never look into your house because of staggered windows and skylights."

He's obviously not a believer in "Good fences make good neighbors." When communities are designed as a whole, instead of individual houses in a vacuum, Chapin said, you don't end up with bedroom windows facing each other and tall privacy fences.

The communities are designed for infill sites like the one in Carmel and bring more homes per acre than traditional single-family developments, lowering their impact on the environment.

Chapin said the homes appeal to niche buyers. Values have held up well compared to the stereotypical housing development with curvilinear streets and homes in various shades of beige.

"There are a million average houses," Chapin said. "There are just a handful of higher-quality, thoughtfully planned and designed houses. Those will stand out in comparison."

The timing could work out well for Inglenook, since its first units are hitting the market just as the economy begins to stabilize, said Jim Litten, CEO of locally based F.C. Tucker Co.

The development brings a new-to-market concept at a price point that seems reasonable for Carmel, a tough feat for new-construction residential given a backlog of unsold existing homes, he said. Selling points include easy access to Interstate 465, proximity to The Fashion Mall at Keystone, and a stronger neighborhood feel than other new-home developments.

"Something like this is healthy for the market because it gives people choices," Litten said. "And getting that first phase built shows people [Casey Land] has a track record. Nobody wants to be the pioneer, like 'Little House on the Prairie' with no one living around you."•