The $1.4 billion merger between Southwest Airlines and AirTran Airways—the second- and third-busiest carriers at Indianapolis International Airport—has resulted in only a handful of flight reductions here, but they're significant to some in the business community.



• AirTran has eliminated service between Indianapolis and New York's LaGuardia Airport. Delta Air Lines still runs a nonstop flight to LaGuardia.

• AirTran also eliminated service to Baltimore-Washington International. Dallas-based Southwest still flies that route from Indianapolis.

• In September, the newly assimilated AirTran plans to eliminate service from Indianapolis to Milwaukee. Frontier Airlines still runs that route.

"The Southwest-AirTran merger is not significantly affecting the airport," said airport authority spokesman Carlo Bertolini.

So far, at least, the merger is not as disruptive as the one announced in 2008 between Delta and Northwest Airlines.

Back then, Northwest was the busiest carrier at Indianapolis International. The airline made Indianapolis a focus city in 2004, moving in as No. 1 ATA Airlines neared bankruptcy.

The merger of Northwest into Atlanta-based Delta—the largest carrier at Indianapolis—resulted in the loss of flights to eight markets.

Three of those were nonstops that have yet to be replaced by other carriers: to Austin, Texas; Hartford, Conn.; and San Antonio.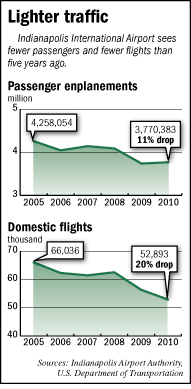 Northwest and AirTran had also flown summer nonstops to San Francisco, but that service ended in 2008.

Bertolini said the discontinuation of the nonstop San Francisco flights appeared to be based on recession-induced declines in passenger traffic as well as fuel prices soaring to historic highs.

"Today, San Francisco is among the top markets in terms of daily passenger demand from Indianapolis, and we have heard from the local business community that nonstop service to San Francisco would be valued," Bertolini said.

More nonstop flights can't come soon enough for business fliers such as Robert Auer, of Indianapolis-based SB Auer Funds LLC.

Auer has found it increasingly difficult to book a business trip to destinations such as New York City that doesn't involve changing planes, which dashes productivity, Auer said.

"There's really no way to get there without spending five hours each way … for what basically is a two-hour flight," he said.

Moreover, the fare to go with some connecting flights "is at least double what it was when I could get a nonstop and there was competition."

Auer said he used to have three nonstop flight options to the New York area. Lately, there's been just one nonstop to LaGuardia, via Delta.

So sometimes that means staying overnight and booking a hotel, which adds to his costs.

"I absolutely cannot get to New York leaving very early [in the morning], have a meeting, and get home that night. I used to do that about three years ago, but that ended as a logistical possibility about two years ago."

Auer is by no means the only businessman seeking more nonstop options.

For years, leaders in the technology sector clamored for nonstop air service to San Francisco, San Jose and San Diego, for example.

"It's not a silver bullet, but I think it would help the industry … it is a good idea for us to keep trying to improve direct flight service to and from Indianapolis," said Jim Jay, president and CEO of Indiana's information technology initiative, TechPoint.

Curiously, such routes may not be as important as they once were, or at least not as important as maintaining a skilled work force and tech-friendly business environment.

Jay noted that a number of the region's most promising tech firms have managed to land funding in recent years despite no easier way for Silicon Valley venture capitalists to get here.

One of them, Indianapolis-based server-maker Scale Computing, in recent years landed a ton of funding from venture capital firms in the Silicon Valley.

"Obviously, the relative convenience of direct flights hasn't kept venture capital from finding its way to high-tech investments here," Jay said.

Bertolini said airport officials continue discussions to recruit new nonstop air service. The climate for such discussion isn't ideal, however, with many airlines reducing aircraft capacity amid high fuel prices.•