ANDERSON—Move over, Lysol. Make tracks, Microban.
Two Indiana military veterans figure they have a better way of combating microbes that form bacteria, fungi, mold and mildew.
Nate Richardson and Dave Parker have a big supply line, too, in the form of the nation's largest home improvement chain.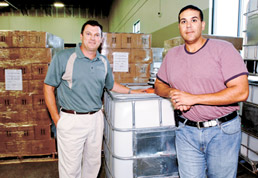 Coeus founders and military vets Dave Parker, left, and Nate Richardson know the value of antimicrobial products. (IBJ Photo/ Perry Reichanadter)
Last month, their Coeus Technology began shipping "Ultra7" mold preventive—starting at $12.97 a quart—that consumers ordered through Home Depot's e-commerce site.
One might have better luck pressing the vets for battle strategies than finding out how the 3-year-old, eight-employee firm penetrated mighty Home Depot.
Let's just say it involved knocking on lots of doors and some help from fellow tenants at the Flagship Enterprise Center, a technology-based business incubator created six years ago by Anderson University and the city of Anderson.
"Some of the finest minds in Indiana are here at the Flagship—lots of talent that we drew on," said Parker, co-founder of Coeus and its top gun for sales.
"These guys all drink the same Kool-Aid. They're able to share," said Charles Staley, president and CEO of Flagship.
Staley said he's pleased to see Coeus, one of 20 firms at the college-campus-like center, making traction in the market.
"They're talking to other large organizations that could propel them" as well, added Staley.
Coeus should rack up sales of about $1 million this year, said Richardson, president and CEO of Coeus. It might not be much, but, he adds: "We make money right now. We're a profitable business."
Boyhood buds battle bacteria
While a relative upstart as far as companies go, Richardson and Parker, both age 40, go back a long way. They met in the ninth grade while living in Bloomington. Both attended Indiana State University; Richardson studied exercise physiology and Parker focused on aerospace.
Both went on to military service. Richardson served in the Army, including a stint in Iraq, until 2004. Parker served in the Air Force until 1998. He's also worked as a pilot for a private airline.
"Nate and I stayed in touch through the years," Parker said.
So how do boyhood friends who've seen the world get psyched about combat action against bacteria, mold, mildew and fungi? Maybe because Richardson knows what it's like to wear the same uniform, without washing it, for a week.
Or maybe it was the conversation they had with a mutual friend about the silane class of molecules, which have been used since at least the late 1950s in industrial applications such as for treating textiles.
"We did some research and found that this could be used by the consumer and for a lesser price," Richardson said.
About the time they formed Coeus, the demand for so-called environmentally friendly "green" products became the rage.
With help from chemists at Anderson University, Coeus developed its "MonoFoil" twist on silanes. The technology is touted as more environmentally friendly than the chemical triclosan, which is found in common antimicrobial products on the market.
For example, triclosan is a basis of the Microban additive used in everything from caulk to deli slicer machines. Triclosan has generated public health concerns in recent years, so much so that the European Union last year prohibited its use in certain products that come into contact with food.
Perhaps more important from a marketing standpoint is Coeus' claim that its product can remain effective for months in killing microbes, unlike popular triclosan products such as Lysol, whose effectiveness, once sprayed, is measured more in the range of minutes.
So from a selling standpoint, it means caretakers of the bounce house at Chuck E. Cheese or McDonald's don't have to spray down the place as often. A longer interval between cleanings is one of those selling points that haven't escaped Parker as part of his marketing pitch.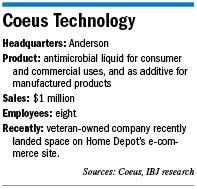 Just how MonoFoil works is hard to comprehend for a non-chemist, although the company said the process works in more a mechanical action—one that disembowels the cell membrane of microbes.
"It stabs it, bleeds it and electrocutes it," Parker said.
Besides the recent launch through Home Depot, Coeus has been selling its product to janitorial firms and for use in textile manufacturing.
But one big market eyed by the company is hospitals, which perpetually struggle to prevent secondary infections among patients.
Moreover, they also see big potential to supply the product for incorporation into any number of products that pose infection risks, such as imbedding it into buttons on electronics products, grocery cart handles, doorknobs—you name it.
The U.S. market for antimicrobial coatings is forecast to reach just shy of $1 billion by 2015, according to a recent study by San Jose, Calif.-based Global Industry Analysts.
'Lean and mean'
For now, Richardson and Parker are advancing in small, deliberate steps.
"The whole goal from the beginning is to run lean and mean," Richardson said.
Rather than invest in their own manufacturing plant, for instance, they outsource that work to a company in a state nearby. But Richardson, mindful of the more than 20,000 jobs lost in recent decades when General Motors abandoned its Anderson components plants, said the goal is to establish a manufacturing operation locally that could employ 50 to 75 people.
"We're here in central Indiana. We want to bring jobs back," he said.
Coeus does have a shipping facility just down the street from Flagship, and it's been hopping lately thanks to the new Home Depot channel.
Growth, particularly if the firm does its own manufacturing, will require investors. So far, the two former soldiers have poured their life savings into the business, along with putting their houses and farms on the line.
It's unclear how much competition Coeus could face. There are at least 16 companies in the antimicrobial coatings market, according to Global Industry Analysts. Some are also operating with silane-based antimicrobial technologies, including Pittsburgh-based BioSafe Inc., whose customers include thermoplastics makers who use BioSafe's additive.
Richardson said a number of these firms have not reached out directly to consumers. He figures Coeus is alone with a one-step process that can immediately disinfect, sanitize and leave a long-lasting barrier.
Meanwhile, Coeus could soon bring product to store shelves. The Home Depot online distribution channel is giving the company a good idea of which areas around the country are most interested in such a product, Richardson added.
"As we say, it's a street fight every day."•
 
Please enable JavaScript to view this content.