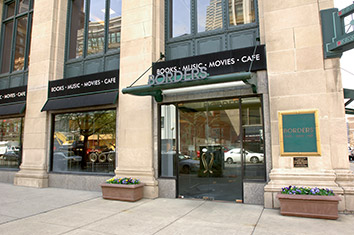 Borders Group, the nation's second-largest bookstore chain that once operated over 1,000 stores, appears headed for liquidation after a judge on Thursday approved its motion to auction itself off with an offer from a team of liquidators as its opening bid.
The move came after an offer made earlier this month from a private-equity investor disintegrated overnight.
Borders said it will accept bids until 5 p.m. Sunday and will give notice by Monday if no other bidder emerges.
Earlier this month private-equity investor from Phoenix offered $215 million for the company, plus the assumption of $220 million in debt.
But on Wednesday, creditors objected, saying that the agreement would not prevent Najafi Cos. from taking possession of the company and liquidating it immediately for profit. Landlords also objected.
Creditors said a bid from liquidators Hilco Merchant Resources and Gordon Brothers is stronger. They believe it would pay out between $252 million and $284 million in cash.
Ann Arbor, Mich.-based Borders closed three central Indiana locations as part of the reorganization following its Feb. 16 filing. Last month, the company identified another 51 stores it may be forced to liquidate to meet terms of an agreement with its lenders, including the Indianapolis airport location.
It also has locations in Castleton, Greenwood and Noblesville.
Creditors said in a court filing that they were hopeful Najafi would submit a higher bid, but the private-equity firm stood by its original offer.
On Thursday, Borders said it wouldn't seek approval for Najafi's bid at a scheduled hearing in the U.S. Bankruptcy Court Southern District of New York and designated the liquidators as the primary, or "stalking horse" bid.
Meanwhile, one analyst speculated that if Borders liquidates, that could spark a higher bid for its chief rival Barnes & Noble. Financier John Malone's Liberty Media made a $1 billion offer to buy Barnes & Noble in May.
Liberty Media has said it values Barnes & Noble for both its Nook e-reader business and its retail stores, so a full liquidation of Borders would increase the value of the retail side of the business, Janney Capital Markets analyst David Strasser said.
"This is perhaps an opportunity for a higher negotiated bid via Liberty or an entrance of another bidder," he wrote in a note.
Borders Group Inc. started with a single store in 1971, and helped pioneer the book superstore concept along with larger rival Barnes & Noble Inc. It was brought down by heightened competition by discounters and online booksellers, as well as the growth in popularity of electronic books.
It currently operates about 400 stores, down from its peak in 2003 of 1,249 Borders and Waldenbooks, and has about 11,000 employees.
Please enable JavaScript to view this content.