Printing Partners is one of the top 10 corporate arts supporters in the nation, according to the Business Committee for the Arts, a division of Americans for the Arts in Washington, D.C.
The top 10 list also includes 3M in St. Paul, Minn.; Macy's in Cincinnati; and Walt Disney World in Orlando, Fla., along with smaller companies. Awards will be presented at a gala Oct. 5 in New York.
The Indianapolis School of Ballet nominated Printing Partners for its effort to make the arts accessible to schoolchildren and new audiences, according to a Printing Partners press release.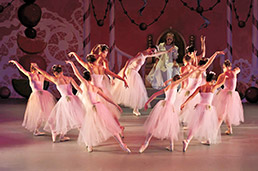 Printing Partners sponsors the Indianapolis Ballet School's "Nutcracker" performances. (Photo/Indianapolis Ballet Inc./Freddie Kelvin)
The company has sponsored the ballet school's "Nutcracker" performance the past two years, allowing Girl Scouts to attend a preview performance and providing tickets for employees and their family members.
Printing Partners also promoted the Indiana Repertory Theatre's "Partners Night at the IRT," which sold more than 800 low-cost tickets last season to people who might not otherwise have attended IRT performances.
Printing Partners is the title sponsor of the Indianapolis Symphony Orchestra's pops series and sponsors a number of other performing arts groups.
The company started its "Partners Grants" in 2004, which provide in-kind marketing support for clients, and has awarded $1.5 million worth of support since that time.
 
Please enable JavaScript to view this content.