Partners at Indianapolis' largest law firms are enjoying healthy pay increases despite the tough economic times.
The city's big three—Barnes & Thornburg LLP, Baker & Daniels LLP and Ice Miller LLP—collectively increased partner pay an average of 12.6 percent over the past three years, a span that included the worst recession since the Great Depression.
Partner pay at the three firms rose 8.3 percent in 2010, pushing the increase over the past five years to more than 20 percent, figures from American Lawyer surveys show.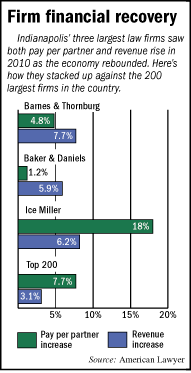 Ice Miller paid its partners an average of $590,000 last year, the most of any local law firm, followed by Barnes & Thornburg at $550,000 and Baker & Daniels at $425,000.
The salary increases mirror what's occurring nationwide within the legal profession, though the increase in partner pay at the big Indianapolis firms last year was slightly higher than the 7.7-percent average for the 200 largest U.S. firms based on revenue.
Many law firms nationwide are emerging from the recession in better fiscal health by shedding overhead and, perhaps more important, whittling down the number of attorneys who share a piece of the pie.
Dividing that pie fewer ways has helped drive up partner pay at both Ice Miller and Baker & Daniels. Both firms have reduced their roster of equity partners more than 6 percent over the past three years.
"There's certainly an increase in the discipline of who gets to share in the profits, and that's true everywhere," said Ward Bower, a legal consultant at suburban-Philadelphia-based Altman Weil.
Attorneys that make partner are typically divided into two groups: the equity partners, who have an ownership stake in a firm and share in its profits, and others who receive a set salary. Equity partners make more and usually command higher fees.
Over the past three years, the number of equity partners at Ice Miller fell from 110 to 102, and the number at Baker & Daniels declined from 110 to 103.
Barnes & Thornburg bucked the trend, going from 185 to 193 equity partners during the same time, mainly because of expansions into several cities.
Ice Miller partners last year received average pay increases of 18 percent—far higher than the 4.8 percent doled out at Barnes & Thornburg and 1.2 percent at Baker & Daniels, according to American Lawyer.
But Baker & Daniels' partners received a 12-percent raise in 2009 after absorbing cuts of 2.4 percent in 2007 and 1.3 percent in 2008. And Ice Miller's 2010 increase followed a 1-percent decline in partner pay in 2009. Barnes & Thornburg has managed to avoid cutting partner pay in recent years.
Antony Page, a business law professor at the Indiana University School of Law, attributed the increases in partner pay to prudent management.
"I don't think there's any real sort of mystery here," he said. "Essentially, what I keep hearing is that all three firms have been managed pretty conservatively."
The only secrecy is from the firms themselves, whose managing partners declined to discuss specifics. Only one, Tom Froehle of Baker & Daniels, agreed to an interview. The other two provided only e-mailed statements.
Their hesitancy exemplifies a long-standing practice within the generally conservative legal profession to keep financials close to the vest.
Baker & Daniels and Ice Miller said they don't provide financials to American Lawyer, though Froehle maintained the publication "significantly" underreported revenue and pay per partner at his firm.
Barnes & Thornburg declined to even divulge whether it supplies the information. For those firms that don't, American Lawyer says it uses its own research to come up with estimates.
Revving up revenue
Revenue at the Indianapolis firms is on the upswing, as well. All three recorded increases in 2010 that exceeded the 4-percent average for the nation's 100 largest firms and 2.2-percent average for the next tier of firms—101 through 200—the grouping they fall into.
Barnes & Thornburg led the way, with revenue of $260 million in 2010. The 7.7-percent increase from a year earlier landed the firm in the 109th slot on the top-200 list.
Since 2009, Barnes & Thornburg has entered Atlanta; Minneapolis; Columbus, Ohio; and Los Angeles.
Alan Levin, the firm's managing partner, said Barnes & Thornburg also was able to add clients by keeping rates in check.
"The firm's recent growth is a product of this conservative financial management, coupled with our ability to attract top legal talent to serve existing clients in new markets throughout the U.S.," he said via e-mail.
Ice Miller's managing partner, Phil Bayt, struck a similar tone, citing "cost management" and "increased productivity" for his firm's performance last year. Ice Miller's revenue increased 6.2 percent, to $129 million, making it the 172nd-largest firm.
Ice Miller's strongest practice groups included government—with a boost from the federal stimulus package—as well as litigation, employee benefits, labor, environmental and bankruptcy, Bayt said.
Baker & Daniels recorded $152.5 million in revenue in 2010, up 5.9 percent from 2009, making it the nation's 160th-largest firm, according to American Lawyer.
Froehle credited the growth partly to the opening of the firm's Chicago office, which has swelled from seven to 35 lawyers since 2008.
He said aggressively pursuing new business with existing clients helped as well.
"When we saw the economy turning, we really encouraged our people to go out and talk to clients and to find out how we could help them meet their challenges," he said. "I think it's been a very effective approach."
Bower at Altman & Weil isn't surprised the Indianapolis firms were able to weather the economic crisis and even boost revenue and partner pay while some firms in historically more volatile parts of the country faltered.
"Indianapolis is a pretty stable legal market, especially in relation to the East and West Coast markets," Bower said. "You don't have the highs and the lows."•
Please enable JavaScript to view this content.