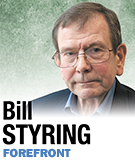 Washington, D.C., has itself all tied in knots over the debt-limit debate. Will we get some kind of budget cut/tax increase deal that averts a default on our Treasury debt? Beats me.
But I do know one thing. Hoosiers should thank the stars for the Wabash & Erie Canal Co.
Yep. The Wabash & Erie Canal Co. is responsible for how the Indiana constitution restricts what our governments can do with government debt. More pointedly, what they can't do.
Here's what happened.
Indiana became a state in 1816, but we don't operate under the original constitution. The reason? In 1825, New York opened the Erie Canal, bypassing Niagra Falls and providing a cheap water route from the Great Lakes to the Eastern seaboard. Suddenly, any farmer with access to a Great Lakes port could ship his grain to huge new markets, even to Europe.
Except this didn't do Indiana much good. Indiana didn't have a port on the Great Lakes in the 1820s. So, some ambitious people hit upon the idea of digging a canal linking Lake Erie to the Wabash River. Presto! One gigantic waterway from New Orleans, up the Mississippi, up the Ohio, up the Wabash, across Indiana, through Lake Erie, across the Erie Canal to the Hudson River and New York. The World is Ours.
It was the high-tech economic development project of its day.
As with many ecodevo schemes that sound great, this one didn't work. Indiana simply couldn't afford it. By the late 1840s, the state of Indiana was flat broke lending money to the Wabash & Erie. The Treasury contained nothing but mice and cobwebs.
Time for a new constitution. We convened a constitutional convention in Indianapolis in 1850. The members sweated with no air-conditioning and produced a draft constitution, duly ratified by the voters in November 1851. They sure didn't like debt.
Article 10, Section 7, says (free translation) that any public official who so much as looks at a piece of W&E Canal paper will be drawn and quartered and his remains placed in a Dumpster behind the nearest Walmart.
Anti-debt sentiment didn't stop there. Article 10, Section 5, says Indiana may borrow only to "repel invasion, suppress insurrection or cover a casual deficit." Kentucky invades, the KKK marches on the Statehouse with torches and pitchforks—OK to borrow. "Casual deficit" has never been defined. Presumably if a deficit wears jeans and loafers, it's casual.
Local governments and schools have their own "debt ceiling" because they forgot the bad experience of the canal.
This time, it was another high-tech "economic development" whiz-bang.
Railroads.
In the immediate post-Civil War era, every town wanted a railroad. We got such exotic routes as the Bloomington Bedford & Bluffton—nowhere to nowhere to nowhere.
Many went bust borrowing money, either because the developer was a crook or the project was hopelessly infeasible.
In a "stop us before we borrow again" attempt, Article 13-1 was amended in 1881 saying "no political or municipal corporation shall ever become indebted, in any manner or for any purpose, to an amount in the aggregate exceeding two per centum on the value of its taxable property, and any bonds or obligations in excess of such amount shall be void." Holders of Indiana school and local government debt might want to reread the Indiana Constitution.
This worked fine for a while, but today it's a joke. There are few local units not in hock way beyond 2 percent of their assessed property values. Schools build fancy buildings by creating phony "school building corporations." Civil units create, among other things, redevelopment commissions to issue debt (poster child is the $185 million Carmel Performing Arts Center).
All in all, though, not a bad performance, at least compared with other states. Take a trip to Delphi. You can enjoy a canal ride on what was left of the W&E. We owe a debt (pun intended) to the Wabash & Erie Canal.•
__________
Styring is an economist, a former Indiana Chamber of Commerce lobbyist, and a former senior fellow at the Hudson Institute. Send comments on this column to ibjedit@ibj.com.

Please enable JavaScript to view this content.