Indianapolis Public Schools students start class Aug. 8, but dozens of youth-serving organizations are focused on Oct. 10.
That date marks the start of IPS' first two-week "intersession," when hundreds of families will be looking for a condensed version of the programs they have typically used only during summer vacation.
Community centers, Boys and Girls Clubs, YMCA branches and others have pledged to provide those programs as IPS moves to a so-called "balanced calendar." At this point, however, leaders at some of those agencies are not sure how they'll pull it off.
"I would like to say to you, 'We have this all figured out,' but we don't," said Niki Girls, executive director of the Concord Neighborhood Center on the south side of Indianapolis.
The IPS board voted in November to adopt the calendar, which shortens summer vacation and introduces longer fall and spring breaks. The idea is to give kids less time to forget what they've learned and provide more opportunities to catch up.
Girls is all for the concept, but she's worried she won't be able to find enough qualified staff to handle a sudden spike in demand for all-day care. Concord serves about 115 kids in summer and supplements its staff with college students, who will have gone back to school.
Scheduling part-time staff is the major challenge for most organizations, said John Brandon, executive director of the Marion County Commission on Youth.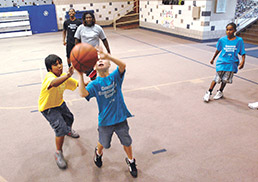 Concord Neighborhood Center is among the agencies grappling with new vacation schedule. (IBJ Photo/ Perry Reichanadter)
Concord won't be listed in a brochure of intersession programs that IPS is compiling for parents of its roughly 33,000 students. Instead, the center will quietly tell families it already serves about its extended intersession hours, 6 a.m. to 6 p.m.
"We will do our best to be here for as many of those families as we can be," Girls said.
IPS is counting on not-for-profits to provide activities at schools, too.
The district will require students who need remediation to report for a half day during the breaks, and it will pay teachers to work with them. But the plan leaves a potential gap in day care for elementary-age students.
IPS leaders plan to fill that gap by having teachers and not-for-profits provide "enrichment" activities. Spokeswoman Mary Louise Bewley said IPS plans to distribute its list of intersession programs to parents in late August or early September.
The district extended the deadline for proposals, which were still arriving as of the last week of July, Bewley said.
The not-for-profit sector's response has been "good," she said. "But we have thousands of children we want to serve, so we're looking for more."
Superintendent Eugene White recognized the vast not-for-profit infrastructure that's built around summer vacation. He held a meeting, facilitated by United Way of Central Indiana, with representatives of about 100 agencies to ask for their help.
The only problem was that IPS couldn't offer money to cover the additional expense, said Tim Nation, executive director of the Peace Learning Center, which teaches conflict resolution.
"There was resistance," Nation said. "How can they ask us to do this?"
Since that initial meeting, IPS has said it will consider paying select agencies, Nation said, and he's hoping Peace Learning Center is on that short list. Nation estimated that it will cost $10,500 per week to offer a condensed version of Peace Learning Center's summer program at Eagle Creek Park. The organization has a $1.1 million budget and 16 full-time staff members.
Girls Inc. usually relies on volunteers to deliver its "strong, smart and bold" programs at area schools, but it will use paid staff to cover the IPS inter-sessions, CEO Patricia Wachtel said.
Girls Inc. is partnering with Girl Scouts of Central Indiana to provide activities for as many as 60 students at two schools. Wachtel said she'll need to deploy paid staff because of back-to-back scheduling, and she'll cover that cost from her general operating budget.
"We consider that a part of what United Way pays us to do," she said. "If this grows and expands, we may need to look to other sources next year."
Wachtel and others will probably turn to the Summer Youth Program Fund, which provided $2.5 million to 160 organizations this year.
The fund pulls money from 10 private and corporate foundations, including Lilly Endowment and the Indianapolis Foundation. Though it began as a way to ensure that city pools stayed open, these days its backers are more interested in summer activities that bolster learning.
In fact, White argued for shortening summer break by quoting a statistic often cited by the fund—two-thirds of the gap in academic achievement can be attributed to "ineffective" summers, said Roderick Wheeler, a senior grant officer at Central Indiana Community Foundation who administers the fund.
Wheeler said members of the fund support IPS' new calendar, but they couldn't alter their application deadline soon enough to account for the 2011-2012 school year.
The fund participants will meet in early September to start figuring out how they can respond to the change in 2012-2013, he said.
Wheeler suspects that response is going to require more money, now that not-for-profits have to ramp up their operations several times a year. "The implications are huge for their resources."•
Please enable JavaScript to view this content.