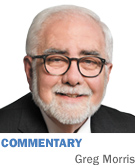 Now that NFL owners and players have reached a deal, we know there will be pro football this fall. And we also know Super Bowl XLVI will be right here in Indianapolis on Feb. 5. In anticipation of what I'm sure will be an awesome event, I thought this would be a good time to talk about some unique collaboration that is taking place in the city leading up to the big game.
Many companies that are normally aggressively competing with one another have dropped their competitive guard to pitch in together for the common good of the city. The ability to collaborate is one of the best things about Indianapolis businesses. It happens again and again as the city hosts many successful events.
For example, there are eight law firms that are donors to the local Super Bowl Host Committee. A senior partner from each firm sits on the legal review committee and they work together on standard contract language and template documents. Name a business sector more fiercely competitive than law firms. This has been a great collaboration with the top legal talent in our community.
The three largest health organizations and hospitals are working together on Indy's "Super Cure" partnership with the Susan G. Komen for the Cure Tissue Bank at the Indiana University Simon Cancer center. Community Health Network, IU Health and the Indiana University School of Medicine and St. Vincent Health are teaming up together as they recognize collectively that the enemy is cancer, not one another.
And here's another interesting first-ever collaboration for the good of the cause. Indianapolis Monthly magazine, owned by Emmis Communications Corp.; Indianapolis Business Journal, co-owned by Michael Maurer; the Indianapolis Convention & Visitors Association; and the Super Bowl Host Committee have partnered to produce the "Super Bowl Host Committee Commemorative Magazine."
What? Indianapolis Monthly and IBJ are going to work together on a project? If this is so, is it too big of a stretch to think Democrats and Republicans can actually work together in Washington for the common good of the people they serve? Well, let's not get crazy here. Unfortunately, that might be too big of a stretch.
I have to credit IBJ Advertising Director Lisa Bradley and Indianapolis Monthly Publisher Keith Phillips for coming up with the collaborative concept and doing the heavy lifting to bring it to reality. The devil is always in the details.
At IBJ, we had been discussing what kind of publication we could produce and get approved by the local Host Committee and the NFL since August of last year. When Lisa came into my office, after a conversation with Keith earlier this year, and asked me what I thought of our two companies working together on this project, I used my favorite line: "What are you smoking?"
But it didn't take me long to see the idea had great merit. The combination of strengths of both companies would create a superior magazine in this particular situation, versus each entity trying to do its own thing. Then there was the high probability that only one such publication would get approval. Working together prevented the Host Committee from having to make a choice of one over the other. Monthly had an existing relationship with the ICVA, the Host Committee jumped on board, and there you have our unique partnership.
There will be 90,000 copies of this magazine produced. It will insert in IBJ the last week in January. And it will arrive together with the February issue of Indianapolis Monthly the last week of January. Additional copies will be distributed by the ICVA to all hotel rooms the week of the Super Bowl, and the Host Committee will distribute copies at various Super Bowl-related events and in suites at the game. The advertising sales effort will be conducted jointly by Monthly and IBJ sales teams.
I'm pleased to be working with such fine partners on this project and proud to be a part of one of the collaborative efforts to make this Super Bowl the best yet.
Allison Melangton, president and CEO of the Indy Super Bowl Host Committee, sums up the collaborative efforts this way: "The outreach to the Host Committee from residents and corporations has all been the attitude of what is best for the community (rather than individual gain) and if we all pull together as one team, this community can accomplish incredible things."•
__________
Morris is publisher of IBJ. His column appears every other week. To comment on this column, send e-mail to gmorris@ibj.com.
Please enable JavaScript to view this content.