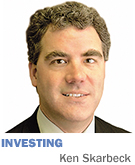 Pity the poor regulators, human beings who are not exactly the most welcomed personnel that business must accommodate.
Most businesses have some sort of government overseer that periodically checks in to see if the company is in compliance with the law. Free-market businessmen sometimes view their relationship with regulators as adversarial and see their existence as a costly burden to doing business.
However, businesses that follow the rules and regulations of their industries have little to fear except perhaps the inconvenience when regulators come calling. And while the cost of regulatory compliance can be annoying, they do serve a vital societal function—consumer protection.
We turn the spotlight on the Financial Industry Regulatory Authority, which is the largest independent regulator of securities firms doing business in the nation. FINRA is a private, not-for-profit organization funded by the securities industry. This industry overseer generates $800 million annually in revenue from a variety of regulatory fees, user fees and fines assessed on the securities industry.
FINRA's stated mission is to protect America's investors by making sure the securities industry operates fairly. The organization's website provides a variety of educational articles and tools for investors. An "Investor Alerts" section provides warnings to help investors avoid scams.
 A recent alert is titled "The Grass Isn't Always Greener—Chasing Return in a Challenging Investment Environment." This particular alert notes that investors face a difficult environment with low returns on fixed-income funds and a volatile stock market, but the regulator cautions investors against "chasing returns." Statistics are provided that show there has been an increase in money flowing into higher-risk investments like high-yield bond funds, floating-rate loan funds and complex investments like structured products.
Key questions are listed that investors should ask before switching into these investments: Are the risks higher? (Invariably, yes.) Do you understand how the investment operates? What are the costs and fees? Is the product callable? And, could the investment be fraudulent?
There is a section on "Frauds and Scams" along with cautions to look for when investing in bonds, mutual funds, annuities and insurance, borrowing against your portfolio (margin), and private offerings. In addition, FINRA's website has links to other regulatory websites that offer advice.
 In the wake of the credit crisis, financial regulators have been criticized for failing to adequately perform their duties in the years leading up to the credit crisis. The SEC has egg on its face over the Madoff scandal, while the Office of Federal Housing Enterprise Oversight watched as Fannie Mae and Freddie Mac crumbled.
FINRA itself hasn't avoided controversy, the latest being the hefty compensation earned by its executive team. The top 10 shared $13 million in pay in 2010 and, in 2009, the organization drew fire for awarding Mary Shapiro $7.3 million when she left to become SEC chairwoman.
Financial regulators have the difficult task of walking a fine line in exacting sufficient oversight to ferret out investor abuse and fraud, but must not hinder the operations of legitimate businesses. Following the regulatory blunders during the credit crisis, it is human nature for heavily criticized regulators to over-tighten the screws of oversight. And, yet, while regulation usually gets a bad rap, investors should be grateful that there is somebody looking over their shoulder and protecting their interests.•
__________
Skarbeck is managing partner of Indianapolis-based Aldebaran Capital LLC, a money management firm. His column appears every other week. Views expressed are his own. He can be reached at 818-7827 or [email protected]
Please enable JavaScript to view this content.