While many terrific local restaurants have Indy addresses, more than a few of them seem to be disguised as chains. Maybe the more you look like the nationally advertised competition, the better your chances.
But it's refreshing when a new eatery appears that feels uniquely itself—one that seems to have been designed to be itself, designed to be a place you remember, and designed with its neighborhood in mind.
Well, kind of. Located where Mass Ave collides with Interstate 65, Black Market (922 Massachusetts Ave., 822-6757) is, for now, a neighborhood bar/restaurant without many neighbors. (That should change when the Trail Side apartment/retail building nearby is finished.)
Now, the minimal signage and out-of-the-way location can make you feel like you're about to enter a Prohibition-era speakeasy. Inside, a long "community" table for multiple parties parallels the bar, and the dinner menu is limited enough to be scrawled on the wall. And—shocking and refreshing in this day and age—it has no blaring TVs.
The menu, too, is distinct. A Daily Pickles
($5) appetizer plate would stand out on any lunch—or dinner—menu. The pickled items
on this visit (they aren't identical from day to day) were ramps (think fancy green onion), watermelon, the traditional cucumbers and an egg. A dollop of homemade peanut butter was the star of the show with its crunchy texture and sweet, peanutty taste. The pickles themselves were delicious, and the pink pickled egg added some visual interest.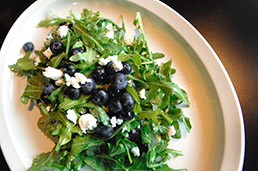 The berries in the Arugula, Blueberry and Goat Cheese Salad burst with flavor. (IBJ Photo/ Perry Reichanadter)
The Arugula, Blueberry and Goat Cheese Salad ($8) offered a tasty combination of ingredients, but in a mix simple enough that the flavor of all three was pleasingly apparent. Each blueberry was a plump, fresh burst of flavor making this a salad to be savored.
Even the heartier fare felt somewhat light. On the menu, the Black Market Burger ($13) boasted of buns from Bakery at Geist and our overenthusiastic waitress stressed that the meat also was local, or just down the road from Fischer Farms in Jasper, anyway. Served alongside an unadvertised (but welcome) arugula side salad, the juicy burger was unusually flavorful—turns out Black Market uses a custom blend of beef and lamb. A creamy goat cheese spread provided an extra tasty kick. Better still was the Braised Beef & Cheddar Bun ($13), a warm, sweet sandwich packed—but not overflowing—with moist, tender meat.
Desserts? Sure—if for no other reason than to see what such a creative kitchen would come up with. Blueberries & Lime Curd ($7) and Greek Yogurt Panna Cotta ($7) were both winners. The yogurt dish included cumin, an ingredient you don't find in many desserts in these parts. For some, that might be a good thing. For me, I'm glad Mass Ave now offers another reason to cross College Avenue.•
—Lou Harry
__________
First in a month-long series of reviews of new arts district eateries.
Please enable JavaScript to view this content.