Marion County Prosecutor Terry Curry is hoping to draw new attention to the types of white-collar cases he pursued as a deputy prosecutor under Steve Goldsmith and Jeff Modisett.

Curry, who took over for Carl Brizzi in January, interviewed a few dozen candidates before settling on an eight-member team to investigate white-collar crimes in Marion County. He expects the initiative to start paying off with new cases—ranging from employee theft and investment fraud to political corruption—in the next few months.

Curry said he expects an "unprecedented level of cooperation" between his office and newly appointed U.S. Attorney for the Southern District of Indiana Joe Hogsett, a fellow Democrat.

"The police department doesn't have the luxury of having people work on long-term investigations," Curry said in an interview. "We're essentially the only watchdog over state government. We're going to do our job."

Kyle Walker, the Marion County Republican chairman, said Curry's decision in July to settle a long-simmering case with scrap-metal powerhouse OmniSource doesn't exactly suggest toughness.

Curry
"After seeing Terry Curry sell justice to OmniSource, and accept a lenient plea agreement for the guy who shot into a crowd at Black Expo, I question whether he has the ability to be tough on any type of crime," said Walker, who served as campaign manager for Curry's opponent, Mark Massa.

"In the face of what many attorneys considered overwhelming evidence, they simply let [OmniSource] off with a payment, large sums of which went to attorneys with political ties."

The company, a subsidiary of Fort Wayne-based Steel Dynamics Inc., agreed to pay $300,000 to settle criminal and civil charges alleging it routinely and knowingly bought stolen scrap metal.

Curry maintains that the case, spearheaded by Brizzi, was not winnable because there was no proof company officials knew the cars, boats and gutters they were buying were stolen. Rather than wasting the office's resources, Curry opted for a settlement.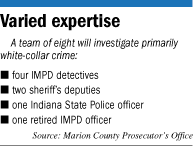 "The easy way out would have been to try it, lose and blame it on Brizzi," he said.

Securing funding and personnel to investigate and prosecute white-collar crime on the local level is a struggle, in part because the work is rarely glamorous and cases can take years to build, said Jim Foley, manager of curriculum development and training for the not-for-profit National White Collar Crime Center in West Virginia.

The pursuit of violent criminals who commit headline-grabbing crimes remains the electoral bread-and-butter for prosecutors. But white-collar crimes are getting more attention across the country. One reason: The notion that the victims of white-collar crimes are mostly banks, corporations or wealthy individuals driven by greed is changing.

The proliferation of fraud on the Internet and social networks, and the scam-of-the-moment—foreclosure-rescue schemes that prey on homeowners on the ropes—show that just about anyone can be a victim of white-collar crime.

The cases, though, are complex to develop and can take years to prosecute. The potential number of convictions is low.

"If you're only looking for headlines, you shouldn't be a white-collar crimes prosecutor, unless you expect to stumble onto a Madoff, and those cases won't be handled by local prosecutors, anyway," Foley said. "It's commendable that [the Marion County prosecutor] is going to go after some of these folks."

Foley said it makes sense to have a white-collar crimes task force where the prosecutor is on board from the beginning. That should give hard-to-win cases a better shot at success.

The white-collar push in Marion County seems like a good investment to Jim Klimek, who owns a law firm in Indianapolis and worked in the Indiana Secretary of State's Securities Division in the mid- to late-1990s.

Pursuing criminals of all stripes should not be a partisan issue.

"Say I'm walking home late at night and a guy pulls out a gun and says, 'Hand me your wallet.' On the other hand, a white collar person commits some sort of financial fraud on me," Klimek said. "Either way, my money's gone."

The team consists of four Indianapolis Metropolitan Police Department detectives with financial crimes experience, an Indiana State Police officer and two sheriff's deputies, Curry said. Deputy Prosecutor Jana Skelton, who supervises the Grand Jury Division, is heading the effort, and Tom Trathen, a retired IMPD officer, will supervise the investigators.

Each of the team members has been assigned full time to the Marion County Prosecutor's Office to handle long-term investigations, according to a spokeswoman for the department.•