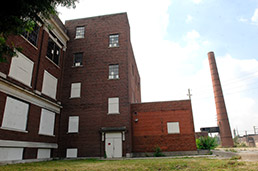 Efforts are under way to redevelop the former headquarters of battery-maker P.R. Mallory. (IBJ Photo/ Perry Reichanadter)
A four-acre site just east of downtown has a rich history: It once was home to the Indianapolis Indians, the Wonderland amusement park and then a factory that made Duracell batteries and in its heyday employed 1,500.
Now, city officials and redevelopment leaders want to restore the spot at Washington and Gray streets to its former grandeur—an effort they hope will help revive the beaten-down corridor.
Southeast Neighborhood Development, a not-for-profit developer, and the city have acquired the eight buildings and patches of vacant land on the site.
They also worked with the Environmental Protection Agency,
which put up about $1 million to demolish a former dry cleaner and clean up contamination on the western edge of the property. That cleanup wrapped up last month.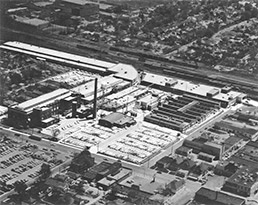 In its heyday in 1966, P.R. Mallory employed 1,500 workers at its Indianapolis campus at Gray and Washington streets. Now the complex is mostly vacant. (Photo Courtesy "The Electric Glory of the New Eastside. The Rollercoaster Ride of Englewood's Modern History")
SEND secured about $2 million in federal block grants to acquire and demolish properties and remediate land on the site. Now, SEND and the city are in discussions with specialty metals manufacturer CMW, which operates in a facility on the southern end of the site. CMW is considering building a replacement facility on the property, said Chief Operating Officer Eric Krepps.
SEND also wants to find a redevelopment partner to build out the rest of the site with a less invasive use—for example, office space for a data storage company or a manufacturer that makes energy-efficient technology components.
IBJ.COM EXTRA
Click here
to view a gallery of historic photos of this site.
"The idea is light-industrial use that employs a lot of people," said Mark Stewart, SEND's executive director. "It's got to be something that is neighborhood-friendly."
Among the top priorities is finding a use for the 120,000-square-foot building at the corner of Washington and Gray streets.
That building housed the P.R. Mallory Co., which moved there in 1929 to forge tools out of tungsten. The company later added several buildings as it expanded into manufacturing batteries and radio parts.
Undertaking such a large-scale industrial cleanup is unusual in Indianapolis, said Bill Taft, executive director of the Indianapolis office of Local Initiatives Support Corp., which provides assistance to not-for-profit developers like SEND.
One of the few recent examples is the Keystone Enterprise Park northeast of downtown, which was completed in 2002, during former Mayor Bart Peterson's first term.
The projects are labor-intensive, require sizable public and private investment, and can take years to complete. But if they succeed, they can help turn around otherwise-languishing neighborhoods.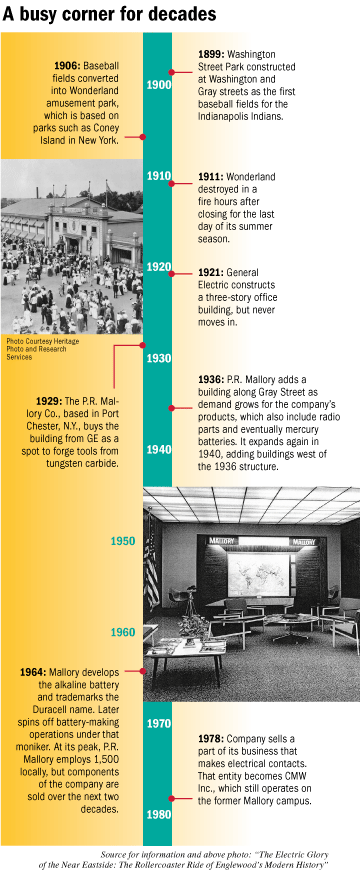 "If you can successfully take it from a white elephant to the anchor, then you essentially flip the real-estate dynamics" of the entire area, Taft said.
Baseball to batteries
Before it became the Mallory campus, the Washington-Gray area hosted baseball fields where the Indianapolis Indians played their first games, starting in 1902.
Four years later, it was converted into Wonderland, a Coney Island-style amusement park that was destroyed in a 1911 fire, according to the recently published book, "The Electric Glory of the Near Eastside: The Rollercoaster Ride of Englewood's Modern History."
General Electric built an office building on the site a decade later but never moved in. So in 1929, when the New York-based P.R. Mallory Co. was looking for a place for its tool-forging operation, it bought the building from GE.
The Mallory operation grew on the site over the next several decades, hitting its peak of 1,500 local employees in 1966, two years after the company trademarked its Duracell batteries.
In the 1970s, though, use of the site diminished as Mallory spun off parts of its business. The one remaining tenant was CMW, which produces electrical contacts, high-density metals and welding products.
CMW's headquarters and 110 employees remain there, but the Mallory Building and four others on the site are vacant. While a few chain restaurants, single-family homes and drugstores are nearby, the corridor looks beaten down and neglected.
Interest in redeveloping the site began to build about a year ago, when the Mallory Building fell into tax delinquency, and SEND saw an opportunity to buy it, Stewart said.
Meanwhile, the EPA flagged the contamination at the former dry cleaning facility as a serious environmental concern and stepped in to help clean up the property, which SEND also purchased.
Along with the federal dollars, the project could receive city incentives, such as tax-increment financing dollars, Stewart said. The city has flagged the corridor as one of four that could be made into new TIF districts to spur redevelopment there.
Michael Huber, deputy mayor for economic development, did not return phone calls requesting comment.
SEND has had a few conversations with businesses about moving into the Mallory facility or building near the site, but those efforts have yet to pay off.
The Mallory space could be ideal for office use, Stewart said, or a creative residential redevelopment, such as condos or apartments.
Joe Bowling, who has been involved with neighborhood discussions about the project as a community organizer with the John H. Boner Community Center, said area residents remain open to putting light industrial uses on the site.
"We really do think that site historically has been an important one as a job center for our neighborhood, and we'd really like to see that restored," he said.
"In its heyday, Mallory employed [1,500] or so. If you get a fraction of those jobs back on a reuse, it would have a huge impact."
'Job revitalization'
A big factor working in the site's favor, Taft said, is the momentum from projects a few blocks north on the near-east side.
The city's Super Bowl effort has helped to spur a neighborhood-driven renewal of the areas around East 10th Street from Oriental to Gray streets. It includes an $11.2 million community center, a commercial corridor redevelopment, housing and infrastructure upgrades.
The Mallory site's location along a major thoroughfare also helps.
But like any major redevelopment, challenges abound. That's partly because the buildings were configured for outdated manufacturing operations and could be tough to retrofit, Taft said.
Adding to the complexity is the need for additional environmental cleanup on the property, Stewart said, though the extent and cost are not yet known.
And projects such as Keystone Enterprise Park demonstrate how long it can take for redevelopment efforts to bear fruit.
About seven years after its completion, the park is only about 60-percent occupied. The city spent $3.2 million acquiring land for the development, which is in the hard-hit, formerly industrial Martindale-Brightwood neighborhood.
Stewart is optimistic progress on the Mallory property can move more quickly. And he expects it will spark interest in redeveloping smaller buildings along the corridor—including the former site of the California Night Club near Hamilton Avenue—building momentum for a broader revitalization.
In a plan released last spring, Ball State University identified the project as a momentum-driver for revitalizing East Washington Street from just east of downtown to the area near the Mallory site.
"We've sunk a lot of public and private money into the near-east side as far as housing," said Brad Beaubien, director of Ball State's College of Architecture and Planning Indianapolis Center. But "we can't have neighborhood revitalization without job revitalization."•
Please enable JavaScript to view this content.