Nic Davis apologized profusely for running late. Cursed kidney stones slowed him down this morning. He would have popped a prescription pain pill, but there's too much to do to risk a drug-induced fog.

Davis is toiling toward the day when he launches the first product of his fledgling life sciences firm, Davis Medical. The licensed practical nurse invented a device to kill and prevent the introduction of microorganisms that collect at catheter ports, where medicines are inserted.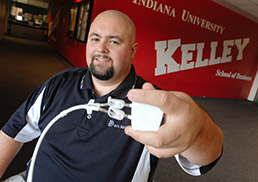 Shelbyville resident Nic Davis figures his device would cost less than $10, a small price to pay to avoid a costly infection. (IBJ Photo/ Perry Reichanadter)
Given that a catheter-induced infection can cost $25,000 or more to treat, Davis' device could be of huge interest to hospitals and dialysis centers. He figures his device would cost under $10.

These infections could represent tens of billions of dollars, said the burly-armed entrepreneur with a goatee, shaved head and shirt bearing the "D'' logo of his company.

But as Davis' experience illustrates, it can be a long and difficult road to break into the highly regulated medical-device market.

Davis, 30, has been working on this more or less full time for almost four years. His "investor" consists of his wife—and her job income.

His mentors credit Davis with making the most of his limited resources. He's obtained in-kind help from attorneys, grant writers and from Indiana University graduate students, for example.

And how's this for budget engineering? He made the prototype from a dental floss dispenser.

"If I had hired someone to make an initial prototype, it would [cost] around $100,000," Davis said.

Dustin DuBois, an intellectual property attorney at Ice Miller who's helped with patent filings, said Davis is "very committed to this, and he's very bright."

The work is also personal.

About a decade ago, Davis suffered a severe infection following kidney surgery. It originated in his peripherally inserted central catheter.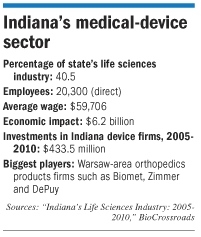 By some estimates, catheter infections occur with 5 percent to 10 percent of the 5-million-plus catheters placed each year in the United States.

Davis was in such a hurry to get out the door this day he forgot to bring a catheter and his prototype. So he snatched a napkin on the table at Linne's Bakery in downtown Shelbyville, and started sketching.

Imagine a clamshell-like box the size of a cell phone that clamps around the ports of a catheter. The inside of this device will have a tiny sponge containing disinfectant—essentially creating a sterile field around the ports' removable caps.

It's not exactly high-tech, but getting it to market is exceedingly complicated.

"You just can't ask the dialysis center down the street to do a quick evaluation," said Tom Mason, founding vice president for entrepreneurship and business planning at Rose Hulman Ventures, a mentor for Davis.

Getting the U.S. Food & Drug Administration to grant marketing approval will take money, and Davis reckons he needs about $2 million. Some potential sources for entrepreneurs at this stage include the state's 21 Fund, federal Small Business Innovation Research money (he's dotting the i's and crossing t's) and angel investors.

"It's important to establish the investor contacts and build those relationships," said Ice Miller's DuBois.

Another way to improve the odds of getting money is to affiliate with researchers. Davis has already talked with the IU pathology lab, for example.

Then there's the business plan. Three graduate students from Indiana University's Kelley School of Business have been a godsend, Davis said.

"He's probably more receptive [to advice] than an awful lot of people with graduate degrees in engineering and science" I've dealt with, said Mason.

Eventually, investors will want to see an experienced management team.

If an upstart only has a promising technology, "you're going to have a really difficult time acquiring capital," Richard DiMarchi, a former top Eli Lilly and Co. scientist and co-founder of anti-cancer-drug developer Marcadia, noted last month at IBJ's Life Sciences Power Breakfast.

"There's more than enough capital out there for those that have quality ideas and a proven track record. It's all about people."•