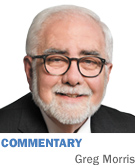 I really didn't want to write about the economic mess we're in this week. I wanted to tackle a more positive topic. However, I'm struggling with moving on from recent events, after losing about 15 percent of value in my equity investments in 11 business days. I'm angry. I'm really angry.
I'm angry because I believe a lot of this bad news is due in large part to incompetent leadership in Washington. President Obama's steadfast stubbornness to deviate from giving campaign speeches to offer solutions to our problems has helped paralyze this country.
Can Obama talk for more than two minutes without uttering, "And it's time the wealthiest Americans pay their fair share of taxes?" Every time he opens his mouth, I feel as if business and investors run for cover as they give up on any chance for growth until he is out of office.
To my point, I was having a late lunch at Weber Grill downtown on Aug. 8. It was 1:15 p.m. and the Dow was down about 400 points, and was hovering at that level. As I watched the TV monitor, anchors kept saying the president was about to speak on the S&P downgrade and the tragic loss of life when the helicopter was shot down in Afghanistan.
I casually mentioned to the waitress that I wished he wouldn't talk about the credit rating downgrade because that was a sure way to make the market decline grow to 600 points. She laughed, but I wasn't kidding. In fact, as I sat there, I sent a text to a few people saying the same thing. As we know, the Dow dropped 635 points that day and you could watch it fall while the president spoke.
Now, it's unfair to imply that President Obama was solely responsible for the drop. There's plenty of blame to pass around to almost every member of Congress in both parties. But there is no confidence in our government as a whole at this time. And why should there be? Was anyone really surprised with the credit downgrade? Most businesspeople I talk with think we deserved it. It's the politicians who don't think so.
This current lot of politicians in Washington—Congress and the president—make up the worst and most toxic collection of legislators in my lifetime. Unknowingly, as a country, we've made some very poor choices when we cast our votes. I'm not the only one with this mind-set. A recent CNN poll indicated that only 14 percent of the American people approve of recent congressional behavior. Does that number have to go to zero before we get their attention?
We have to be smarter about the way we approach the upcoming elections. We need to take note of which folks are working together on solutions and which are the obstructionists. Who has been stubborn and arrogant and who wants to be a leader and provide solutions to get the economy back on track? Who will take responsibility for their actions and act instead of blaming the other party for all our woes?
In today's climate, why would businesses make long-term commitments? Why should they take the risk? What information can they rely on? It's a confidence game—or, in this case, a lack of confidence.
Here's something else that's bugging me. I'm curious. If your business were facing a crisis as big as what is going on in Washington, would you take five weeks off and leave town, as Congress has? Or would you cancel your plans and stay to try to right the ship?
Even with all the bad news, I have confidence in the resiliency of our economic system and in our system of government. I have confidence we will find the right mix of people to help lead us back to prosperity over the next few election cycles. We need to choose wisely.
In the meantime, as leaders in business, we need to lead by example and work hard to produce the most positive results possible with the hand we are dealt. Fight the good fight every day, and we'll be fine.•
__________
Morris is publisher of IBJ. His column appears every other week. To comment on this column, send an e-mail to gmorris@ibj.com.
Please enable JavaScript to view this content.