Groups backing a series of sweeping education reforms in Indiana this year spent nearly 62 percent more on lobbying, advertising and grass-roots campaigning than groups opposing the bills, according to an IBJ analysis of lobbyist and political action committee financial filings.
That extra money was used to help push through the most comprehensive school overhaul yet passed by any state: an expansion of charter schools, publicly funded vouchers for use at private schools, a rollback of collective bargaining rights for teachers, and a requirement that teachers undergo annual performance evaluations that will help determine their pay and promotions.
Charter school proponents and the pro-voucher Friedman Foundation for Educational Choice spent significantly more on lobbying than in previous years. On top of that, Gov. Mitch Daniels poured money from his own political action committee into a wave of radio and television ads to press lawmakers to vote yes on school reform.
Overall, the pro-reform groups pumped roughly $483,000 into the legislative process from Nov. 3, 2010, through April 30, 2011.
That spending easily topped the $298,000 spent on lobbying, advertising and organizing by teachers' unions and a new group called the Indiana Coalition for Public Education.
Those dollars don't account for all the spending during the pitched battle over school reform, which saw rowdy town hall meetings in legislators' districts, public showings of pro-reform documentaries, e-mails from public
schools to parents, busloads of school kids filling the Statehouse, and huge rallies.
The figures also don't include spending by the Indiana Chamber of Commerce and the Indiana State AFL-CIO, because while both were active on education issues, it isn't clear how much of their budgets were allocated to education.
Also, there was significant lobbying by various school associations, such as the Indiana Association of School Principals, and by education-related vendors, such as textbook publishers and makers of standardized tests. But since those groups were not identifiably for or against the entire package of education reforms, their spending was not included in IBJ's analysis.
Still, the dollars tallied offer a sense of the scope of resources expended in the school reform fight.
"There was a lot more on this issue than you might have seen on a lot of other issues—simply because of the type of people that are affected and the breadth of the people affected," said Ed Feigenbaum, publisher of the Indiana Legislative Insight newsletter.
Weighing the impact
What difference the heavy spending made in the outcome is unclear, particularly since Daniels' own Republican Party emerged from the 2010 elections with a super-majority in the state Senate and a 20-seat edge in the House of Representatives. Helping tip the balance was $1.4 million in contributions to Republicans by Daniels' Aiming Higher PAC.
Democrats say the combination of campaign contributions and advocacy during the legislative session made a huge difference.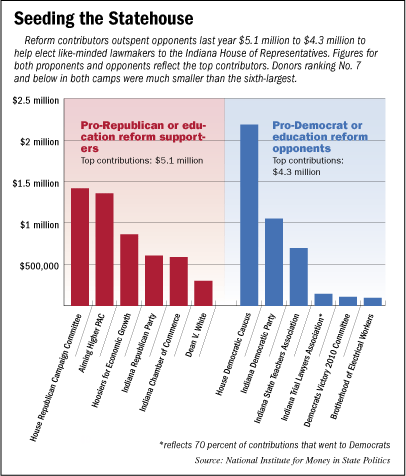 Even leaders of the pro-reform lobbying and political groups say the post-election lobbying, advertising and organizing was important to make sure legislators didn't get swayed by the inevitable pushback from "defenders of the status quo"—mainly public schoolteachers and school administrators.
"I don't think we ever thought, 'Hey, it's a slam dunk; we're going to get all these things through,'" said Brian McGrath, executive director of the Aiming Higher PAC, recalling the Daniels team's thinking in November. "Any big idea or change requires communication or explanation to people."
Aiming Higher spent $240,000 during the legislative session, according to filings posted online by the Indiana secretary of state. That money produced radio ads that hammered Democrats for walking out of the legislative session for five weeks and TV spots featuring a school parent named Randy Duke, who said he wanted greater choice in school options.
Those TV ads aired in April—just as the reform bills came to final votes.
"Daniels' ability to kind of sway public opinion with this advertising gives him a bigger punch," said Julia Vaughn, policy director for Common Cause Indiana, a group that closely tracks campaign and lobbying spending. "It's absolutely a game-changer here in Indiana."
Likewise, House Democratic Leader Pat Bauer, D-South Bend, said spending by pro-reform groups made a huge difference.
"It had a tremendous impact," said Bauer, claiming that private school donors and for-profit, charter school operators from around the country were able to dump money in Indiana. "They planted the beginning of the end of the public school system. They did it because they got the money."
Reform surge
Republicans were in position to pass sweeping school reforms only because of huge gains they made in the 2010 election. But those gains, Bauer noted, also owed a lot to groups pushing school reform.
Among House candidates alone, the six largest donors to Republicans gave $5.1 million, compared with $4.3 million in contributions by the six largest contributors to Democrats, according to figures compiled by the National Institute for Money in State Politics. Donations fell off dramatically beginning with the seventh-largest givers.
The difference can be attributed to Hoosiers for Economic Growth, a group that expressly supported pro-education reform candidates with more than $860,000 in House races. Also, Daniels' Aiming Higher PAC—which made education reform a signature issue along with spending discipline and attracting jobs—kicked in the $1.4 million.
More than half the money raised last year by Hoosiers for Economic Growth came from outside Indiana, including $165,000 donated by the Virginia-based American Federation for Children. Another $200,000 was given by Patrick Byrne, CEO of Utah-based Overstock.com Inc. and chairman of the pro-voucher Friedman Foundation, a national advocacy group based in Indianapolis.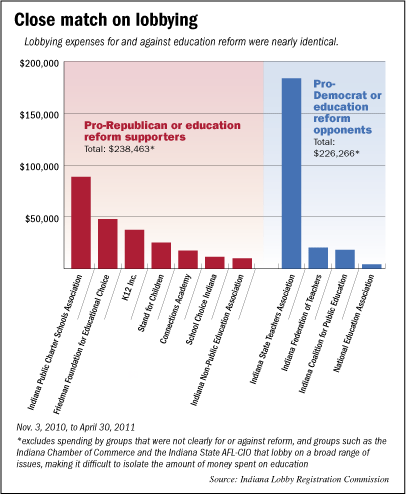 The American Federation is chaired by Betsy DeVos, daughter-in-law of the founder of Michigan-based Amway Corp. The group pulled in huge contributions in the last year from Alice Walton, an heir of the founder of Wal-Mart Stores; J.C. Huizenga, founder of a Michigan-based charter school management company called National Heritage Academies; as well as Jeffrey Yass and Joel Greenberg, co-founders of Pennsylvania-based investment firm Susquehanna International Group.
Aiming Higher drew 33 percent of its donations from out of state, including a $50,000 donation from Yass, who also sits on the board of the libertarian Cato Institute, a $25,000 check from Byrne, and a $5,000 gift from Huizenga.
Aiming Higher Director McGrath dismissed claims by Democrats that the out-of-state money induced Republicans to pass a school reform agenda that Hoosiers didn't support.
"The Legislature didn't pass something that only 20 percent of the people approved of," he said. "If you poll any of these education issues, they poll very well. The impact [of Aiming Higher's ads] really was, Did legislators start hearing positive things from their districts? And they did."
Republican legislators were hesitant to attribute their votes to campaign and lobbying spending by pro-reform groups. But some did say Daniels' strong support for school reform was a huge influence on Republican legislators.
Rep. Tom Saunders, R-Lewisville, said, "If the governor has an agenda and has a party that controls the process, you pretty much go with what the governor … ." He stopped, then added, "You're going to get me in trouble here."
Saunders, assistant caucus chairman for the House GOP, was one of only four Republicans who bucked party leadership to vote against the bill creating a program of private school vouchers, saying constituents in his district east of Indianapolis were strongly against it.
"This wasn't a popular issue in the area where I come from," said Saunders, who said he got unhappy responses from fellow Republicans and the Indiana chamber after voting against vouchers. The bill, known as House Bill 1003, passed 56-43.
Teacher opposition
The big money against the school reform bills came from teachers' unions—especially the Indiana State Teachers Association. Teachers unions spent more than $226,000 on lobbying, a slight increase over its average the previous two years.
They also spent nearly $72,000 on radio ads and community organizing, according to financial reports by its political action committees. Those ads said Daniels' education reforms—particularly the voucher bill and increases in funding for charter schools—would drain $160 million from Indiana's public schools.
Nate Schnellenberger, president of ISTA, did not respond to multiple requests for comment.
The teachers' unions were also helped a bit by a new group, the Indiana Coalition for Public Education, during the legislative session. Joel Hand, who served as executive director of the coalition during the session, said the lobbying resulted in some small victories—such as winning over a few Republicans or stripping out amendments like letting parents vote to convert traditional public schools into charters.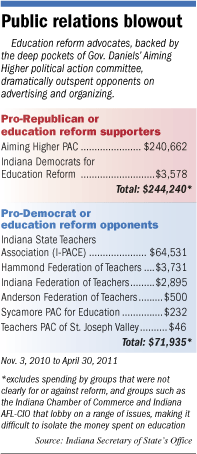 "We saw a number of amendments to the voucher bill and to the charter school legislation that made it slightly less offensive, to our point of view," Hand said.
Playing defense
Likewise, pro-reform groups that kicked up their lobbying spending this year described their activities more as playing defense against the teachers' unions than aggressively swaying votes.
The Indiana Public Charter Schools Association spent nearly $89,000 on lobbying this year compared with about $1,500 in each of the previous two legislative sessions, according to filings with the Indiana Lobby Registration Commission. Most of that money was spent on House Bill 1002, which aims to increase the number of charter schools in Indiana by allowing more organizations to authorize them.
"Bills change a lot as they go through the process. And a word here or there can make a big difference," said Russ Simnick, president of the charter schools association. That's why his group hired Indianapolis law firm Bingham McHale LLP to put more people in the halls of the Statehouse to make sure legislators didn't agree to small changes that could have gutted the bill or put new restrictions on charters.
The Friedman Foundation spent nearly $48,000 on lobbying this year, up from about $6,000 during last year's session. Friedman Foundation also partnered with the charter schools association to stage a screening of the pro-charter-school documentary, "Waiting for 'Superman'."
"The amount of misinformation that's out there, it's really important that legislators know the facts," said Robert Enlow, Friedman Foundation CEO.
But in their communications with supporters, the pro-reform groups take a bit more credit than that. In the June edition of the Friedman Foundation's newsletter to supporters, the foundation credits itself with playing a "critical role in Indiana" the past five years. The newsletter also quotes Rep. Cindy Noe, R-Indianapolis, calling the Friedman Foundation the "cavalry" of voucher reform.
"They were the germinators of the ideas and then they put the thought, people and resources behind it to see these ideas come to fruition," the newsletter quotes Noe as saying.
Below this self-congratulation, the foundation ran a photo of Daniels signing the school voucher bill into law. Standing directly over his shoulder are Enlow and Simnick.
Peering in from behind Simnick is Randy Duke, the parent who starred in the Aiming Higher ads.•
Please enable JavaScript to view this content.