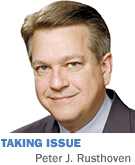 The recent debt ceiling vote is a window on the political and economic acumen of Indiana lawmakers and some Hoosier political aspirants.
"No" voters fare poorly. GOP Reps. Marlin Stutzman, Todd Rokita and Dan Burton insisted on a constitutional balanced budget amendment, with Burton calling "threat of default" vital "leverage."
Brilliant. House and Senate Republicans are 50 and 20 votes shy of the required two-thirds vote. A balanced budget amendment cannot pass this Congress. The Stutzman-Rokita-Burton road led to default, with no spending cuts—and a market reaction likely to make the last fortnight look like a rally. It would also bolster White House spin blaming GOP "extremism."
Democrat Reps. Pete Visclosky and André Carson wanted tax hikes—just the thing for a sputtering economy. Visclosky also protested cutting "vital investments in our economic infrastructure" (translation: "federal spending").
Carson injected class warfare, decrying "negotiating with Republicans who seemed willing to allow the country to default in order to protect their wealthy friends."
Sen. Dan Coats had a better opposition rationale, praising progress by GOP leaders but saying cuts fell "significantly short" of what's needed. True, but there's little doubt these were the cuts now achievable. One suspects Coats was an "aye" if necessary. He should have been so, anyway.
"Yes" voters earned credit for responsibility and (to varying degrees) courage. Democrat Rep. Joe Donnelly, a 2012 Senate candidate, wanted to end "tax breaks for big oil companies" but knew default was unacceptable. Railing on oil companies aside, Donnelly's priorities were in order and cost him with some Democrats.
Two freshman GOP congressmen called the bill the "first step in a long process" (Larry Buschon) that "moves us in the right direction" (Todd Young). Both wanted more spending cuts, but understood what was possible. Both were willing to risk backlash, including from Tea Party supporters.
Highest marks go to Rep. Mike Pence and Sen. Dick Lugar, each facing primary opposition. Pence, running for governor, knew some Tea Partiers were unforgiving in opposing any debt ceiling hike. Yet he put himself prominently on the line: "Leadership means knowing when to say 'yes' and when to say 'no.' The time has come to get something done and move onto policies that will further advance our fiscal solvency and put Hoosiers back to work."
Lugar is targeted by outside groups and attacked daily by a primary foe who distorts his record. As always, Lugar remained unfazed in doing what he thinks right.
His thinking on the debt bill was spot-on: "Republicans succeeded in gaining substantial cuts in spending and no increases in taxes. We were also successful in gaining spending caps to restrain future spending. Though the bill isn't everything we wanted, it's still a victory for conservatives over President Obama's out-of-control spending and big government policies. And we stopped his effort to increase taxes dead in its tracks."
Finally, our "wannabe" leaders, who earned worst marks of all. GOP gubernatorial aspirant Jim Wallace attacked Pence, saying his "vote on the debt deal has now caused immeasurable harm to the U.S. capital markets." Seriously?
Lugar foe Richard Mourdock started just as silly—calling the S&P downgrade of U.S. credit "the direct result" of the debt bill—and kept going. He didn't know Lugar opposed Treasury Secretary Geitner's nomination. He bragged about selling his stock before the market fell—perspicacity not shared with the state pension funds he manages, losers of $1.2 billion in value (11.2 percent) since June.•
__________
Rusthoven, an Indianapolis attorney and graduate of Harvard College and Harvard Law School, was associate counsel to President Reagan.
Please enable JavaScript to view this content.