Owners and operators of Indianapolis meeting venues are in the midst of a high-stakes game of musical chairs.
The winners will land the biggest parties and events affiliated with Super Bowl XLVI to be held in Lucas Oil Stadium Feb. 5.
Craig Kastle, majority owner of Jillian's restaurant in downtown Indianapolis, is hopeful his establishment can earn $1 million in revenue the week of Super Bowl XLVI. (IBJ Photo/ Perry Reichanadter)
But they won't find out who wins until sometime next month. National Football League officials said they will announce on or shortly after Sept. 1 which meeting spaces reserved in the city's bid for the 2012 Super Bowl will be used, and which will be turned loose on the open market.
The NFL has first dibs on some of the best space—much of it attached to hotels—and some of the finest caterers as part of the city's Super Bowl bid package.
Meanwhile, organizers of more than 100 events and parties not sanctioned by the NFL are eager to book space and are circling numerous central Indiana venues.
The Super Bowl in the last decade has become as famous for parties in the week leading up to the big game as it is for crowning the NFL champion.
Party hosts ranging from Sean "P. Diddy" Combs and Playboy and Maxim magazines to NFL corporate partners such as General Motors, NBC, Visa and PepsiCo are as eclectic as the people attending the bashes.
Venues as large as the Indianapolis Motor Speedway and as small as private dining rooms seating 50 people are in play.
Sports business experts estimate up to one-half of the Super Bowl's projected $450 million economic impact will come from the parties surrounding the event. Budgets for a one-day party will be as high as $300,000.
Event organizers have been focusing on Indianapolis since 2008, the year the city was awarded the 2012 Super Bowl.
"We got a call from someone wanting to reserve space literally the day Indianapolis won the bid," said Craig Huse, co-owner of St. Elmo Steak House at 127 S. Illinois St.
Many local venues—especially those in prime downtown locations—are holding out to see what the NFL and its sponsors do and what the highest bidder will offer.
"It's a smart way to do business, but it's also a big gamble," said Debbie Locklear, president and owner of locally based Meeting Services Unlimited Inc.
Despite the magnitude of the Super Bowl, the uncertainty over venues means little is booked for the more than 130 parties that are expected to happen in the week before the big game.
"Once that first domino falls, once the NFL makes their announcement, I think you'll see a big scramble," said Jeff Dunaway, owner of Dunaway's, an upscale restaurant at the southeast edge of downtown. "It'll be like a gold rush."
Some prime space is off the market. As part of the bid package, the NFL will use the Indiana Convention Center at no charge, covering only labor and set-up. And some hotel restaurants, such as the Hyatt's Eagle's Nest, will remain largely open to the public at the request of the local Super Bowl host committee.
Some newly available space, most notably the 210,000 square feet that formerly housed Nordstrom on the south end of Circle Centre mall, has further scrambled the picture.
Local business owners have been warned by city officials against price gouging. Still, Dunaway said a premium of 20 percent or more on what he normally charges to rent out his 190-seat restaurant isn't unreasonable.
"This is like nothing this city has ever seen," he said. "The only thing even comparable would be the first year or two of the Formula One race here."
Dunaway said he has been contacted by a dozen party planners ranging from private individuals to large corporations, adding that he expects his restaurant to bring in mid-six-figures in revenue Super Bowl week.
"With Formula One, no one ever asked a price," Dunaway said. "That's what we're seeing with the Super Bowl. These groups are coming to us with their checkbooks wide open. We're expecting the biggest week we've ever had."
Craig Kastle, majority owner of Jillian's of Indianapolis, hopes his restaurant in the heart of downtown at 141 S. Meridian St. can generate $1 million in revenue the week of the Super Bowl.
Jillian's brought in about $300,000 during the most recent men's Final Four in 2010.
"The Super Bowl is much, much bigger than the Final Four," said Allison Melangton, 2012 Super Bowl Host Committee CEO. "You don't even have the amount of entertaining at the Olympics that you have at the Super Bowl. I mean, P. Diddy and Jordin Sparks don't throw parties at the Olympics."
Kastle has had many inquiries, including one from Playboy magazine, which was interested in booking its famous Super Bowl party on Saturday night. Another came from a Connecticut-based event planner about a big party on Thursday night. He's also had inquiries from Fox TV and Budweiser.
Those events would be lucrative, Kastle said, but he's hoping to sign a deal with a single mega-client looking to book the multi-story facility for the entire week. He said there's a chance the first floor could be kept open for public dining.
NFL tracks everything
The NFL controls the location of its events and those of its corporate partners, including broadcasters and sponsors. The league also often plays middleman with many unsanctioned events, pointing them to or suggesting certain service providers, especially those that agree to be a part of the bid package.
The local host committee, concerned about traffic control and security among other things, also is trying to track the events. They are asking all local establishments that book parties to contact them.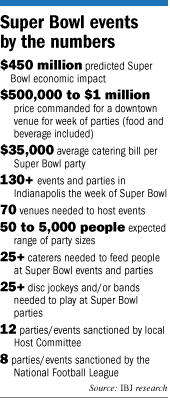 For business owners such as Kastle, it can become confusing and at times frustrating.
Kastle thought he had a lucrative week-long deal worked out with the NFL, but said later that deal was routed to the city-owned Union Station. Kastle said that deal was more than $1 million, including about $210,000 for food and beverages.
"We moved in a different direction upon [Jillian's] filing for bankruptcy protection," said NFL spokesman Brian McCarthy. 
In April, Jillian's filed for reorganizational bankruptcy, but Kastle said that won't affect the venue's ability to host Super Bowl events. For now, he's focused on Sept. 1 and anticipating a big payday.
"We're all holding our breath right now waiting to see what the NFL is going to do," Kastle said. "We hear these large companies have several million dollars to spend."
Normally, corporate parties and events book six months in advance, Kastle said, but for an event as big as the NCAA Men's Final Four, the events book nine to 12 months in advance. The recently settled NFL lockout isn't a factor in the shorter lead time for Super Bowl parties, the league said.
It's important to have as much lead time as possible, Kastle said, because usually the facility will be customized for the client.
For instance, he said, if Budweiser books Jillian's, not only would the place be decked out in Budweiser décor, but all non-Budweiser beer will be removed. "You better believe every tapper would be Budweiser."
And if it lands a client like the NFL, which has Samsung as an official sponsor, Jillian's would have to remove all its Toshiba TVs. Ordering also must be planned far in advance for special menus.
"It's not as simple as setting tables and rolling out the red carpet," Kastle said.
Hotel hassles
No group is in more of a holding pattern than area hotels. They are assured their rooms will be filled, but the demand for their meeting space isn't yet clear.
As part of the city's bid, the hotels agreed to let the NFL and its corporate partners use their meeting space if it's needed. NFL officials said they'd let hotels know early next month how much, if any, of their space will be needed.
Hotels closest to downtown, Locklear said, are in the strongest position to get premium prices for their meeting space in short order.
"We want to get this all figured out, but we want to cooperate with the NFL and help the city put its best foot forward," said Glenn Brooks, vice president of General Hotels Corp., which operates 13 hotels from Terre Haute to Indianapolis, including the Crowne Plaza hotels at the airport and Union Station.
If the space isn't booked by the company assigned to that space by the NFL, a hotel can book another entity with the league's approval. If the space can't be rented, the NFL will help book it, but there are no guarantees.
While the NFL is involved or at least aware of the majority of sanctioned and non-sanctioned events, the price is negotiated by the private businesses involved, said Frank Supovitz, the league's point man in Super Bowl planning.
"We try to matchmake a little bit so we know where everything is going and provide [event planners with] wisdom of what is going on around them," Supovitz said. "That's especially important in a compact city like Indianapolis."
Indianapolis is only the third city to concentrate most Super Bowl activities in an urban area. And the others—Detroit and New Orleans—have larger areas within or near their downtowns.
Local service providers expect demand to be intense far beyond Indianapolis.
"We've already heard from groups looking for space in Carmel, Fishers and even in Bloomington," said Ashley Long, events manager for the Scottish Rite Cathedral.
Pockets outside downtown that are expected to be hopping include Broad Ripple and Keystone at the Crossing.
Catering crush
Everyone involved agrees the demand for good space and service providers in Indianapolis will be at an all-time high the first week of February.
"From all the feedback we've gotten, we think demand is going to be extremely high," said Joe Husar, owner of Kahn's Catering, the city's largest caterer. "The top 25 caterers in this city will be slammed that week."
Husar expects his company to be busy with events at the Eiteljorg Museum of American Indians and Western Art, the Indianapolis Museum of Art, the Palladium in Carmel, Montage, and the Forum Conference and Events Center in Fishers.
Husar said his company, which specializes in high-end fare costing $80 to $150 per person, will handle events ranging from 300 to 3,000 people.
Husar's firm has five events booked and at least 10 more potential clients on the hook.
"We have to make sure all of our venues, our regular customers, are covered first," said Husar, whose company has 208 employees ready to work during Super Bowl week. "This is going to be the busiest four days in catering this city has ever seen. No question."
Host committee officials for the 2011 Super Bowl in Dallas reported 130 Super Bowl parties held the week of the game.
"With its central location and relative affordability, more people may say, 'Why not have an event at the Super Bowl in Indianapolis?'" Locklear said. "Based on the demand I've seen so far, I think that's a real possibility."•
Please enable JavaScript to view this content.