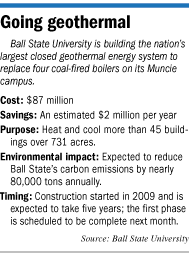 MUNCIE—For years, Rick Ortman drilled wells to provide water to residential customers.
But as he stood next to the geothermal energy plant under construction at Ball State University this summer, he spoke of adapting to a rapidly changing industry.
Ortman's firm, Triton Geothermal—a consortium of three well-drilling companies based in Galveston, Lafayette and Kokomo—drilled many of the 400-foot bore holes that are the basis of the ground-source heating and cooling system. When the $87 million project is complete, it will be the nation's largest geothermal plant.
The idea of adapting an old job to an emerging industry excited Martha Johnson, administrator of the General Services Administration, which oversees 10,000 federal buildings nationwide.
Johnson visited Ball State in mid-July to see the project first-hand. The GSA, which has two geothermal systems in existing buildings and 10 more in the works, plans to increase its use of renewable energy, including geothermal.
"It's nice to see people who know their region and know their work and … know the economy is changing and [are] moving with it," Johnson said. "Having small business able to figure out a new formula is an interesting signal. … It shows that everyone can change."
To Johnson and Ball State President Jo Ann Gora—who called the initiative a "demonstration" project that could pave the way for others like it—the university's conversion from coal-fired boilers is an economic-development opportunity as much as an environmental effort.
More than 50 Hoosier contractors already have been involved in Ball State's project, which started in 2009 and is expected to take five years to finish. The first phase should be done next month.
The system runs water through pipes in each of what will eventually become 3,600 bore holes, warming the water in the winter and cooling it in the summer. The water is then heated or cooled at an exchange station and distributed to campus buildings.
Gora said the system will reduce the campus' carbon footprint by half and produce 2,300 jobs, primarily in Indiana.
The funding is going to companies around the Midwest, she said.
Indianapolis-based Greiner Brothers Inc. is among them. The mechanical contracting firm is installing the piping and what project manager Matt Theuer called the "guts" of the system.
Nationally, the geothermal industry has grown rapidly, with about 415,000 tons of material shipped for new installations in 2009, the most recent year for which Department of Energy data is available. That represented a 288-percent increase from five years earlier.
Still, geothermal makes up just a fraction of the heating and cooling market, creating potential for additional growth. According to Department of Energy data, less than 1 percent of the nation's energy supply comes from geothermal sources; all told, 8 percent comes from renewable energy sources.
"One of the primary barriers our industry faces is the lack of knowledge of the technology, despite the fact that it has been around for 50 years," said John Kelly, operations manager for national trade association GeoExchange. "Large installations like Ball State can get attention and provide a case study."
Ball State's geothermal system will cost about $22 million more than replacing four coal-fired boilers built more than 50 years ago. But the university expects annual savings of about $2 million when the transition is complete.
It's still seeking about $20 million in funding after a $5 million DOE grant and the $40 million that had been earmarked to replace the boilers.
GeoExchange's Kelly identified three kinds of businesses that could benefit from increased interest in geothermal energy. Besides well-drillers like Triton, heating and cooling contractors can add geothermal products to their offerings. So could engineers.
He said the Ball State project could be a "game-changer" by providing an example for normally risk-averse engineers.
"It's a whole new mindset," said Theuer of Greiner Brothers.
Triton's Ortman noted that geothermal jobs are increasing in neighboring Ohio, where a state law requires officials to consider geothermal systems when building or renovating schools.
The shift has allowed Triton to gain new life as housing starts slowed and more rural residents are tied into municipal water and sewer systems. Ortman said Triton has bid on 75 geothermal projects already in 2011, compared to a total of 20 in the three prior years.
"Housing is going to be down for a long time," said Ortman, who guessed his company would have lost at least a third of its staff of 26 if not for the transition to geothermal. "What other growth would the drilling industry have in this part of the world?"•
Please enable JavaScript to view this content.