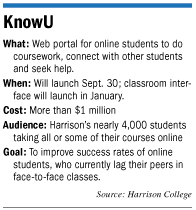 Like most schools, Harrison College has seen the number of students taking online courses surge the past two years.
Trouble is, their success rates aren't as good as their counterparts sitting in classrooms.
So Harrison, a for-profit school formerly known as the Indiana Business College, has overhauled its online interface for students to give the virtual Harrison College a greater sense of place and community.
The school hopes the new system, which it calls KnowU, helps students succeed and—oh, by the way—attract a few more to Harrison in the process. KnowU, which has cost more than $1 million to develop the past two years, will officially launch Sept. 30.
"We really do believe these tools will make students more successful," said Dennis Trinkle, Harrison's provost. "We think it's going to make us a better institution."
Trinkle said online learning systems have failed to take advantage of the innovations launched in the past decade by Google, Amazon, Facebook, Twitter and many others.
So KnowU has a Facebook-style community portal into which students can import all their friends from Facebook, Twitter or LinkedIn. The student then can send or receive messages from all those services in the KnowU community section.
KnowU also will suggest social network groups based on a student's degree program or personal details, such as a chefs chat group for its culinary students or a chat group for full-time working moms going back to school.
As a student progresses through a degree program, KnowU can suggest helpful resources about time management or resume-writing or finding internships. It also can track a student's attendance and study habits as well as patterns that have led to failure for other students. KnowU then can send alerts to students or their advisers.
KnowU also prominently displays word clouds of hot topics other Harrison students are asking about. It will also allow students to click whenever they want to reach a human being who can help with life issues, either via chat or by phone.
"So that our students know they're not alone in anything they're facing," Trinkle said, noting that family, financial and other life issues are common reasons why Harrison's primarily adult learners fail to complete courses or degrees.
Harrison is not the first higher-ed institution to employ social media in its classrooms, but it is the first to do it schoolwide, said Gardner Campbell, an English professor at Virginia Tech and frequent blogger on the role of Internet technology in higher education.
"Harrison is breaking new ground here," Campbell said, adding that most online education systems focus on delivering content instead of the personal connections crucial for learning.
"It becomes very transactional. What I think is crucial for online education to work is you need to go from the transactional to the relational."
Online use in academia is surging. According to a November report by the Sloan Consortium, 5.6 million of the nation's 19 million college students took at least one online course in 2009, a 250-percent increase since 2002.
Harrison and other for-profit colleges turned aggressively to online programs in part to serve the wave of students that came to them after losing their jobs in the 2007-'09 recession. But online students also can be more profitable—because they save Harrison from constructing new classroom buildings or paying professors for more hours to repeat lectures.
At Harrison, its number of online-only students has risen 73 percent in the past two years to 1,900, one-third of its total student body of 6,100. Another third take at least some of their classes online.
Among online-only students, 80 percent of students in one quarter return for the next quarter. But among students taking in-person classes, the retention rate is 87 percent. Recent research among community colleges has found similar results.
Misti Carmen, who is near the end of a two-year criminal justice degree at Harrison, has yet to see the new online features of KnowU, but she likes the sound of them.
"When you say, 'I go to Harrison College, but it's online,' it's just kind of like it's out there," she said. "If it's all one place that you can do all this stuff, it may tie everything together."
On the other hand, Carmen, who is married with two children and works full-time at a wealth management firm, said she simply had no spare time to chat with other students in her classes.
"You see their names on e-mail lists and things like that, but I have never really gotten to know any of them," Carmen said. "I'm just focused on doing what I have, and I'm just so busy with everything else—you know, life."
But Trinkle expressed confidence that students will embrace KnowU—and Harrison can track which features work best and which are duds and then adjust KnowU accordingly.
"Folks want a sense of place online as well," he said, "but we haven't applied that understanding to learning as well."•
Please enable JavaScript to view this content.