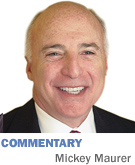 "There is nothing like the enjoyment and thrill of experiencing other places, cultures and people."
—Frank Basile
We are all on life's adventure, but Frank Basile and his wife, Katrina, take that adventure to extremes. As Basile says in his latest book, "Traveling with Frank and Katrina," he has visited 174 countries on all seven continents from Bhutan to Bosnia. If there are places he hasn't been, they are probably on his schedule.
Take, for example, the canoe ride on the Zambezi River. Expecting a quiet float, the Basiles were launched deep in the African jungle in the midst of a river teaming with hippopotami, alligators and snakes. Neither had canoed before and Frank can't swim. Swirling around in level three rapids, Katrina lost her paddle. They made it to shore alive but drenched. Later, they learned of an account on the Discovery Channel of two Zambezi canoeists who didn't fare so well. One was killed by a hippopotamus and the other lost his arm and barely made it to shore.
Basile also included chapters on Indianapolis and Wabash, a city I have motored through dozens of times but never taken the time to explore. In Wabash, the couple stayed at a small four-star boutique hotel called Charley Creek Inn in the historic downtown district. The hotel has a three-story atrium painted by Indiana artist Rick Fischer. The Twenty Restaurant in the inn is named for the 1920s motif that includes photographs, paintings and a collage of Hoagy Carmichael and Cole Porter overlooking a Steinway grand piano. Wabash also boasts a 1,500-seat theater that has hosted a number of nationally prominent performers and the Indianapolis Symphony Orchestra.
Basile closes the chapter with: "The next time you have two or three free days and want to take a short, enjoyable and informative trip, you might consider Wabash, just one of many interesting destinations in our own back yard throughout Indiana." I think he is right.
When a planned trip to Utah was cancelled at the last minute because of weather, the Basiles decided to pretend they were tourists flying to Indianapolis for the holidays. They visited the Indiana Medical History Museum on the grounds of the former Central State Hospital and the Martin Luther King-Robert F. Kennedy sculpture in MLK Park, which commemorates Kennedy's visit to Indianapolis on the day King was slain. They took a candlelight progressive dinner tour along North Delaware Street to the President Benjamin Harrison Presidential Site and capped off the evening with a tour of The Joy of All Who Sorrow Russian Orthodox Church.
The next day, they signed up for the Indiana Landmarks "landmarks on foot" tour and noted with the help of a guide the interesting designs on the tops of buildings. The City Market made a suitable venue for lunch, after which they journeyed to the highest point in our city, Crown Hill Cemetery, to scout out the resting places of many famous Hoosiers, including President Harrison, James Whitcomb Riley and John Dillinger.
That evening they took in the jazz and blues life of downtown with a drink at the Chatterbox on Massachusetts Avenue and dinner at the Slippery Noodle Inn. Other attractions enjoyed during those few days included a White River State Park stroll through Victory Field, the NCAA headquarters and its Hall of Champions, and the Congressional Medal of Honor Memorial. According to Basile, they only scratched the surface of the interesting sights available for us every day in Indianapolis. Like Dorothy said, "There's no place like home."
I have no desire to go to Bhutan or Bosnia or for that matter down the Zambezi River. But I did enjoy reading about those adventures and found a number of suggestions for trips that Janie and I might plan. You can purchase this book by contacting Frank at Frank_Basile@sbcglobal.net or Pat Keiffner, Director/Publisher, IBJ Custom Publishing.•
__________
Maurer is a shareholder in IBJ Corp., which owns Indianapolis Business Journal.  His column appears every other week. To comment on this column, send e-mail to mmaurer@ibj.com.
 
Please enable JavaScript to view this content.