Let me state right off that I have nothing but respect for set designers. I admire the work of sound designers. And I fully understand that costumes, properly created (or found), can deeply enrich a theatrical production.
But, truth be told, a theatrical evening's satisfaction is rooted primarily in the actors and the words, not in what is created around them. In most cases, everything else, while potentially important, is secondary.
That's why, under the right direction, play readings—with actors reading from scripts—can be just as powerful, memorable and theatrically magical as full productions. That's been proven time and again on my visits to L.A. Theatre Works (most recently for "Lobby Hero" with Tate Donovan). And it was proven closer to home with the Aug. 29 reading of "The Exonerated," Jessica Blank's and Erik Jensen's play that examines the alleged crimes and redemptive aftermath of six cases where death-row inmates were released after new evidence came to light.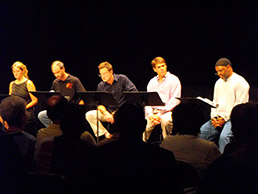 Some of Indy's leading actors gave "The Exonerated" a riveting read. (Photo/Michael Shelton)
Rather than a fully staged production, Heartland Actors Repertory Theatre, in conjunction with Butler University Theatre, simply parked 10 of Indy's top actors on stools in front of music stands (after just one rehearsal, per union rules) and allowed them to tell these stories.
And it worked, hauntingly, with crowds watching not just from Butler's Studio Theatre but also in other rooms via closed-circuit TV.
Granted, the material itself is inherently compelling.
The play immerses us in the true stories of Delbert Tibbs (David Alan Anderson), a prison poet not even in the same state where the murder
he was accused of occurred, and Gary Gauger (Michael Shelton), a mild man accused of slaughtering his parents.
We learn of Sunny Jacobs (Diane Timmerman), a self-proclaimed hippie who allowed her romance with her husband to blossom while both were in different cells on death row after being found guilty in a police killing.
We share the story of Robert Earl Hayes (Ben Rose), an African-American horse groomer accused of killing a white woman he had had relations with (even though she was found with Caucasian hair in her grip). And that of David Keaton, a would-be minister (Monte Tappler) coerced into confessing to a murder he didn't commit.
Then there's Kerry Max Cook (Ryan Artzburger), brutalized in prison after being found guilty of rape and murder.
Yes, it's somber stuff. But, counterintuitively, the material works when the characters come across as living, breathing, flawed, unique people, not as noble martyrs. And that's the gift that the entire cast of Indy all-stars—including supporting cast members Milicent Wright, Jen Johansen, Matthew Roland and Doug Johnson—gave to "The Exonerated." Even in "off camera" moments, the actors were engaged, touching and true.
I've hinted for a long time of the potential benefits to the Indy cultural scene of a regular series of such readings. Not only do audiences get to gain from the opportunity to experience work they otherwise might not get a chance to see and hear (at least, not with such a top-notch company), but the actors themselves gain by being able to work with one another and to explore a wider range of roles without needing to commit to lengthy runs. They also get a chance to be seen by theater lovers who might not have the means to attend theater as often as they would like.
We've got a talented pool of performers here, and "The Exonerated" showed off what they can do when their forces are combined. Here's hoping for more such readings in the future. When I hear about them, I'll certainly let you know.•
__________
This column appears weekly. Send information on upcoming arts and entertainment events to lharry@ibj.com.
Please enable JavaScript to view this content.