Attendance at IndyFringe grew 9 percent this year, to 12,800.
The Indianapolis Theatre Fringe Festival, as it's officially named, closed on Aug. 28 after 10 days of dance, theater, comedy and whatever else doesn't fit the ordinary stage. Fifty-six groups filled seven stages with 336 shows.
The attendance figures include 6,000 unique visitors, who each saw more than one show.
Ticket sales returned $92,400 to the performers.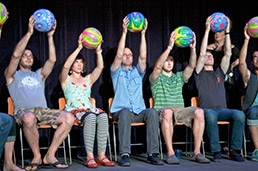 Thirty-eight percent of visitors to last month's IndyFringe festival had never attended the event before. (Photo Daniel Axler)
Local companies and performers were the best draws. Dance Kaleidoscope ranked No. 1 with "Piaf," Three Dollar Bill was second with "School House Wrong!" and solo performer Jared Sherlock followed close behind with "Illusion."
IndyFringe continued to drive new business to Massachusetts Avenue, Executive Director Pauline Moffat said. The festival's survey found that 11 percent of attendees had never before visited the strip. IndyFringe itself was a first-time experience for 38 percent of attendees.
Please enable JavaScript to view this content.