Local tourism officials, with the help of IUPUI, have developed a unique class to offer formal training in the art of Hoosier hospitality.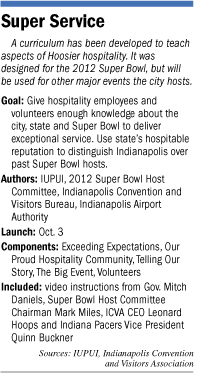 The class is being launched Oct. 3 with the goal of getting tens of thousands of front-line hospitality workers—from hoteliers, caterers and restaurant servers to cab drivers and airport employees—prepared for the barrage of Super Bowl visitors coming in February.
The course is required for the more than 8,000 volunteers who signed up to help host the Feb. 5 Super Bowl, and local tourism officials are hopeful it will be embraced by more than 10,000 local hospitality workers and by tourism-related companies statewide.
More than 500 people attended an introductory meeting on the class earlier this year.
National Football League officials predict 150,000 visitors will descend on central Indiana for Super Bowl week, far more than the 70,000 who will attend the game itself at Lucas Oil Stadium.
"We've gotten nothing but positive feedback from this, and we expect buy-in to be very high," said Indianapolis Convention and Visitors Association Vice President Susie Townsend, who is in charge of the Super Service program for the local Super Bowl Host Committee. "The idea is to set this city and state apart by the service we offer, by our Hoosier hospitality."
The class will be free both in classrooms and online. It is being developed by IUPUI in conjunction with the ICVA, 2012 Super Bowl Host Committee and Indianapolis Airport Authority.
The class is self-paced, but IUPUI officials said in most cases it can be completed in a single day.
While several organizations are donating services to develop the class and keep it updated, the majority of costs are being paid by the Super Bowl Host Committee and ICVA. Development and deployment should cost less than $10,000 in cash, Townsend said.
After the Super Bowl, the class will be offered on an ongoing basis and can be updated for future events the city hosts.
Local hospitality officials said it's the first time such a customized class has been offered by a Super Bowl host city.
The program's purpose is to ensure the Indianapolis hospitality community "is uniformly prepared for the largest mega-event in our state's history," Townsend said. Those that pass the class, which will be offered in English and Spanish, will receive a pin they'll be asked to wear during Super Bowl week to show their proficiency in Hoosier hospitality.
"We like this idea," said Frank Supovitz, the National Football League's Super Bowl point person. "We've been impressed by what we've seen."
The NFL is so impressed that hundreds of contract workers sent by the league to work at the 2012 Super Bowl will take the course.
The Canterbury Hotel was one of the first to sign up to host classes for its employees at its downtown location.
"We feel like unifying everyone from airport workers and cab drivers to hotel and restaurant workers will make a real difference in setting Indianapolis apart from all other Super Bowl host cities," said Starr Peterson, the Canterbury's director of sales and marketing.
The hotel hopes to have its entire staff pass the class in October, Peterson said.
Some class instruction is as simple as encouraging a uniform greeting—all service providers are being asked to tell visitors to, "Have a super day." Other topics include fielding requests for directions and information about Super Bowl events, helping people with disabilities, and dealing with foreign visitors.
Included will be video instruction from a variety of local dignitaries and experts ranging from Gov. Mitch Daniels and architect and arts advocate Alpha Blackburn to Indiana Pacers Vice President Quinn Buckner and Scotty's restaurant owner Scott Wise.
Tourism officials and Super Bowl Host Committee members began contemplating such a program last year when they discovered national tourism training programs, but nothing localized.
"We wanted this to be a program that was not only about offering superior service to visitors, but we wanted it to be all about differentiating Indianapolis and Indiana," Townsend said. "It's about selling this destination."•
Please enable JavaScript to view this content.