The Indianapolis Indians, the city's minor-league baseball team, keeps racking up big numbers in spite of the country's economic malaise.
The Indians wrapped up their home schedule for 2011 in front of a near-capacity crowd of 13,555 on Sept. 3.
For the season, the Indians drew 580,082 fans to Victory Field over 71 home dates, for an average of 8,170 fans per game. Last year's total attendance was 569,969.
The Indians have posted year-over-year attendance increases in four of the last five seasons.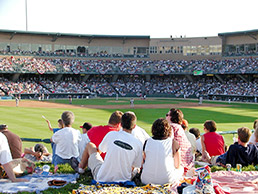 The Indianapolis Indians' 580,082 total season attendance was the team's third-highest since 2001. (IBJ File Photo)
The Tribe was aided by a mid- to late-season attendance rush. Over a 28-game stretch from June 3 to Aug. 6, the Indians averaged more than 10,000 fans per game.
The season total represents the Indians' third-best attendance since 2001. Early in the season, the Indians welcomed the 9-millionth fan to come through the turnstiles at Victory Field since the ballpark opened July 11, 1996.
Team officials credited good weather and the creativity of the team's marketing staff in coming up with myriad game-day promotions for the attendance increase this season.
In 2010, the AAA farm team of the Pittsburgh Pirates scored a profit of $944,286 on revenue of $9.32 million. That was up from $459,603 on revenue of $8.47 million in 2009. Sports business experts are projecting the Indians' profits this year will top $1 million.
Please enable JavaScript to view this content.