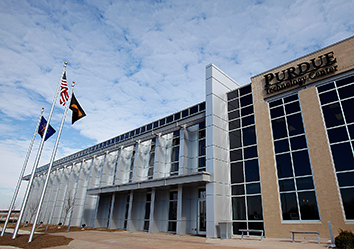 The number of international students enrolled at Purdue University has surged to record levels, a growth that has surprised university officials and prompted more work to help meet the students' needs.
Purdue had 7,934 international students enrolled this month. That's up 17.3 percent from last year and nearly 45 percent from 2008, the Journal & Courier reported.
"We are still trying to figure out what happened. It was very highly unexpected," said Pam Horne, Purdue's dean of admissions.
Mike Brzezinski, dean of international programs, attributed the growth to positive experiences, word of mouth and Purdue's support services.
"It is probably due to the students that come here, have a great experience, and they tell others. From that we have very good reputation," he said. "When you combine that with extra support services we offer, students see that Purdue is a place they can come and be safe and succeed.
"Then, before you know it, more and more people are knocking. And then they are coming in."
Foreign students pay $28,646 in tuition this year. The rate will jump to $30,702 next year. Those amounts include fees assessed of international students to help pay for training for advisers, faculty and other staff who interact with foreign students.
"What we want to do is provide an understanding of their culture and heritage and how they may view dealing with difficulties in another country," Brzezinski said. "You have offices that are stretched by their demand on services, like the writing lab or English tutoring. You have more issues with students trying to understand how we do things here.
Graduate student Gyeongcheol Lee said some foreign students believe overseas enrollment is increasing to help Purdue make up for cuts in state funding. International students pay about $20,000 more in tuition than in-state students.
"The state gave Purdue less money, and this is how they make up for it," said Lee, a student from South Korea. "International students pay the most money; they pay the full cost."
Provost Tim Sands said that isn't the case and that seats aren't held for any demographic category of student.
"We admit based on a holistic review that does not include residency status as a criterion," he said.
Jong Park, who enrolled at Purdue in 2008 but spent the last two years in his native South Korea, said he was stunned by the transformation when he returned to Purdue this year.
"It was just impressive," the engineering major said. "A lot happened in the two years I was gone."
Please enable JavaScript to view this content.