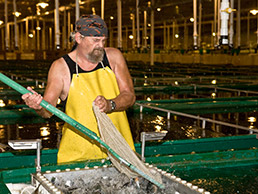 Crist Wright, of Redkey-based Bell Aquaculture, tends the livestock at the nation's largest yellow perch farm. (Photo Courtesy Bell Aquaculture)
When the hog market went south a few years ago, farmers Darryl and Karlanea Brown decided to raise a new kind of livestock. At least, new to these parts. Inside an old barn on their Fowler spread sit giant tanks filled with saltwater shrimp. Their company, RDM Farms, grows and sells them for $15 a pound to the public. Sort of like a roadside produce stand.

A really, really popular roadside produce stand.

"We actually had to shut our doors one Saturday, because we couldn't fill people's orders," Karlanea said. "We ran out of shrimp."

To make sure this doesn't happen again, they're quickly outfitting a second building for shrimp production. They're also showing the ropes to others interested in the business. When they opened in 2010, they were the only place in Indiana to purchase live, locally raised shrimp. Since then, two more startups have come online. And more could be on the way, judging from the number of people who've asked to poke around RDM's facilities.

"We're averaging three to four a week," Karlanea said. "We give tours because when we were starting out, there was no place like this to visit."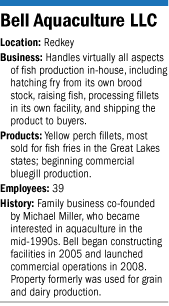 At first glance, Indiana and fish farming (or aquaculture) seems like an odd fit. And, indeed, statistics—actually educated guesses, given the lack of solid data—place current annual in-state production at just a few million dollars.

But some believe the state's central location, abundant land and water supplies, and relatively benign regulatory environment could foster a $1 billion industry in the next 10 years.

Already, there are several dozen, mostly smallish players scattered across the state—from Ladoga's Aqua-Manna LLC, which sells seafood-raising technology, including the shrimp tanks used by RDM; to Elkhart's Northern Indiana Aquaproducts, which raises about 35,000 pounds of seafood (including tilapia) annually. The firm also uses the nutrient-rich water in the fish tanks to grow vegetables hydroponically.

"Is there a huge opportunity for the domestic production of farm-raised fish?" said Richard W. Martin, publisher of Fish Farming News. "Absolutely. I think it's immense."
Martin said overfishing caused stocks of wild-caught fish to plummet in the 1980s and 1990s. Strict management helped those populations rebound, but there's no way (short of creating a new ocean) to increase wild supplies enough to satisfy an increasingly seafood-hungry world.

Indeed, the supply of wild-caught fish has flattened out while aquaculture has grown exponentially. About half the seafood humans consume now comes from aquaculture. In 1990, the proportion was just 19 percent, according to the United Nations Food and Agriculture Organization.

Americans already shell out $10 billion annually for imported seafood, creating a yawning trade deficit second only to oil. Then there's China, where 26 percent of each resident's annual protein consumption comes from lakes or oceans. Recently, and for the first time in its long history, that country became a net fish importer, driving up prices on the international market. Which means that if Americans want seafood at anything like a reasonable price, they need to grow some of their own.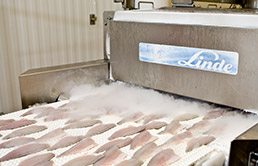 The vast majority of the 1.8 million fish produced every year by Bell Aquaculture end up at fish fries around the upper Midwest. (Photo Courtesy Bell Aquaculture)
"Our trade deficit in fisheries products is just phenomenal," said Bob Rode, lab manager of the Aquaculture Research Lab at Purdue University. "For the next probably 20 years, we're looking at pretty much relentless demand increases."

Which is where Indiana comes in.

One of the biggest advocates for Indiana aquaculture is the Indiana Soybean Association. And for obvious reasons. The U.S. Soybean Export Council estimates that 10.5 million metric tons of soybeans already go into aquaculture feeds annually, and that the total could increase to 24.5 million tons by 2015.

"Global aquaculture production is growing at 6 to 8 percent annually and we see it as a major market for soybeans," said Dr. Steven Hart, director of aquaculture for the Indiana Soybean Alliance.

The ISA is so excited about Indiana's prospects that it conducts workshops throughout the state on how to start and run an aquaculture business. The organization also funds studies to develop optimal soy-based feeds for yellow perch, hybrid striped bass and large-mouth bass, and to process fish waste into a commercially salable fertilizer.

The ISA's golden boy is Redkey-based Bell Aquaculture, the state's only industrial-scale fish farming outfit. While Indiana's aquaculture industry produces only 1 million pounds of fish annually, expansion plans at Bell will double that number by next year.

And the technology the company is developing could pave the way for even higher production. Put simply, company officials have figured out how to raise their fish—yellow perch—indoors under highly controlled conditions, just as chicken and hog farmers do.

The company's plant raises 1.8 million fish annually. That number will balloon to 3 million when a $5 million expansion wraps up in 2012.

To no surprise, Bell President Norman McCowan is bullish on Indiana's aquaculture potential, believing that the state (and his company in particular) possesses the three things necessary to make a go of it: sustainable technology, readily available food (soybeans) and water, and funding. The company two years ago hired Denver-based investment bank SDR Ventures to line up millions of dollars from outside backers—an infusion that helped make the current expansion possible.

"We believe those pieces of the puzzle are quickly coming into play, and that industry is ripe for growth," McCowan said. "I don't know if I can put a limit on it. I know of projects that are potentially in the works that are very large. If Indiana would go after this industry, I could see it as a billion-dollar industry in Indiana alone."

Finding a niche

To understand the scope of demand, consider that Bell hasn't had to go looking for potential markets. Prospective customers from as far away as Ireland and Switzerland have contacted the company—and been turned away. Bell, even with its industrial-scale operation, can't come close to meeting domestic orders for its yellow perch, let alone service export clients.

"We've not looked at any of those requests at this time, because of the high demand for our product inside the states," McCowan said.

Not that international competitors would welcome Indiana's fledgling aquaculture industry with open arms. Indeed, the highly competitive world seafood market already resembles a piranha tank. Commodity items such as tilapia are cornered by enormous, well-established international players using cheap labor to keep prices down. Players such as the Vietnamese, for instance, have decimated the U.S. farm-raised catfish industry with their cut-rate product.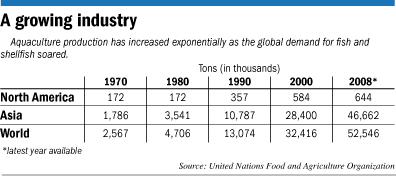 "It would be a long time before we could even think about becoming an exporter," Rode said.

But there's also good news, and it has the potential to be very good. The trick, say industry experts, is to forget about large-scale production of mass-market items such as tilapia and catfish and concentrate on domestic niches.

Those niches can be vast. Consider what Bell does with its shoals of yellow perch. The vast majority of its production is gobbled up at fish fries around the upper Midwest, where yellow perch is the battered, deep-fried fillet of choice.

A 1980s study found that some 38 million pounds of the fish were consumed within a 50-mile perimeter around the shores of the Great Lakes. Yet wild-caught supplies have plummeted—in part because the Lake Michigan population was decimated by an invasion of zebra mussels—from around 18 million pounds in 1980 to 8 million in 2005.

That leaves lots of slack for Bell to pick up. So much that the company, already the nation's largest yellow perch farm, plans to increase production to an astronomical 20 million perch by 2016.

"We're looking to expand the market, of course, and develop new territory for yellow perch," Bell's McCowan said. "But fish fries are our main target at this point."

Bell also is ramping up a bluegill production line targeted at high-end restaurants. That's where much of Indiana's aquaculture future may lie—raising fresh, restaurant-grade fillets from semi-exotic species.

"That's where we're moving," Purdue's Rode said. "There's a lot of talk right now about walleye. They're still working out the bugs in the technology, but it looks to be even better than yellow perch, in terms of growth."

So Indiana's play is to offer niche fish to the domestic market, capitalizing on the distribution advantages of being near the middle of the country.

Tough business

But there are plenty of hurdles to overcome. For one thing, the industry isn't exactly friendly to most mom-and-pop outfits. Growing fish profitably generally requires economies of scale. And that means millions of dollars in startup funds.

Take Bell Aquaculture. The company, which currently employs 39, told the Indiana Economic Development Corp. it planned to plow $58 million into its operations from 2010 to 2018. The IEDC offered the company up to $625,000 in tax credits based on its plans to create 111 jobs during that period.

"Commercial fish farmers, once their facilities are up and running, need to be able to cover operating costs for months, even years, until their first harvest," Martin at Fish Farming News said. "Cash flow can be a huge problem. Commercial fish farming, on a large scale, is not for the under-capitalized, nor the faint of heart."

Add to that what Martin calls over-regulation. He said the domestic aquaculture market has been "waiting to explode" for 20 years, but has been held in check by public resistance and regulatory uncertainties. It's been cast as a polluting industry (all that fish poop), making regulation sometimes dicey and unpredictable.

"The permitting process for opening and expanding an aquaculture facility can be very difficult," he said. "It depends on what the politics and the climate are in your particular state or region."

In Indiana, at least, aquaculture still flies mostly below the radar—for better or worse. It doesn't face a lot of regulatory static, but doesn't enjoy much public awareness, either. For instance, though IEDC was happy to provide Bell a tax break, it doesn't make any special effort to promote fish farming in general.

Bell, for its part, calls Indiana a pro-aquaculture state and doesn't profess to facing onerous regulatory hurdles. Of course, it doesn't hurt that Bell's state-of-the-art production facility addresses many of the problems inherent in raising livestock of any sort.

Instead of slurping up the local water supply, Bell's system is almost a closed cycle, endlessly filtering and reusing about 97 percent of what it takes in. Fish waste is treated and stored, and there's research under way to turn it into fertilizer.

Martin would like to see more companies launching similarly aggressive investments. Opportunities abound, he believes, for aquaculture firms that develop the right business plans.

"Can domestic fish farmers compete with either wild harvest products or imports?" Martin said. "They can if they find a niche. Why are we leaving this opportunity on the table?"•