Billionaire investor Warren Buffett visited Indianapolis on Wednesday and explained why he agreed to help finance part of the revitalization project on the city's east side.
Buffett's remarks Wednesday morning came as city leaders and investors in the project gathered for a ribbon-cutting ceremony at the East Village at Avondale apartment project. It's part of a larger development aimed at revitalizing a blighted neighborhood on East 38th Street where the crime-ridden Meadows complex once stood.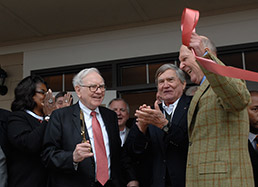 Warren Buffett, center, cuts the ribbon at a mixed-income apartment community in Indianapolis. (IBJ Photo/ Perry Reichanadter)
"We're working together to change the lives of the thousands of people who have gotten the short straws in life," Buffett said, "and give them the same chance that my kids have had."
East Village at Avondale is a $27 million project with eight layers of financing, including an investment from Atlanta-based Purpose Built Communities, co-founded by Buffett.
The developer of the project is a joint venture of Chicago-based Strategic Capital Partners, Mishawaka-based The Sterling Group, Meadows Community Foundation, Purpose Built Communities and the city of Indianapolis.
Strategic Capital Partners received $19 million in tax credits that were sold to Chicago-based National Equity Fund to help finance construction of the 248-unit apartment complex. It is being built on about 15 acres of land that Strategic Capital put under contract in 2010.
The city of Indianapolis also kicked in $5 million in tax credits.
"This is an incredible project with the ultimate goal of bringing this neighborhood back full circle," Mayor Greg Ballard said.
Fifty-four units of the project are pre-leased and will be occupied next month. Seventy percent of the units will be leased at affordable market rates and the balance will be leased at market rates.
East Village at Avondale is the first phase of a larger, $150 million development that is to include additional housing—both apartments and single-family—and retail development fronting 38th Street.
Luring a supermarket to the area is vital to the development's success, said Gene Zink, CEO of Strategic Capital Partners, noting the nearest grocery store is 3-1/2 miles away.
"You can't just fix one thing, or the bad would come back," Zink said. "You have to fix it all."  
Planning also is under way for a community center to serve the neighborhood. Some of the land might be set aside for recreational fields to serve the community and nearby schools.
Some of the land for the development was purchased from a Pentecostal church that previously tried to spur development in the area. The balance is land the city transferred to the Meadows foundation. The development group is leasing the land from the foundation in a long-term lease that will provide the foundation with an income stream it can devote to its mission of improving the surrounding neighborhood.
Purpose Built Communities was founded in 2009 by Atlanta real estate developer Tom Cousin, who enlisted Buffett for help. 
In addition to Indianapolis, the group is tackling developments in three cities in Georgia; Birmingham, Ala.; New Orleans; Galveston, Texas; Omaha, Neb.; and Charlotte, N.C.
Buffett vowed to return to Indianapolis when East Village at Avondale is fully occupied.
"It's going to be another successful example that we can show other cities," he said of the project. "I'm joining a successful model and successful people. In business, that's what I look for. And then I just sit back and cut ribbons."
Please enable JavaScript to view this content.