There are certainly people living within a gnocchi's throw of J. Razzo's Italian Restaurant & Wine Bar (12501 N. Meridian St., Carmel, 844-9333). But it qualifies for this month's theme of "en route" restaurants because most potential customers are likely to first see it while heading toward downtown from points north or heading up to Clay Terrace or the Palladium from points south.
Whatever the case, they'll find in this strip-center Italian newbie a restaurant making a serious effort to combine casual and classy. The sneaker-and-jean-clad host combined with the classically muted, if slightly generic, décor send a message to come as you are.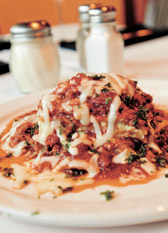 Spiced ground beef is layered into J. Razzo's lasagna, a lunch staple. (IBJ Photo/ Perry Reichanadter)
On the lunch food front, J. Razzo's doesn't yet dazzle—at least on my visits. But there were certainly pleasures to be had in this comfortable, friendly eatery. My guest and I would have been deeply disappointed if either of us had ordered the individual pizza ($7 for a Tomato & Cheese version) as a lunch entre. One of our two appetizers, the dull disc seemed like an afterthought. Better were the Risotto Balls ($6), although only one of the two orbs on our platter had the promised sweet peas inside. Odd.
J. Razzo's defines an Italian Cheeseburger ($8—refreshing in a dining world where $10+ burgers are becoming the norm) as topped with sliced onion, tomato, fresh basil, mozzarella cheese, and a dab of sauce. In any language, it would prove a hearty, flavorful combo. An Italian Panini ($8), packed with prosciutto and provolone, at least showed a little flair, thanks to a pesto aioli that moved it beyond the basic grilled ham and cheese. Side options are limited to French fries or pasta salad, neither of which distinguished themselves.
Happiest of our diners was the one who went for the pasta, scoring a hefty block of lasagna ($8), with plenty of spiced ground beef, fresh pasta layers, and an aromatic, savory red sauce that left us wishing for more bread to soak it up with.•
—Lou Harry
__________
Second in a month-long series of "en route" restaurants.
 
Please enable JavaScript to view this content.