Two recent Indiana University graduates are carving a lucrative, if somewhat retro, niche in the news business.
Founded in June 2009, Indianapolis-based Olympia Media Group publishes newspapers on college campuses. In the last year, it has more than tripled its payroll to 29 full-time employees, rapidly expanded its distribution footprint to 36 college campuses, and spawned a revenue stream of more than $2 million a year.
Evan Burns, left, and Adrian France have hired more than 20 people from across the country to work in Olympia Media Group's Indianapolis office. Recent hires have come from California, Illinois, Ohio, Texas and Washington. (IBJ Photo/ Perry Reichanadter)
Circulation for the company's main product, a weekly newspaper customized for fraternity and sorority members at each college where it is distributed, has grown from about 25,000 to more than 200,000 nationwide in less than three years.
Circulation will grow to 250,000 when the footprint expands to 45 college campuses by January, said Olympia's co-founders, Evan Burns, 23, and Adrian France, 25.
The youthful company has no intention of pausing to catch its breath, with Burns and France planning to launch digital versions of its paper at small colleges—a project that will extend its reach to 100 campuses.
Though the company's founders declined to reveal Olympia Media's revenue, in 2010 they projected it at $2 million. They said they've exceeded those projections.
"Our projections are now higher than that by a pretty significant margin," Burns said. He added that the company's profit margin is "easily" above 10 percent.
"The trend in print publications is to find a niche and cover it like no one else, and this organization has apparently done that," said Joseph N. Boyce, a retired senior editor with The Wall Street Journal who now teaches journalism at IUPUI. "The structure of this publication is certainly unique, and you have to applaud them for the innovation."
Content for the newspaper—The Odyssey—is tailor-made for each college, using an army of student writers and photographers. Each campus also has an ad sales team and a student publisher who oversees the on-campus operation.
Each campus staff is managed by full-time employees in Indianapolis. While the writers work for free—sometimes earning college credit—the ad sellers work on commission. Publishers get a percentage of that commission and make, on average, about $10,000 a year, Burns said.
The idea for the company was kindled when Burns and France met in an Indiana University business class in the fall of 2008. With little startup capital, the duo launched the company before their senior year in June 2009.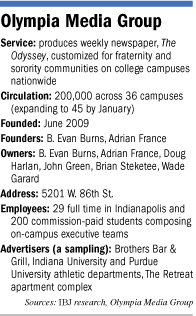 After France's mom recommended the name The Odyssey, the two launched the first print publication targeted solely for the Greek community at Indiana University. Advertisers found the publication appealing because its Greek audience is "affluent, influential and loyal," France said.
The business was immediately profitable, Burns said, fueled by the ad buys of Dunkin Donuts, Aveda Hair Salons, the IU Athletic Department and other prominent brands.
Soon, the duo realized their business model was easily replicated, and launched a publication at Purdue University.
Later during that 2009-2010 school year, they decided to test it on two out-of-state colleges: one big campus, Michigan State, and one small school, Miami University of Ohio. All four publications immediately proved to be profitable, Burns said.
After gradation, Burns and France decided to try to make a career out of Olympia Media Group.
Through Burns' Phi Kappa Psi fraternity ties, the duo secured financing to expand last year. This year, much of the growth is being fueled organically. No additional investors have been added to the original four: Harlan Bakeries executive Doug Harlan; Indianapolis marketer and fundraiser Wade Garard; Grand Rapids, Mich., real estate developer John Green; and marketer Brian Steketee.
Olympia officials have not been discouraged by the challenges facing the print industry.
"We found a print publication put in the right location can rise above the noise level of everything else and gain people's attention," Burns said.
The articles, some written in first person, cover a range of topics, from fraternity and sorority charity and fundraising events to the challenges of recruiting house members. The newspapers also offer more general articles covering topics such as the local music scene or whether to "friend" someone on Facebook.
The idea France said, is to keep the publication high-end and the content PG-13. The tabloid-size publications generally have 16 to 20 pages with the space split evenly between advertising and news copy.
Key to the company's success is finding the right students to head the operation on college campuses.
France, a Delta Zeta, and Burns initially made inquiries through their own Greek organizations and Greek leadership groups on the various campuses. Once they identified key individuals, they relied heavily on referrals.
"We have a pretty high bar and our vetting process is pretty extensive," Burns said. "We want to find people who are heavily involved in the campus, someone who is really exceptional. So far, our retention rate has been great."
Burns and France this year are revamping the way they structure the on-campus staff. Instead of having everything fall on the publisher, they now have a publisher, assistant publisher and two to three advertising executives form an executive team on each campus.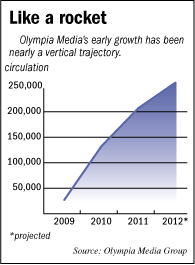 The new structure includes two contributing editors, a social media director, a photographer and a writer from each fraternity and sorority on campus. Across its campuses, Olympia Media has 200 paid student employees.
Olympia earlier this year debuted its new staff structure at the University of Florida, which now boasts the highest-grossing edition of The Odyssey. Burns said the Florida paper has already grossed as much in the first month of this school year as the top-selling edition of The Odyssey did all of last year.
The new setup helps give management a better support structure and leads to a better-organized sales effort.
"One of our main goals this year is to expand the University of Florida model," Burns said.
The second major initiative is to grow Olympia's digital presence.
Later this year, Olympia is planning to launch a Web-only edition of The Odyssey on 55 college campuses. The Web-only edition targets smaller colleges such as Butler, DePauw and Northwestern that have a vibrant Greek community, but are not big enough to support a print publication.
"We can staff these campuses with five to 10 people," Burns said.
The company's advertisers, he added, are already asking for digital advertising.
"People are starting to understand that it takes an integrated approach to be successful in advertising," he said.•
Please enable JavaScript to view this content.