Farris
A new enterprise in the Muncie area hopes to capitalize on wealthy foreigners' thirst for U.S. residency.
Business partners Roy Budd and Tom Farris gained approval last month from U.S. Citizenship and Immigration Services for a regional visa center covering nine east-central Indiana counties.
Energize-ECI EB-5 Regional Visa Center LLC is based in the same area as the economic development group Energize-ECI, where Budd is executive director and Farris has served as a consultant.
"The goal is to make this thing a profitable entity," Farris said of the newly minted regional center. "The goal also is to expand the number of jobs in east-central Indiana."
Energize-ECI and 172 other regional centers around the country serve as vehicles for foreign investment, specifically where the investors hope to land green cards. Two existing regional centers, one in Louisville and one in Chicago, serve parts of Indiana.
Regional centers revolve around one visa program, called EB-5, aimed at people who can invest $500,000 to $1 million in a U.S. business and create at least 10 jobs.
Foreigners can obtain EB-5 visas by starting their own businesses here, but for most, it's easier to simply invest in a regional center run by U.S. citizens.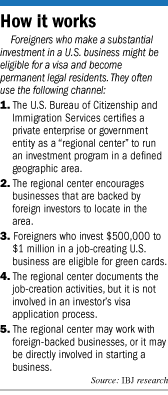 "What we're getting here is business titans from around the world," said Dan Harris of Harris and Moure, an international law firm in Seattle. He noted that EB-5 visa applicants have to show that they made their money legally.
Surging popularity
The EB-5 visa program has existed since 1990, but its popularity is surging along with the number of wealthy people in countries like China.
Wealthy people in China don't want to jump ship right away, but they want options in case their economy or government turns unfavorable, Harris said.
The demand for visas comes as traditional sources of financing run dry.
"Some of these projects probably wouldn't happen without EB-5 investment," Farris said.
Regional centers are often started as a way to attract investment in a particular real-estate development project or business. One regional center in California, for example, exists for the purpose of owning and investing in wineries.
Ownership of a regional center and the business it hosts can be one and the same.
Energize-ECI is taking a different approach by receiving pitches from businesses that may locate in Indiana. It's targeting a cross-section of industries—manufacturing, information technology, green technology, agriculture and food processing.
The lead project is a plastics recycler that wants to open a facility near Interstate 69 in Madison County or Delaware County, Farris said. The capital investment would be $40 million to $60 million, and the business eventually would create 200 jobs, he said.
A second prospect is a food processor that's looking for 500 acres and could create 1,000 to 2,000 jobs. Plans for that business are still in early stages, Farris said.
The Energize-ECI regional center will charge consulting fees to the businesses looking to set up within its boundaries, Farris said. It could also take an equity stake in those businesses, but that's not part of the plan for the recycling or food-processing business, he said.
Farris said his and Budd's experience in local economic development is an advantage, but he doesn't think it poses a conflict of interest.
The regional center will present businesses to counties within its footprint, Farris said, but it won't get involved in crafting incentives.
"The final ball's still in their court," he said. "They can decide if it's something that meets their needs."
Documenting jobs
Farris said one of the center's main tasks will be documenting job creation according to federal guidelines. The United States initially grants a two-year visa, but to gain permanent-resident status, the foreign investor has to show the business created at least 10 jobs.
The jobs can be with the business, outside service providers and even "induced," as employees spend money in the local economy.
Ten jobs sounds like a low hurdle, but it trips up a lot of regional centers because they over-promise, said Katherine Johnson, chief operating officer at the Midwest Center for Foreign Investment in Louisville.
A regional center that's involved in real estate, for example, will create far fewer jobs than a hotel. That means there's less room for foreign investment in the financing mix.
Johnson said many of the investor candidates she meets are wary.
"They want to make sure the job creation is going to happen," she said.
It's up to the foreign investors to pursue the visa applications, and the U.S. government is issuing more of them through the EB-5 program—3,706 so far this fiscal year. That's compared with fewer than 1,000 in the fiscal years 2005 through 2007.
But relatively few of those visas—337—were unconditional green cards.
Johnson has recruited three investors, who are from Vietnam, Egypt and India, since the Midwest Center for Foreign Investment was approved in July 2010.
The regional center is focused on real estate, financing a retirement home in Elizabethtown, Ky., and lofts in downtown Louisville. With territory in southern Indiana, it's also hoping to recruit 200 to 300 investors for redevelopment of the former Colgate-Palmolive plant in Clarksville.
Competition for the investors is increasing. U.S. Citizenship and Immigration Services reported in September that it had received 176 regional center proposals so far this fiscal year, up from 110 last year.
"A lot of people set up regional centers, then never really got the money needed," Harris said.
Lack of foreign investment may have been a factor in the failure of a regional center in Moberly, Mo.
Called Mamtek, it was supposed to use backing from Chinese investors to open an artificial sweetener factory employing 600 people. Then, on Aug. 1, it defaulted on a payment to the city, which had issued $39 million in bonds for the factory's construction, and let go 15 people who'd been hired, according to local press reports.
Energize-ECI already has been contacted by visa brokers with foreign contacts, Farris said. He's also getting a lot of inquiries from business owners.
"There's a lot of ideas out there, and not everything's as solid as it should be," Farris said. "We have a responsibility to the investors, developers, as well as to the counties where we live."•
Please enable JavaScript to view this content.