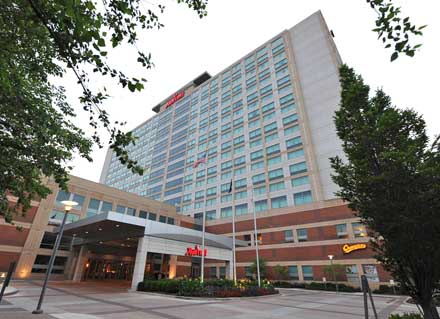 Three of the four downtown hotels being used to house NCAA Tournament teams will exit the "bubble" this afternoon, as the 16 remaining teams move into one location—the Indianapolis Marriott Downtown.
The consolidation comes ahead of the tournament's Sweet 16 round, which will tip off Saturday afternoon at Butler's Hinkle Fieldhouse and Bankers Life Fieldhouse downtown. The move will allow fans and other visitors to use the Hyatt Regency, Westin and JW Marriott hotels for the first time in 10 days, after the three properties were fully booked by the NCAA for tournament needs.
Like the Marriott, Le Meridien will also remain part of the bubble, serving some volunteers and various NCAA administrators. Some broadcast personnel may remain at other hotels.
Phil Ray, general manager of the JW Marriott, confirmed the hotel will reopen for outside visitors at 3 p.m. Tuesday, with some bookings expected to arrive later in the day. The High Velocity restaurant and Starbucks at the hotel will also reopen at that time.
Restrictions on the hotels to accommodate the tournament took about 2,800 rooms, or about 37% of the downtown market, out of service. About 2,300 rooms have been used so far to create a controlled environment for the student athletes, coaches and support personnel. Each hotel connects by skywalk to the Indiana Convention Center and Lucas Oil Stadium.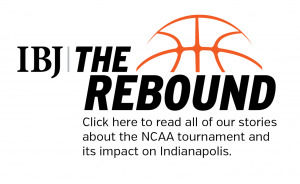 Throughout the tournament, the four team hotels have had to serve at least two meals per team per day, while also handling logistical challenges like package and outside food deliveries—all while ensuring the controlled environment remains intact.
The hotels have also worked closely with the NCAA and Indiana University Health to continually test everyone inside the bubble to limit transmission of COVID-19. One team, Virginia Commonwealth University, was forced to make an early exit from the tournament before its First Round game Saturday, due to contact-tracing protocols.
Initially, it was believed the NCAA would not consolidate teams to one hotel, but a source said Monday the organization ultimately felt doing so made more sense for its operations.
The move also allows the un-bubbled hotels to start bringing in guests for stays during the rest of the tournament, including the Final Four and National Championship on April 3 and 5, respectively.
Throughout the first weekend of the tournament, nearly all downtown hotel rooms were booked by visitors, said Patrick Tamm, president of the Indiana Restaurant & Lodging Association. Many hotels elsewhere in the city also saw big boosts from tournament action.
Typical rooms at the JW Marriott for Tuesday night start at $199, but those prices are expected to surge to at least $300 ahead of the title game.
The Westin and Hyatt Regency have standard rooms available for about $160 to $170 per night, starting Tuesday. Those prices are expected to balloon to anywhere from $270 to $290 for the Final Four.
Please enable JavaScript to view this content.