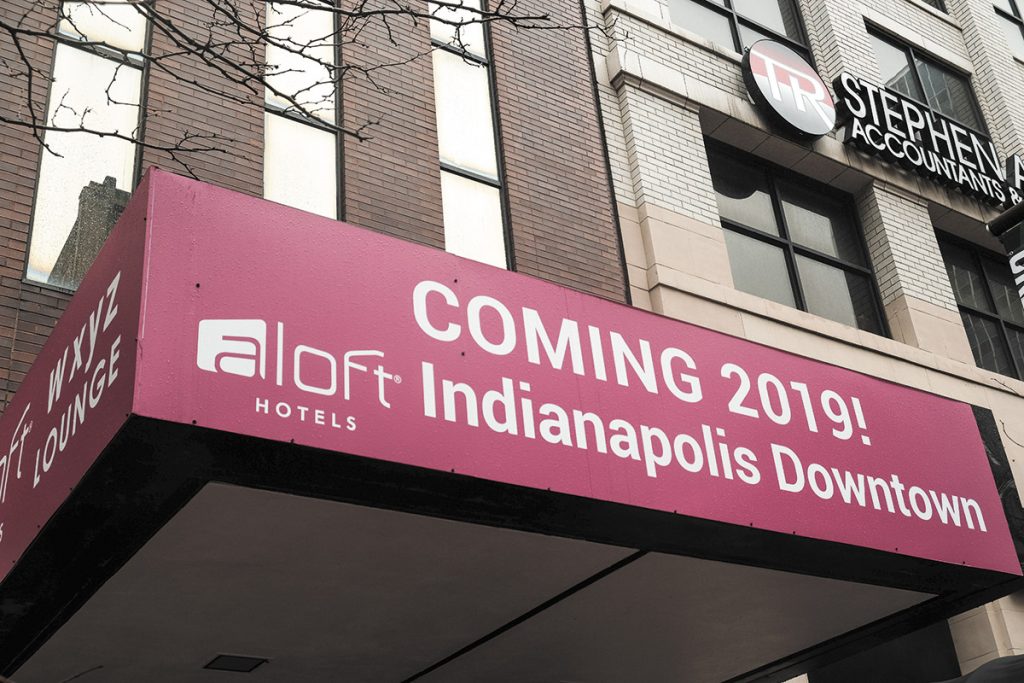 A trio of hotels in downtown's construction pipeline have stalled in recent months, raising questions about whether they will ultimately move forward.
The Kimpton in the first block of North Pennsylvania Street, the Aloft on East Market Street, and a yet-unnamed development at 47 S. Meridian St. are each at different stages in their development processes. But none has progressed since at least late last year.
Industry sources told IBJ the projects each have their own problems—from financial challenges to delays in obtaining government approvals to securing the departure of existing tenants.
Collectively, the three hotels would cost about $125 million to build and create 500 rooms—about 13% of the more than 4,200 hotel rooms projected to come online downtown over the next half-dozen years.
Nineteen hotels are expected to open downtown by 2026, accounting for 4,203 rooms and almost half-a-billion dollars of investment.
That investment amount doesn't include a 350-room Drury Inn that St. Louis-based Drury Hotels says it will begin building in 2021 on the southwest corner of Pennsylvania and Washington streets. Nor does it include two Hilton hotels (totaling more than 1,400 rooms) that Indianapolis-based Kite Realty Group plans to build on Pan Am Plaza, across Capitol Avenue from the Indiana Convention Center.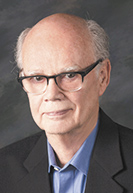 With such a surge in hotel developments, Drew Dimond, president of Indianapolis-based Dimond Hotel Consulting Group, said he isn't surprised some are experiencing interruptions. And it often comes down to money.
"The real test of the probability of an announced hotel making it to the finish line is whether it has obtained financing," said Dimond, who has followed the national hotel industry for decades.
According to mortgage-records searches filed with the Marion County Recorder's Office, only one of the three stalled projects has secured a construction loan: Columbus, Indiana-based Everwood Hospitality Partners obtained a $15 million mortgage last May for the Aloft, at 136 E. Market St.
It's possible, though unlikely, that the other two projects will be financed through investor groups and equity, eliminating the need for a mortgage, said hotel industry insiders. Most hotel developers seek a bank loan to cover the bulk of construction costs.
City filings show construction permits for the Aloft were pulled in July 2019, and work began at least on the first floor, which was gutted to make way for a new lobby.
But little else has been done with the property since at least November. The building's exterior remains clad with signage advertising a late 2019 opening. The delays make it unlikely the project will open before the end of this year.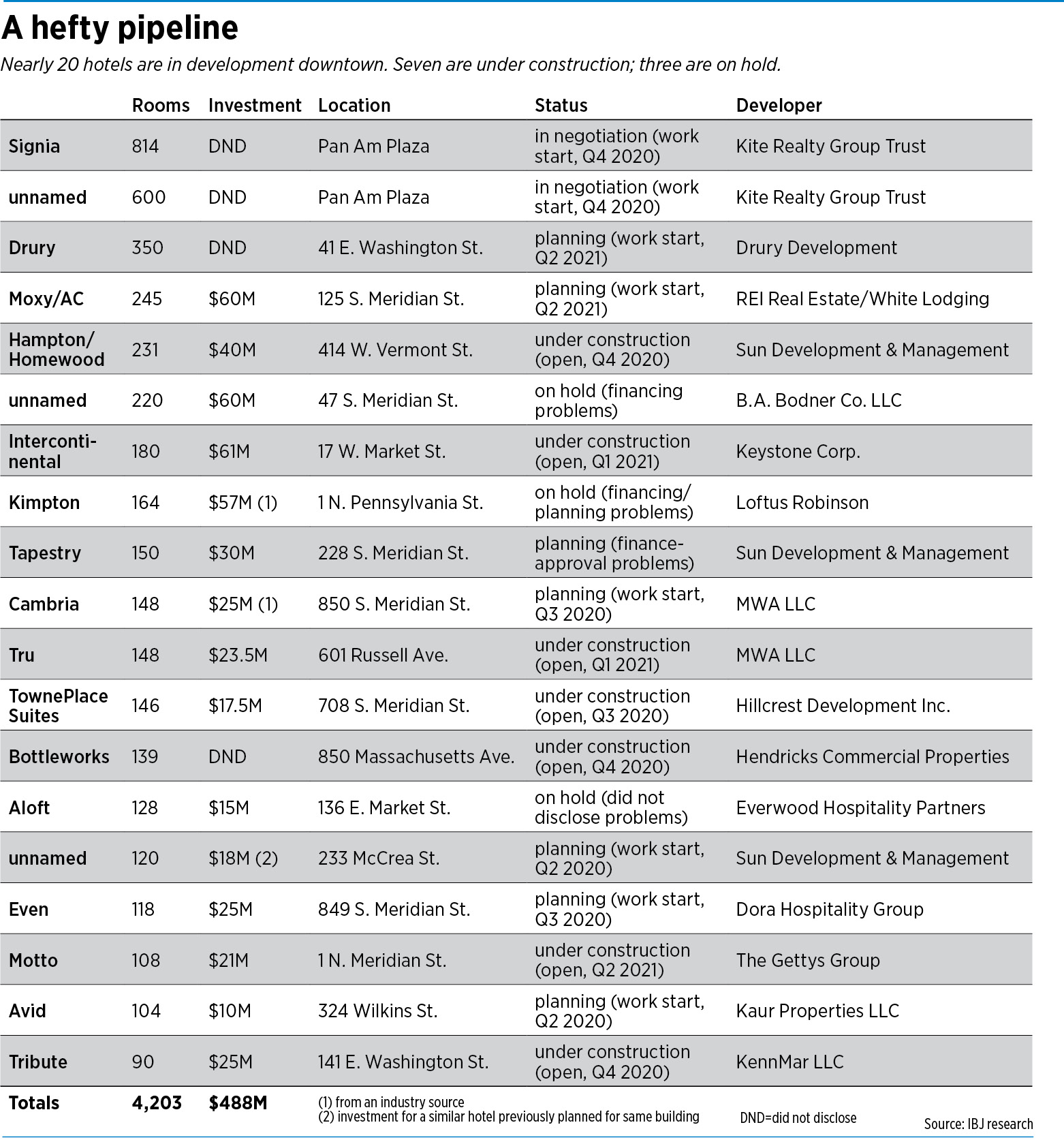 Two sources familiar with the project said the Aloft was "significantly delayed" after the company was forced to wait for tenant leases to expire. It doesn't appear anyone still occupies the building, which is now a marked construction zone.
The 12-story structure was most recently anchored by Stock Yards Bank & Trust.
Representatives for Everwood did not respond to repeated messages requesting comment for this story.
Waiting game
The 164-room Kimpton, from Indianapolis developer Loftus Robinson, is the most upscale of the three stalled projects.
The developer in late 2017 rolled out its plans to convert the historic, 16-story Odd Fellows Building at 1 N. Pennsylvania St. into a hotel. It has not revealed a price tag for the project, though one industry source ballparked it at $350,000 per room, or $57 million.
Firm principal Drew Loftus, who did not respond to several inquiries about the Kimpton, told IBJ early this year that the project was awaiting approval from the National Park Service, a necessary step to receive federal historic tax credits.
"We're preparing to start construction once we have that final approval, though selective demolition and utility work is ongoing," Loftus said.
The project's general contractor, Indianapolis-based F.A. Wilhelm, has not been on site since at least mid-January. Construction permits for structural work inside the building have not been pulled, according to public records.
Loftus Robinson also is facing a stalled hotel project in Speedway. Work on the Wilshaw across from the Indianapolis Motor Speedway stopped in July, apparently because of problems obtaining full financing.
"They don't appear to be getting anywhere [in Speedway]," said one industry source, who spoke on condition of anonymity. "If they're having trouble raising money on that project, they'll have even more trouble with the Kimpton because it's more money."
Dimond, the consultant, said a multitude of factors play a role in financing problems for hotel projects.
Chief among them is construction costs, which are on the upswing and have been blamed for cost increases on several major central Indiana hotel projects. The planned cost of Carmel-based REI Real Estate's Moxy/AC Hotel project on South Meridian Street rose from $50 million to $60 million. The cost of The Carmichael, which is backed by the city of Carmel, has swelled from $40 million to $58.5 million.
"Construction costs are going up, a lot, and some developers aren't as sure as they were when they announced their projects." Dimond said. "Things have changed quite a bit over the last 18 months."
He said there's "plenty of money out there" from lenders, but most banks want to work only with developers that have hotel experience. Most projects require at least 20% equity, Dimond said.
If a developer without experience asks for a loan, he said, it often is required to cover at least 40% of the development cost through other means—such as equity or other investors.
According to its website, Loftus Robinson, which was founded in 2011, has completed one hotel—a 122-room Woodsprings Suites in Zionsville that opened in February 2019.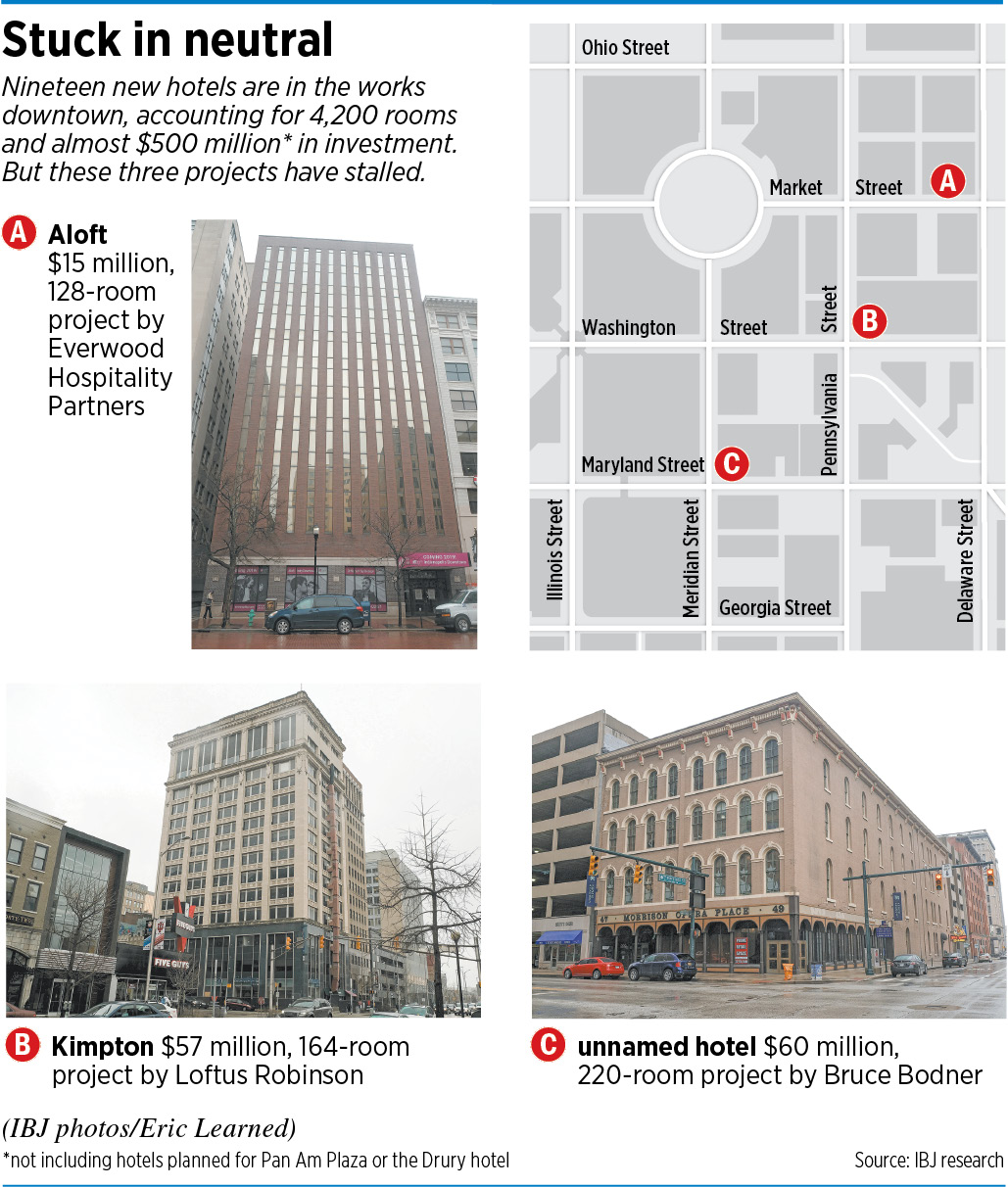 Financial obstacles
Indianapolis developer Bruce Bodner told IBJ he's facing multiple hurdles for a splashy, $60 million hotel and residential development his group, B.A. Bodner Co. LLC, plans at 47 S. Meridian St.
Bodner envisions building 18 stories atop the four-story Morrison Opera Place—a tower that would accommodate 220 hotel rooms, along with dozens of residential units and a signature restaurant.
He'd eyed an early 2021 construction start but is having trouble securing financing or investors.
He also is skeptical that local officials would support tax-increment financing for the hotel—something in which he has expressed interest.
"The project is moving forward for now, but we're still figuring the finance piece out," he said.
Bodner has met with city officials once to discuss the project, and they seemed less than receptive, he said.
Even so, he hopes to win them over.
"We're still in the early stages," Bodner said. City financial support is "integral," he said, adding that the 18-story tower likely will be scrapped without it.
Dimond, the consultant, said it's likely a few projects on the board will never come to fruition. "Based on the number of hotels looking to crack into the market … we know, inevitably, some of those hotels will drop out."
According to Nashville, Tennessee, firm STR, which tracks hotel markets and trends, about 25% of planned hotels never get built. In Indianapolis, that would equate to about five of the pending 19 projects.
Visit Indy Vice President Chris Gahl said he expects the market to see "healthy attrition" in the coming months—particularly after Kite finalizes plans for its Pan Am Plaza hotels. Those plans are expected to be made public yet this month.
"Based on the sheer volume of hotels looking to enter the market, it doesn't come as a surprise that that might occur," he said. "We do not want to be an overdeveloped city."•
Please enable JavaScript to view this content.