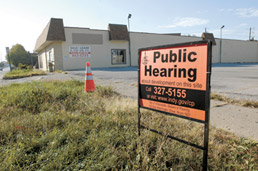 An empty Bureau of Motor Vehicles branch on Virginia Avenue is slated for an apartment and retail development. (IBJ Photo/ Perry Reichanadter)
Call it Extreme Makeover: Holy Rosary.

Just about every building and corner along a four-block stretch of Virginia Avenue in this historic neighborhood southeast of downtown is under construction or will be soon.

New building owners are renovating vacant spaces, existing tenants are expanding, and local developers are working on two ground-up projects that will add hundreds of market-rate apartments and thousands of square feet of retail space.

The flurry of changes inspired Tom Battista, who in December 2010 bought three buildings near the intersection of Virginia and College avenues, to start a movement to brand the area as Little Five Points.

New developments would bookend the "Little Five Points" created by the confluence of College and Virginia

avenues, and Stevens and Pine streets. The northeast part of the intersection is in the historic Fletcher Place neighborhood.

The newest proposal calls for 64 apartments and a 1,700-square-foot café to replace a former BMV branch and parking lot at 531 Virginia Ave.—about a block north of Battista's buildings.

The $5.8 million project, led by Indianapolis-based Milhaus Development, would be called The Mozzo after the Italian word for hub.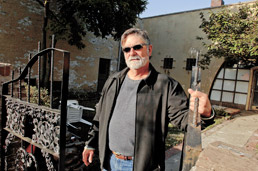 Investor Tom Battista took a chance on a neighborhood that hasn't seen much investment in years, snapping up three buildings at the southeast corner of Virginia Avenue and Stevens Street. He already has tenants lined up for most of the space. (IBJ Photo/ Perry Reichanadter)
Another project already is under construction after a June groundbreaking featuring break dancers: The Hinge, an apartment and retail development led by local architect Craig Von Deylen.

The $7.5 million project will bring 56 market-rate apartments over a parking garage with 57 spaces, along with 12,000 square feet of commercial space along Virginia Avenue. Some of the space could accommodate small offices for startup businesses.
Battista, 61, an urban pioneer of sorts who bought a few buildings on Massachusetts Avenue before it was Mass Ave, picked up the buildings at 653, 655 and 659 Virginia Ave. late last year for about $250,000 from the estate of a local dentist.
He's been working on them ever since, tuck-pointing walls, replacing windows, removing drop ceilings, restoring façades. He also plans a green roof for one of the buildings.

"This doll baby can't stand to stand still," said Sandi Bristow, who has operated her barbershop in one of Battista's buildings for about 10 years.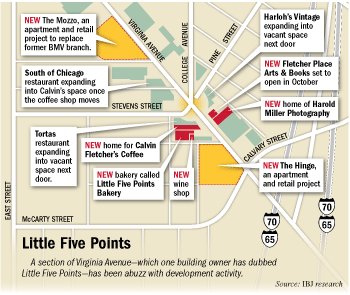 Battista is renovating the adjoining structures to accommodate: Five Points Bake Shop, which will make hearth-style loaves for local restaurants and also include a retail operation, an Italian grocery and wine shop owned by Italian Heritage Society of Indiana board member Kevin Pastore, and a larger location for the popular neighborhood fixture Calvin Fletcher's Coffee Co.

An existing tenant—Meadlow Casket—will downsize to about 2,400 square feet from 6,000 to accommodate the bakery.

Across the street, photographer Harold Miller is renovating 646 Virginia Ave. as his new studio. He also bought the building next door and already has lined up a tenant: Fletcher Place Arts & Books, a new concept from the owners of Calvin Fletcher's Coffee.

"This little spot is coming up quick," said Miller, taking a break from his do-it-yourself rehab, still wea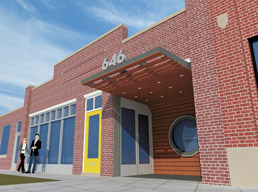 A rendering shows the updated façade for the new Harold Miller Photography studio along Virginia Avenue in Fletcher Place. (Rendering courtesy Rottmann Collier Architects)
ring a dust mask. "It just seems like the time is right."

He's spending about $300,000 total to acquire his buildings and whip them into shape. Fueling the optimism of Miller and other investors in the area: The Cultural Trail is slated to follow the south side of Virginia Avenue, connecting downtown with Fountain Square.

Other changes in the works for the Holy Rosary neighborhood: The restaurant South of Chicago plans to take over the former coffee shop space once Calvin Fletcher's moves; the Tortas restaurant also is expanding, taking the space next door to its dining room at 641 Virginia Ave.; and Harloh's Vintage across the street at 630 Virginia Ave. is growing as well. (See map on page 3A for a more complete list of happenings.)

Groundbreaking is scheduled for March for the Mozzo project, and apartments should be available for move-ins by the end of 2012, said David Leazenby, a Milhaus principal. Rents will range from about $850 to $1,400. The company has lined up equity financing and has received strong interest from banks who want to finance the rest.

The Hinge should be finished by August 2012, Von Deylen said.•