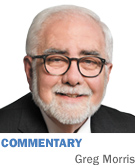 I knew something important had happened the evening of Oct. 5 when ABC News broke into regular network programming with a special report. Steve Jobs had finally lost his battle with pancreatic cancer and died at the all-too-young age of 56.

It's not often a business icon gets such treatment, but the interruption in programming struck me as totally appropriate. How many people truly change the world with their accomplishments while they are on this planet? Jobs was certainly a rare example of one of those extraordinary individuals who made each day count.

The day before Jobs' death, Apple held a two-hour press event announcing the newest version of the iPhone. Honestly, the event left me flat. I wasn't alone in being underwhelmed with the details of the new Apple phone. No iPhone 5? I've got to settle for an upgraded 4S after waiting all this time? Apple kept the details secret for months and held a two-hour press event to announce this? The world had waited 16 months for the new release, which is 16 years in tech time.

I've been a huge iPhone advocate since the beginning and have been looking forward to upgrading my old 3GS version for months. I kept waiting for the new iPhone to be released, resisting the temptation to dump the platform every time a new Android phone hit the market. But I knew if I switched platforms, I would lose all the iPhone apps I've purchased, and I thought of the time and hassle involved in taking that leap. I kept telling myself the iPhone 5 release is just around the corner. Show some self-control and wait.

I had been Googling "iPhone 5 release date" all summer. Last time I checked, there were 177 million results with that search term, and I think I scanned most of them over the course of time. Believe me, it's a chore to find the few legitimate news sources among tens of millions of personal blogs and unreliable posts. But, after a lot of research, I bought into the theory that a newly designed, borderline revolutionary phone was on the way soon.

Waiting for the big Apple announcement, the remaining question I had was whether the new iPhone would be able to take advantage of the super-fast LTE 4G network Verizon Wireless switched on here in Indy a few months ago. A local Verizon store owner that I've known for years assured me this new technology is a game changer. OK, I trust him. I definitely want that.

And I'll have to wait for it if I stick with the iPhone. As I feared, the new one doesn't work with the new 4G network. Sure, the new iPhone 4S has some nice tweaks. It is definitely a big improvement over my older 3GS version, and the most recent iPhone 4. It has a much faster processor, the camera is better, the software is better, the new personal-assistant app, Siri, looks cool, and it works on the AT&T, Verizon and Sprint networks.

But, I'm not bowled over by all this. I was expecting more. That is what Steve Jobs trained me to anticipate from Apple.

Many of those awesome new Droids are 4G-compatible. I'm still on the fence about what to do—and I don't think I'm alone. I thought this decision was going to be a no-brainer.

The Wall Street Journal recently reported, citing comScore, that the iPhone lost 7 percent of market share in the 13-to-44 age group from 2009 to 2011, but gained the same percentage of users 45 and older. WSJ further points out the variety of Android devices, the cheaper prices and constant device upgrades partially explain why younger consumers are increasingly buying Android phones. Has the iPhone lost its edge?

As far as I'm concerned, Apple blew it with this release. But, even with that, I'm so addicted to the iPhone platform that I am still considering moving to the 4S model and waiting again for the iPhone I really want.

Apple is still an amazing company. Steve Jobs' legacy will endure, as he has made the world a more interesting place for all of us to live in. Rest in peace.•

__________

Morris is publisher of IBJ. His column appears every other week. To comment on this column, send e-mail to gmorris@ibj.com.