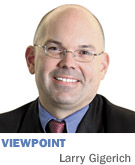 Due to the strong crop of new governors elected in the Midwest last November, economic development competition has intensified.
After Indiana Gov. Mitch Daniels was elected in 2004, he quickly established himself as a trailblazer in economic development. This is one reason Indiana has secured more economic development victories and endured the three-year economic meltdown better than most states.
To no surprise, the economy and job creation were leading campaign issues in the 2010 gubernatorial elections. As a result, several new governors were elected across the country. They all talked about the need to change their states' respective approaches to economic development and improve their business climates.
Ohio: Gov. John Kasich restructured his state's economic development organization in a model similar to the Indiana Economic Development Corp. In addition, Ohio passed a balanced budget and significantly cut spending, which resulted in the state's being only one of nine to receive a credit rating upgrade from Standard & Poor's this year. The upgrade enabled Ohio to borrow money at lower interest rates.
Finally, the state is aggressively marketing the phaseout of its business personal property tax.
Michigan: Gov. Rick Snyder, a former CEO, has taken the same approach to restructuring the Michigan Economic Development Corp. by adopting certain aspects of the IEDC structure in Indiana.
Adding to that, Michigan has begun to focus its economic development resources on a regional basis to leverage regional assets to create jobs. Finally, Michigan recently changed its tax structure to make it more competitive for economic development project opportunities.
Tennessee: Gov. Bill Haslem, a former CEO and mayor, came into office with a focus on how to reduce the state's budget deficit and continue its momentum in economic development. Tennessee is examining all its economic development incentive tools and regulations to determine which are most effective. In addition, the state has launched a strategic effort to position rural areas for more development.
Wisconsin: Gov. Scott Walker certainly drew a lot of attention during the collective bargaining debate earlier this year, but other changes improved Wisconsin's positioning for economic development. Following a common theme, Wisconsin restructured its state economic development organization by copying many aspects of IEDC. In addition, the state made its job-creation tax credit incentive program more valuable and flexible.
Iowa: Gov. Terry Branstad returned to the governor's office in Iowa after a successful stint as leader of that state in the 1980s and 1990s. One of his first steps was to restructure the Iowa Department of Economic Development. Iowa is creating the Iowa Partnership for Economic Progress, which is implementing many components of the IEDC. In addition, Branstad has laid groundwork for significant property tax reform to spur opportunities.
In other words, several states Indiana has routinely beaten out for large projects in recent years have taken major steps to be better positioned for economic development wins.
What this means for Indiana is that the state must continue to look for ways to innovate in economic development. It is important for the state to constantly examine ways to improve its business climate, and to ensure its incentive programs are competitive and the structure of IEDC is the most efficient in the nation.
By doing so, Indiana can remain the leader in the Midwest and a player on the national level.•
__________
Gigerich is managing director of Ginovus, an Indianapolis-based provider of national site selection, public-policy development, community comparative analysis and economic development incentive procurement and management.
Please enable JavaScript to view this content.