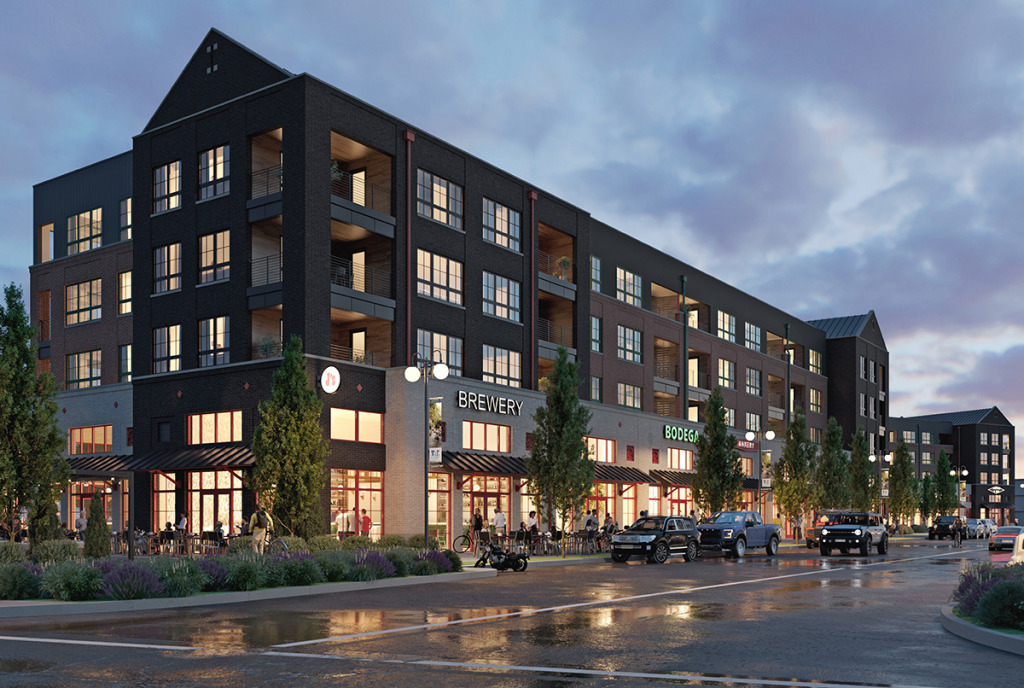 A trio of development firms are collaborating on an expansive $300 million project in Plainfield that will include apartments, single-family homes, a mammoth logistics facility and an abundance of office and retail space.
The multifaceted development, named Hobbs Station, is expected to be constructed in multiple phases on 125 acres at U.S. 40 and North Perry Road, on the town's east side. The developers revealed their plans on Monday.
Indianapolis-based companies New City Development and Formation Properties are teaming up with national housing developer Pulte Homes on the project, which has been approved by the Plainfield Town Council.
The town of Plainfield has agreed to support the project with an incentive package that includes up to $17 million in tax-increment financing, which would use taxes generated by the development to repay bonds. The deal also includes a 10-year tax abatement on the project's mixed-use and industrial components and about $6.7 million toward infrastructure associated with the development.
The first phase will feature a large multi-use building with 300 apartments and 30,000 square feet of commercial and amenity space on the ground floor. The phase also will include 99 single-family homes and 500,000 square feet of logistics space in an industrial facility to be named Terminus at Hobbs Station.
Amenities in the first phase will include curated remote work spaces, a pool, a fitness center, pet washing facilities, electric vehicle charging stations, a yoga studio and a bocce pitch.
The groundbreaking for the project is set for this summer, with the first phase set to debut by mid-2024.
Over five to ten years, the project is expected to grow to include a total of 240 single-family homes, 650 market-rate apartments, 70,000 square feet of retail and restaurant space, 120 units of senior housing, 200,000 square feet of build-to-suit office space and 540,000 square feet of logistics space.
The project will be built with a district-style design, allowing for extensive connectivity between its various components. It will also be connected to a new community park and the Vandalia Trail, a multimodal pathway named after Plainfield's former train station.
The development also promises new sidewalks, landscaping stormwater facilities and roadways within the development, with a mix of on-street, surface and structured parking.
"This is something we've been working on for … two years, under the radar, to get to this point," said Isaac Bamgbose, founder and president of New City Development. "We've seen a lot happen on the north side lately, so it's really about time we bring product and create a different, unique type of project that the west side deserves."
New City is the majority partner in the project and is overseeing development of the apartment, retail and office components. Pulte will oversee the single-family housing aspect, and Formation is the majority partner and lead on the industrial space, which will largely be earmarked for logistics uses.
The district is named after the Hobbs family, which was once the owner of the state's oldest and largest plant nursery, Hobbs Nursery. It also pays homage to the former railroad station.
"We believe that with the right plan and partners we can build a global community here, all while remaining true to Plainfield's values," said Andrew Klinger, town manager for Plainfield, in a media release. "Hobbs Station was designed to bring together a multigenerational community and to give residents from all walks of life the flexibility to grow or downsize within the neighborhood."
Currin Architecture is the design firm on the industrial projects, while Studio M is heading the mixed-use components. Shiel Sexton is the general contractor for the project's construction.
Please enable JavaScript to view this content.