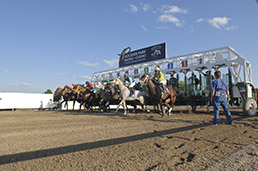 Thoroughbred breeder Ed Martin Jr. is fighting his ban from Hoosier Park, above, and Indiana Downs. (IBJ File Photo)
Ed Martin Jr., the former car dealer who helped create Indiana's horse-racing industry, these days isn't even welcome at the state's tracks.
The Indiana Horse Racing Commission banned Martin after he refused to obtain a license, but he filed a lawsuit in Marion Superior Court last month seeking to overturn the decision.
Martin, 57, alleges the ban is retaliation for his criticism of the commission, and especially of its executive director, Joe Gorajec.
"They're just trying to set him up to knock him down," said Martin's attorney, Michael Red with Fleming Stage LLC in Indianapolis.
Commission attorney Robin Babbitt called that "an outrageous charge that is entirely without merit."
Before being banned in November, Martin had criticized Gorajec's handling of various industry issues, and Gorajec launched an investigation into alleged neglect at Martin's thoroughbred farm in Florida.
Owners, trainers and others working at tracks have to be licensed, but breeders don't.
Martin has been licensed as an owner in the past, but he didn't race any horses in Indiana last year. He split time between Florida and Indiana, focusing on breeding and serving as executive director of the Indiana Thoroughbred Owners and Breeders Association.
The commission said Martin, as well as ITOBA's secretary, should have obtained licenses because they worked for the trade group, which received financial support from the commission and conducted its business at the track.
Martin disagreed, saying his activities had nothing to do with betting or the races themselves.
The ban was on hold until July 19, when an administrative law judge upheld the commission's decision. Martin filed his appeal in Marion Superior Court on Sept. 29.
Martin can't sit in the stands at Anderson's Hoosier Park or Shelbyville's Indiana Downs until July 19, 2012. He could also have trouble obtaining a license in another state.
"That could be considered in another jurisdiction as a negative," said the president of the Association of Racing Commissioners International, Ed Martin. (He is no relation to the Indiana Martin.)
Red noted that most license violations have to do with pari-mutuel activities—in other words, the races themselves, or wagering on races. By contrast, Martin is accused of conducting ITOBA business—running a horse sale, holding board meetings and the like—without a license.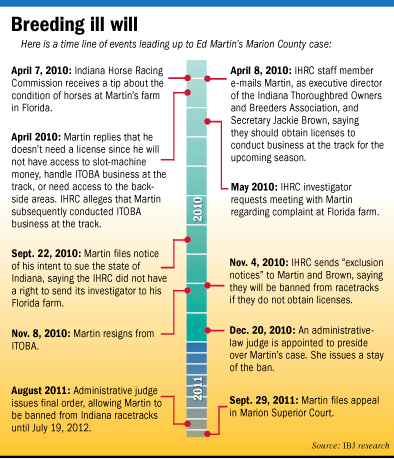 Red argues that the commission took the definition of "participating in racing" beyond common sense. "They're saying all this stuff is a pari-mutuel service."
One racing observer said it is unusual for someone who wasn't licensed in the first place to be barred over a technical violation.
"It's usually criminals and drunks that racing commissions can keep off racetracks," said Michael Meuser, a partner at Miller Griffin & Marks in Lexington, Ky.
History in racing
Martin—known locally for his chain of car dealerships, which he sold to his sisters in 2006—has a long history in Indiana racing. He was a member of the racing commission from 1996 to 2001, and he co-founded the thoroughbred trade group ITOBA.
He also led the coalition in the mid-2000s that pushed the Legislature to further subsidize and grow horse racing.
The result of the lobbying effort was a 2007 law that directed 15 percent of revenue from the casinos at Hoosier Park and Indiana Downs toward horsemen for marketing and race purses. The extra revenue also created bonuses for winning horses bred on Indiana soil.
Martin wasn't satisfied with the way Gorajec ran what's called the "breed development" program. At one point, he sent Gorajec a note congratulating him for "single-handedly killing" the program's "mission of economic impact to Indiana and producing quality horses," according to Martin's own letter to Gorajec in March 2010.
The letter, which Martin wrote on behalf of ITOBA's directors, accused Gorajec of trying to eliminate input from breeders and "establish the track general managers and you, as the Czars of breed development."
Gorajec is a powerful figure among regulators. Ray Paulick, owner of Paulickreport.com and former editor of Bloodhorse magazine, said the Indiana racing commission seems to give Gorajec more latitude than commissions give executive directors in other states.
Gorajec is a stickler for the rules, but he's not out to get anybody, Paulick said.
"He's the kind of person that's needed in a lot more states where they are trying to clean up the game," he said.
Trouble in Florida
While Martin was lobbying in Indiana in 2010, his 150-horse farm in Florida was in trouble.
Thoroughbred values plummeted industry-wide, triggering defaults on loans collateralized by the horses, Meuser said. Around the same time, PNC Financial Services Group bought National City Corp., which had been a major equine lender, and decided to get out of the business.
The result was that many breeders couldn't tap their lines of credit, Meuser said.
"A horse never stops eating. A horse never stops needing veterinary care," he said.
Martin said his business was affected by the National City-PNC merger, but declined to give details. He ultimately sold the farm, Martin Stables South in Reddick, Fla., and said he's out of the breeding business, at least until the economy improves.
Martin said that, in late 2009, when he was living in Indiana full time, he had discovered some of his horses weren't getting the care they needed. He said he worked with the Horse Protection Association of Florida to remedy the situation.
It took months to wind down the farm, however, and in March 2010 it was drawing scrutiny from local horse people, Florida animal-welfare authorities and one veterinarian who forwarded a two-page letter about her concerns to a director of the Indiana Horsemen's Benevolent and Protective Association.
The veterinarian, Liane Puccia, had helped deliver a foal. She reported that mares were undernourished and hadn't been wormed. She said she'd watched a video, taken by a farm hand, of a local horse-removal contractor shooting a horse.
Puccia's letter was forwarded to Gorajec. The Indiana racing commission opened an investigation of the farm and sent its director of security to Florida to inspect.
By August 2010, most of the 150 horses were sold. Martin said about a dozen were put down because of age or previous injury.
The president of the Horse Protection Association of Florida, Kim Heath, wrote a letter in September 2010 exonerating Martin.
She wrote that the organization "wishes all our cases had such cooperative assistance from the owners, and employees, and such an outstanding facility in which to care for the horses."
Conspiracy theory
Red, Martin's attorney, believes the commission's insistence on Martin's obtaining a license stemmed from its frustration over lacking jurisdiction over the Florida farm.
Martin in September 2010 filed a $5 million tort claim with the state of Indiana, charging the commission had overstepped its bounds in sending an investigator to the Florida property. The Attorney General's Office rejected the claim, which is similar to an insurance liability claim, but Martin still has the option to sue the state over that issue, Red said.
Babbitt believes the investigation was justified. In a letter to Martin's previous counsel, he said one of the neglected horses may have received a breeder's award paid by Indiana. He also said the commission has the authority to investigate alleged violations, regardless of whether the suspect is licensed.
Martin, of the Association of Racing Commissioners, said commissions routinely cross state lines in their investigations.
Red thinks the timing of events is suspicious.
He noted that on April 6, 2010, Martin, Gorajec and others met with Sen. Luke Kenley to discuss horsemen's concerns about the commission's oversight of casino revenue. The next day, the Florida veterinarian's letter about Martin's farm was forwarded to Gorajec.
Then, on April 8, a commission staff member e-mailed Martin and ITOBA Secretary Jackie Brown, telling them to get licenses for the upcoming season.
Brown obtained the license, but Martin refused, in part because he knew the commission was investigating his farm, Red said. If Martin had applied for a license, it could have been denied because of the neglect allegations.
The conspiratorial tone of Martin's story isn't unique in the racing world.
Meuser is defending Kentucky's chief state steward, who oversees trainers, against a charge that he failed to call a vet to inspect Life At Ten before a Breeder's Cup race. The horse ran so poorly that she failed to finish.
Meuser thinks his client was targeted because he's in a dispute with the executive director in Kentucky over penalties imposed on trainers with drug violations.
"There's a lot of political infighting that goes on in the thoroughbred industry," Meuser said.
"For a racing commission to bring a charge against some unpopular director of [the owners and breeders association] would not surprise me at all."•
Please enable JavaScript to view this content.