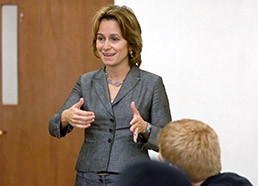 Melina Kennedy met with Butler University students to talk about what she would focus on as mayor. (IBJ Photo/ Perry Reichanadter)
Supporters and detractors of Melina Kennedy can agree on this description of her: a persistently hard worker.
It's a trait that served Kennedy well as a competitive runner, a passion that taught her, during her track days at Indiana University, there are no shortcuts to hard work.
It helped her pay for law school when she had doubts about taking on student loans and instead pursued a fellowship to cover the cost—a choice that meant taking the more strenuous route of earning a joint law and masters in environmental science degree.
And friends and supporters say her penchant for hard work was frequently on display when she served as an aide to then-Mayor Bart Peterson, especially during her ultimately successful quest to land a new tenant for the massive United Airlines maintenance hub.
Whether it would make the 42-year-old Democrat an effective leader of the nation's 12th-largest city is an open question.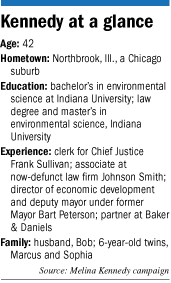 Republicans say the better choice on Nov. 8 is their candidate, former Marine Greg Ballard, who is seeking his second term. But Kennedy's supporters and friends say her hallmark doggedness complements a thoughtful grasp of the issues and a sense of genuine compassion that make her the superior leader.
"Anybody who knows Melina knows the kind of effort she's going to give you in whatever role," said Tom Barnard, a partner at local law firm Taft Stettinius & Hollister LLP who worked closely with Kennedy in her first law firm job at now-defunct Johnson Smith. "She was tireless—and that's what people continue to say about her."
Critics, however, point to what they call a less-than-impressive record on economic development during her time in Peterson's administration as one reason to doubt how well she would lead the city.
"The thing that comes up in any campaign is fiscal stewardship," said Paul Okeson, Ballard's former chief of staff, who now serves as vice president of business development at Keystone Construction Corp. "The incentives [she negotiated], if you take them as a percent of the total deal, are pretty high. What's the value of the job if you have to give away half the deal in public incentives?"
Others question how well Kennedy, whom several people described as a natural introvert, connects with residents. Some who have known her for years say she's hard to get to know.
But friends contend that impression is a misinterpretation of her seriousness and focus.
Those close to her describe her as warm. Longtime friend Jackie Simmons, for instance, recalls telling Kennedy about her brother's sudden death from pneumonia and seeing tears well in Kennedy's eyes.
Kennedy has been able to shed some of her introvert leanings, they say, in the same way she's done most other things: She's worked hard, getting out in the community and meeting people.
"I would have never guessed 16 years ago that she would end up displaying as many extrovert qualities as she now does," said Scott Chinn, a Kennedy adviser who worked with her in the Peterson administration and at local law firm Baker & Daniels, where she worked until taking leave late last year for the mayor's race.
'High expectations'
Kennedy got into politics in a roundabout way. Neither her father, a Greek immigrant and restaurant-owner, nor her mother, a homemaker, were politically inclined when she was growing up in the upper-middle-class Chicago suburb of Northbrook, Ill.
Nor did she talk about political aspirations during her time at Indiana University, said her husband, Bob Kennedy, a retired Olympic runner whom she met on the college track team.
After law school, she clerked for Frank Sullivan, chief justice of the Indiana Supreme Court. Though it wasn't a political role, former clerks say Sullivan was extremely conscious of the political consequences of his decisions.
After her clerkship, Kennedy was working for Johnson Smith when a friend introduced her to Peterson, who was running for mayor and was looking for young lawyers to do policy research for his campaign.
She got on board and, after Peterson's mayoral win in 1999, became assistant deputy mayor, focusing on problems such as domestic violence and substance abuse.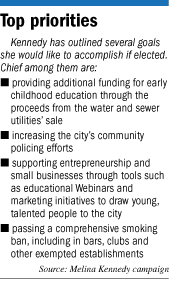 Eventually, Kennedy began working on economic development issues, and in 2001 took over as Peterson's director of economic development. In 2004, she served as deputy mayor for economic development, a position that also included overseeing the public works and metropolitan development departments, and left the city in 2005.
Former colleagues such as Chinn recall her getting focused on a task and charging ahead full steam.
"She's about the best project manager there is," Chinn said, recalling her efforts that helped attract Illinois-based AAR Corp. to move into the former United Airlines hub in 2004. "She's very focused—she pushes herself and her team."
Those who worked with her at the city said she was a stickler about details but tended to focus more on the big picture than micromanaging. She was adept at allocating tasks and holding people accountable for getting them done.
Margaret Banning, who served a leadership post within metropolitan development during Kennedy's tenure, said she knew she had to be meticulously prepared for weekly meetings with Kennedy, who recalled details from the previous week's meetings with precision.
"She's a tough person to work for," Banning said. "She has high expectations, and she expects everybody to rise to them."
But Kennedy also leads in a collaborative way, those who have worked with her say. In describing her own leadership style, Kennedy said she likes to get input from lots of people and tries to come up with a solution based on the feedback.
"I like to listen to those who know in the field and develop a bigger vision," Kennedy said. "With that in place, I begin to develop, 'Here's how this will work.'"
Colleagues say they've observed her use that strategy effectively.
For example, Kennedy served on a board for a not-for-profit group, Impact 100, which gave out $100,000 grants to organizations from member donations. For several meetings, debate had dragged on over such issues as how to allocate money left over after grants were awarded, and how long members' terms should be, said Simmons, who served on the board with her.
Kennedy led the discussion during one meeting, allowing all members to give input and pushing back when she thought people were saying things out of self-interest. The board made its decisions that night.
"She found a way for everybody to have their say and found that middle ground everybody could live with," said Simmons, who also taught Kennedy in law school and was part of the environmental practice group Kennedy led at Baker & Daniels.
Kennedy has used the same approach in her campaign, she and supporters say. In formulating an education plan, for instance, she met with dozens of education leaders to ask about the challenges they face.
But some who served in community leadership positions during Kennedy's time in the Mayor's Office say their interactions with her were sparse.
"We didn't see her out and about," said Pat Andrews, vice president of the Marion County Alliance of Neighborhood Associations. "She wasn't the one going around to our sort of people."
Kennedy, however, highlights her involvement with the Greater Indianapolis Neighborhood Initiative, a city-revitalization effort. Former colleagues say she frequently attended neighborhood meetings to advance that effort.
Phil Borst, who served in Republican leadership on the City-County Council during Peterson's tenure, said he never remembers Kennedy meeting with him to talk about economic development initiatives. He said she wasn't engaged with council Republicans.
"I kind of shake my head when I think of her as the economic development head," Borst said. "I had leadership positions and I don't remember working with her."
Economic development
Kennedy, in fact, played a key role in several big economic development deals during her tenure.
Dave Goodrich, who formerly led the Central Indiana Corporate Partnership, said she helped lay the groundwork for the life-sciences initiative now known as BioCrossroads.
Kennedy also was instrumental in deals to develop the high-end Conrad Indianapolis hotel and build a new Simon Property Group Inc. headquarters downtown. The projects added or retained downtown jobs, while also enhancing downtown's prestige and skyline.
But both have been criticized as requiring too much direct city investment.
The city put up $25 million—plus about $8 million in tax breaks—for the $100 million Conrad, a subsidy that earned the city an 8-pecent equity stake. Kennedy often touts that stake as savvy negotiating.
But critics say the revenue generated from the equity stake—$214,000 so far—is paltry compared with the hefty annual bond payments the city is required to make. Those payments, which come from parking garage revenue, average $2.5 million a year.
The city also kicked in $23 million toward Simon Property Group's $57 million headquarters, which helped maintain 840 jobs downtown.
Some Kennedy foes say the Peterson administration paid too high a price for economic development.
"Comparatively, the [Ballard] administration has shown you can do more with less—meaning if you take time to negotiate hard and do your best to scale down the amount of incentives, there are dollars to be saved on behalf of the city," said Nate Feltman, who served as Gov. Mitch Daniels' commerce secretary in 2006 and 2007 and is a Ballard supporter.
"There could have been more focus on that front during the previous administration."
Ballard also has offered incentives to companies for locating or keeping jobs in Indianapolis, and in 2010 he struck a deal for the city to chip in $33.5 million to operate and upgrade Conseco Fieldhouse. That eased costs for the Indiana Pacers, which are owned by billionaire Herb Simon.
But Okeson, the former Ballard aide, and others point to statistics tabulated by Develop Indy, the city's economic-development arm, that show the ratio of private-to-public dollars invested in projects receiving tax abatement increased during Ballard's tenure. The ratio averaged $11.44 from 2001 to 2005, compared with about $17 from 2008 to 2010, the most recent period for which statistics are available.
But Kennedy said those figures are misleading because they do not take into account the Ballard administration's incentives for the $155 million City Way mixed-use development on the south edge of downtown. That project was approved in 2011 and would not be counted because it did not receive tax abatement.
City Way includes $9 million in direct city investment, but the city also is acting as the developer's bank in the deal by putting up $86 million to be repaid through project revenue. Kennedy said that should be counted as city investment, since the risk in the deal lies on the city's shoulders.
"The city—under Mayor Ballard—has given away the farm, with a lot of risk left behind," Kennedy said.
Kennedy also touts her work in securing AAR as the primary tenant for the repair hub United Airlines vacated after filing for bankruptcy in 2003.
That facility is now mostly occupied, and employment as of the end of 2010 was 1,400. But it took six years to get that way, including long periods when swaths of the building sat vacant.
The lease AAR negotiated gave it control of 10 of the 12 hangar bays, even if not all of those bays were in use. To bring in a new tenant, the airport would have to amend the lease with AAR's blessing.
That lease structure has tied the hands of airport and city officials in negotiations at least twice in recent years, once with Switzerland-based Comlux Aviation and once with Indianapolis-based Republic Airways Holdings, airport officials said.
However, given the vast amount of hangar space sitting vacant around the country in 2003 and the competition to fill it, airport leaders say it was the best deal that could have been reached at the time.
Higher ambitions?
Some Kennedy observers—including at least one friend—speculate her mayoral aspirations are only the first step in a longer list of political ambitions. Kennedy unsuccessfully challenged Republican Carl Brizzi for the prosecutor's seat in 2006.
But her campaign staffers say she only wants to be mayor and, for now, she's focused intently on that goal.
She's putting in 12 to 15 hour days at campaign-related events after some mornings hitting the gym for a run at 5:30 and eating breakfast every morning with her 6-year-old twins, Marcus and Sophia.
It's hard work, Kennedy acknowledges. But for her, that's nothing new.•
Please enable JavaScript to view this content.