A long-contemplated fuel station by Indianapolis International Airport's new terminal is out for bid, and could include other commercial perks that would appeal to non-airport users, as well.
The Indianapolis Airport Authority issued a request for proposals in September, asking developers to submit plans for an 11-acre site just north of Interstate 70 along the airport's main access road. The RFP required a gas station and car wash for the so-called "airport service plaza." The Authority also indicated it would entertain additional uses such as a health care clinic, restaurant, fitness center, commercial office space and a "small animal kennel facility" on the site.
A sample site plan for the complex in the RFP shows the potential for at least 67,000 square feet of restaurant, office and retail space.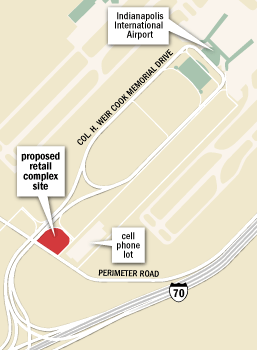 "There are a lot creative ideas that we'd be open to if they came up from a developer," said authority spokesman Carlo Bertolini. Proposals are due Oct. 25.
The fuel station would be required to dispense gasoline and alternative fuels, such as biodiesel, compressed natural gas, ethanol and electricity. The complex would be a minute or two away from I-70.
"That would help the people returning rental cars and also employees and people in the area," said Bertolini.
Airport users have complained the airport has no place to fill up. There are gas stations along Washington Street, north of the terminal complex, but getting there could be a challenge for those unfamiliar with the area.
A BP station and a Burger King once operated just outside the former passenger terminal, northeast of the current terminal. That area is likely to be redeveloped for air cargo and logistics operations.
According to the RFP, the airport service plaza would have to be open for business no later than 9 ½ months after a land lease is struck with a developer.
The authority is perpetually on the hunt for new revenue-generating opportunities.
Last month the IAA said it will lease 19,165 square feet at the former ATA Airlines campus to Ivy Tech Community College, which plans classrooms for a logistics and business education program.
Airport officials in recent years have even pondered the possibility of fee-based hunting, fishing and off-roading offerings on the vast land holdings at Indianapolis International and its reliever airports in the metro area.
A consultant's study completed early this year showed that land development at Indianapolis International and its relievers by 2040 have the potential to generate up to $63 million a year annually.

Please enable JavaScript to view this content.