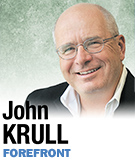 The most significant thing about the 2011 Indianapolis mayor's race may turn out to be the thing that finally wasn't an issue.

In a few days, Democrat Melina Kennedy stands at least an even chance of becoming the first woman to be elected mayor of the Circle City. But that doesn't seem to be an issue in this hotly contested race.

Not all that long ago, it would have been.

In 1986, Democrat Jill Long Thompson became the first woman in Indiana history to gain a major party's nomination for a U.S. Senate seat. She ran against Republican Dan Quayle, who was on his way to becoming vice president of the United States.

Those were days when gender issues and expectations dominated national attention. Two years earlier, Geraldine Ferraro had run for vice president on the Democratic ticket. During the 1984 campaign, her Republican counterpart, Vice President George Bush, caused a flap by boasting that—I'll paraphrase—he had kicked Ferraro's rear end during a debate.

Bush got skewered for the comment. One side blasted him for being a male chauvinist pig. The other side lambasted him for being a wimp because he crowed about beating a girl.

If nothing else, the episode revealed just how volatile the politics of gender could be.

Some of the tension could be seen in more subtle ways.

I covered the race between Quayle and Thompson in 1986 and spent time with both campaigns.

At events where Quayle spoke, he delivered his remarks, took questions and lingered a moment to shake some hands. Then his staff hustled him off to the next event.

The dynamic was different with Thompson. At her events, she also would speak, take questions and shake hands, but she often stayed to help the women who organized the event clean up. Sometimes, when she'd arrived early, she also helped them set up.

Some of the difference can be attributed to the fact that Quayle was a sitting U.S. senator on his way to being one heartbeat away from the Oval Office and Thompson was the upstart challenger.

But not all of it.

Because she was a woman, Thompson knew she was being judged by a different standard. She told me during that race that she realized being the first woman in Indiana history to run for the Senate was a huge honor, but that it was much more complicated than anyone realized. She said that she knew she was being judged not just as the Democratic candidate for the Senate, but also as a representative of where women were, where they had been, and where they hoped to be in American life.

Flash-forward 25 years. We now have had two women serve as lieutenant governor and seen women capture other statewide offices. In 2008, Thompson also became the first woman in Indiana history to capture a major party's gubernatorial nomination, when she lost to Republican Mitch Daniels.

This doesn't mean gender has disappeared as a political issue. It still lingers below the surface.

We need only look at the unfair criticisms directed Cheri Daniels' way when Mitch Daniels was considering running for president. She got sniped at for moving away from her children when she and the governor were divorced. (They later remarried.) No man would have been judged anywhere near that harshly in similar circumstances.

Still, we've made progress.

A few weeks ago, Kennedy appeared on "No Limits," the radio program I host for WFYI-FM 90.1. I asked if she thought about what it would mean to be the first female mayor in Indianapolis' history.

Kennedy shrugged her shoulders and said she didn't think about it that much. She said, though, that her daughter had told her it would be cool for the city to have a "girl mayor."

Then Kennedy moved on to talking about her education plan.

Perhaps that's the way it should be.•

__________

Krull directs Franklin College's Pulliam School of Journalism and hosts the weekly news program "No Limits" on WFYI-FM 90.1. Send comments on this column to ibjedit@ibj.com.