Honda is undeterred by poor sales and scathing reviews as it ramps up production of the Civic in Greensburg.
Civic sales declined in nearly every month since April, when Honda rolled out the redesigned 2012 model. Lack of inventory may have been a factor, but along the way Consumer Reports magazine delivered its first-ever thumbs-down to the former king of compacts.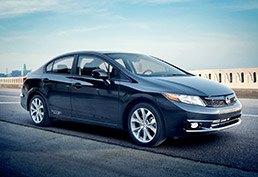 Honda has added a second shift at its Greensburg factory, which assembles the Civic. The 2012 Civic received a negative review from Consumer Reports magazine. (AP photo)
Honda sold 13,724 Civics in September, leaving it in fifth place, behind the Chevy Cruze, Toyota Corolla, Volkswagen Jetta and Hyundai Elantra, Motor Trend magazine noted earlier this month.
Yet the head count in Greensburg will double to 2,000 when a second shift begins Oct. 24. Production will rise to 800 cars a day.
Greensburg is one of two plants in North America—the other is in Ontario—that assembles the Civic. Spokeswoman Anita Sipes said the second shift is not a result of moving production from elsewhere in the company.
"Honda just has confidence in the product," Sipes said. "Civic has always been a great seller. We have confidence those sales would increase."
Honda probably derives its confidence from the strength of the overall small-car market, said Brett Smith, a senior analyst at the Center for Automotive Research in Ann Arbor, Mich.
"Even with the competition, it's still a very high-volume market," he said. "There's reasonable expectation that the market remains strong, unless gas prices do something crazy, like fall to the floor." (Honda lists the Civic at 36 miles per gallon on highways.)
Honda planned to run a second shift when it opened the factory in southeastern Indiana in 2008, but the economy put that on hold. Total Civic sales fell 23.5 percent, from 339,289 in 2008 to 259,722 the following year.
Civic sales stabilized in 2010, but now they struggle to keep the pace. Through September of this year, Civic sales were 167,384, down 15.5 percent from the 198,272 sold by the same point last year.
The earthquake and tsunami in Japan disrupted the supply of parts for assembly. Then storms on the East Coast slowed distribution of cars to dealers. Honda probably has several months of pent-up demand for the Civic, Smith said.
Consumer Reports recognized the weight its Aug. 1 review could carry. The LX version of the 2012 Civic scored too low to earn a recommendation.
"Let that sink in for a minute," the independent-review house wrote. "It's quite a fall."
The magazine said the new Civic's interior felt "cheap," with not many features for the $19,000-plus price tag. On the test track, the ride was rough and noisy.
Honda disagreed with that assessment, and it has touted the quality of its factories. Greensburg received a "platinum" rating from J.D. Power and Associates.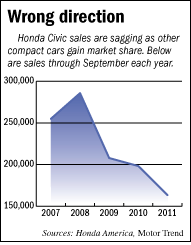 Honda also is ramping up production at other plants, including the one in Alabama that makes its Odyssey minivan (still recommended by Consumer Reports) and one in Marysville, Ohio.
The Greensburg plant is developing simpler production techniques that Honda will put in use elsewhere in the company. The factory is a "culmination of everything we've learned over the past 30 years," said Ron Lietzke, a spokesman for Honda's U.S. production unit.
Improvements result from changing the production line's layout and modifying assembly techniques, not from advanced equipment, said George Grahovac, manager of Greensburg's parts material department.
New methods include teams of only five workers at an assembly station, compared with 10- to 15-person teams at other Honda plants. In addition, managers work from desks along the open, paperclip-shaped line, which allows for immediate reaction when something goes wrong, Grahovac said.
But Jim Hall, who runs the automotive consulting firm 2953 Analytics Inc. in Birmingham, Mich., said: "Customers don't care about how the cars are made. They care how they drive and how they look. If you are doing an exceptional job building a mediocre product, that impresses the industry but not the buyer."
Consumer Reports isn't the Civic's only critic. The car's exterior is "miserably absent of character," said Eric Noble, president of The Car Lab, an auto-industry consulting firm in Orange, Calif. "With the previous version, the styling was polarizing, but it did very well in terms of sales. I just don't see that happening this time."
Honda's manufacturing capabilities are "exceptional," said Jeff Liker, a professor of engineering at the University of Michigan in Ann Arbor who studies factory efficiency. "But it does seem that recently there have been surprisingly many slip-ups in product development."
Smith doesn't think the reviews will hurt Civic sales this year. The car still has a stellar reputation with consumers, he said.
"Perception lags reality for quite a long time," he said. "For a long time, people didn't think Chevrolet made good cars."•
Please enable JavaScript to view this content.