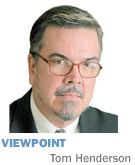 Indianapolis is crawling with interstate highways, and many can't understand why there's opposition to the Interstate 69 extensions in southern Indiana. Those seemingly pesky "No I-69" crowds have been able to slow, then stop, I-69 at various stages for nearly a decade.
The Bloomington/Monroe County Metropolitan Planning Organization Policy Committee that consists of county councilors and Bloomington's mayor, Mark Kruzan, can stop I-69 again. The vote, recognized by the federal government, would either stop I-69 just south of Bloomington, or let it eviscerate State Road 37 and, with it, healthy parts of Monroe and Morgan County.
On the surface, it looks like obstructionist economics. Some point to conspiracy theorists who claim the highway is needed so the Crane naval weapons depot can store nuclear waste. But if you're from Evansville, where the economy is not so rosy, you're feeling a bit cut off from the rest of Indiana, too.
However, there's much more to the friction than meets the eye.
Indianapolis has I-70, I-65, I-465, I-74, I-69 and I-865 running to, or through, the city. Indy still lacks a decent north-south thoroughfare, a role U.S. 31 and State Road 431 used to serve, along with U.S. 421, which at various locations was Dr. Martin Luther King Jr. Street, Michigan Road, Northwestern Avenue and other street names. Indy was once surrounded by our first loop, State Road 100, a two-lane road that's now called 82nd and 86th streets. It also ran down what's now Shade-land Avenue.
Clearly, it wasn't big enough.
Also clearly, I-465 isn't big enough. Since the early 1970s, when it was completed, it has been renovated, widened and vaguely rerouted, and has had new bridges and repaving more or less constantly. It's an urban planning disaster, and makes me wonder if it was designed to keep Irving Materials and other highway contractors in business. Certainly, it's unlikely to ever be finished.
Around exits and on-ramps of I-465 have grown lots of strip malls, nondescript shopping centers, business parks, hotels, motels and myriad franchise restaurants. In turn, other freeways whisk people to the various suburbs.
I realize that criticizing sprawl and strip malls in the headquarters city of a mall magnate is heresy, but here's the point: Your southern neighbors look at the sheer ugliness of convenience that surrounds Indy-area freeways and say: No way.
I grew up in southern Indiana in Jasper. Our family took the trip north to see relatives in Indy hundreds of times. Southern Indiana is beautiful, and comparatively pristine, although I admit there is poverty in many of the counties. There's also manufacturing, agriculture, forestry and mining—even oil wells.
And underneath portions of it are caves, sensitive aquifers and terrain that just aren't going to be the same when I-69 is added. If you add in the thoughts of the sprawl that accompanies interstate development, how it cuts areas into bits and generally ruins the scenery for miles with important signs like the locations of the next Pilot Truck Stop, Denny's, Cracker Barrel and Speedway, you might understand why there are objections.
Bloomington's opposition has made deep enemies at the state Department of Transportation. INDOT's heel might impose on the garden hose feeding niceties like Bloomington's B-Line Trail unless there's a sympathetic regime change in the 2012 gubernatorial race.
After Evansville, I-69 goes nowhere. The I-69 link opposition, however, not only understands that and sympathizes, but points to the lack of beauty of the rest of the interstate areas in Indiana for a warning of what will happen beyond simple get-rich-quick plans.•
__________
Henderson is managing director of ExtremeLabs Inc., a Bloomington computer analysis firm.
Please enable JavaScript to view this content.