When the short-lived Bonjour Café said adieu, it looked like its building at 2402 N. Meridian St. would become just another depressing might-have-been shell to pass on the way in and out of downtown.
But the spot didn't remain fallow for long. It's been reborn, with a more American staple at its center: the doughnut. And the title treat at Virginia Kay's Doughnuts (925-5297) is fine, indeed. (A drive-in window is in the works, too).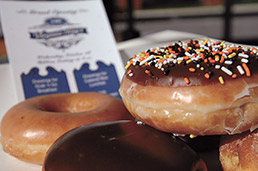 Yeast resistance: It's difficult to pass up the donuts at Virginia Kay's on N. Meridian St. (IBJ Photo/ Perry Reichanadter)
Virginia Kay's doughnuts—made at the company's own off-site bakery—aren't overly sweet like Krispy Kreme's or as pillowy as the ones at Dunkin' Doughnuts (not that I'm complaining about either of those). And they aren't as distinct as legendary Long's, held by many to be the best in the city.
But full of flavor and not too heavy, these are seriously good creations. We sampled just about everything in Virginia Kay's showcase and were particularly impressed with the apple filled (just enough filling and a strong enough outer dough shell to keep it all contained), the glazed old-fashioned cake (got to know the basics), and the maple-iced glazed, which is easy to overdo.
Yes, there are one or two with sprinkles, but so far Virginia Kay's is avoiding the overly cutesy sugar-shocker variations that lure kids to supermarket pastry cases. A dozen of any—or mix and match—will set you back $7.99. Half that runs $4.99. If you are feeding only yourself, they're 89 cents each.
But breakfast isn't the only option. Virginia Kay's also serves Panini Sandwiches ($5.49 for a whole, $3.99 for a half, and $2 extra for a fountain drink and chips). Crisp and toasty on the outside of the sourdough bread but light inside, they come in 10 variations, including Pesto Turkey Melt and Steak Ranchero. Nobody at our table had any complaints.
Well, except a minor one. Only one sandwich on the menu, the Three Cheese Grilled Cheese, is vegetarian-friendly, and there's nothing else offered to give even a carnivorous lunch returnee some variety. Some soups, chili or salads wouldn't tax the kitchen too much.
That is, if it doesn't take time away from making the doughnuts.
Mmmmm, doughnuts.•
–Lou Harry
__________
Last in a month-long series of reviews of "en route" eateries.
 
Please enable JavaScript to view this content.