Larry Howald isn't one of those guys who shuns the family business.
Just 7 when his dad launched Broad Ripple Heating & Air Conditioning in 1962, Howald spent weekends at the shop, scrubbing floors and washing, and "loving every minute of it." Before long, he was riding along on sales calls.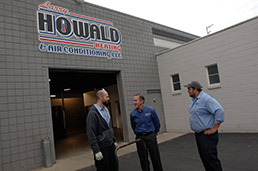 Larry Howald, center, sold Broad Ripple Heating & Air in 2000. (IBJ Photo/ Perry Reichanadter)
When his dad died during Howald's junior year at Ball State University, the marketing major quit school to run the company. One of his first tasks was convening the staff of 11 to ask for their support as he learned the ropes. They did, and the firm grew along with his confidence.
Now, more than 35 years later, Howald is starting over.
"Some of my happiest moments in life have been when I'm surrounded by furnace installers," he said, only half-joking.
Howald sold his father's 40-employee business to Lennox International in 2000 during a wave of industry consolidation. It was a difficult decision, he said, but the money was "good"—terms of the cash deal were never made public—none of his four daughters seemed particularly interested in the business, and he had just been diagnosed with Parkinson's disease, which he didn't know much about.
Then his mother, who has since passed away, weighed in with what she thought her late husband's reaction would have been.
"She said, 'He'd do it in a heartbeat," Howald recalled.
Even so, "as I was signing the papers and losing control, I realized maybe it wasn't the right thing to do," he said.
Howald nevertheless agreed to stay on as general manager for three years, with an option to extend his employment even longer. He retained ownership of the Westfield Boulevard building, which he leased to Lennox's Service Experts unit, and kept running the business as he had when he owned it.
That lasted for about a decade. After a management overhaul early this year, Howald was given the option of leaving the company or becoming a full-time salesman.
"I wasn't ready to say goodbye," he said.
So he stayed. He accepted the new duties—and lower compensation—but said he was "a little too vocal" about changes that affected other employees. He had another choice: Support the management team or stand up for the guys in the field. He didn't even have to think about it.
"They gave me 15 minutes to clear out my office," said Howald, 56.
It didn't take much longer than that for him to figure out his next course of action. After some legal maneuvering and about $500,000 in startup expenses, Howald Heating & Air Conditioning opened Sept. 1 in the same Broad Ripple location that once housed his father's business. Service Experts operates elsewhere.
His experience isn't unusual. In fact, business owners often are dissatisfied with the aftereffects of a sale—particularly when they remain involved with the new entity.
"The entrepreneur who has grown this business all of a sudden goes from working for himself to working for someone else," explained Eric Manterfield, a partner at Krieg DeVault who specializes in family law. "They're used to calling the shots."
He advises clients to negotiate a short-term consulting agreement to ease the ownership transition, then move on.
"More often than not, it doesn't work out," he said, "and you need to be able to walk away."
Tensions after sale
Indeed, Howald admits to ignoring certain companywide edicts under Lennox—something he felt was necessary to maintain the culture he and his father developed when they owned the firm.
He refused to add "Service Experts" to the company's uniform shirts, for example, and held onto his sales accounts even though none of the other general managers did. And most important, he resisted letting centralized call centers take customers' inquiries for as long as he could.
"I felt the average homeowner would rather deal with local people, a local company, than a big corporation out of state," Howald said. "It wasn't easy for them to do business with us anymore."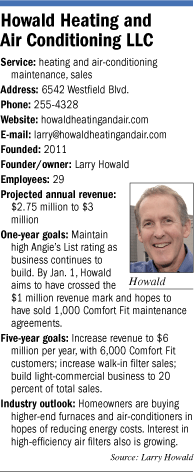 Howald said he also didn't agree with the pressure the company put on field technicians to generate sales at every service call. Sometimes, a new piece of equipment is the best way to resolve a problem, he said, but customers and employees alike know it's not the only way.
"That's all well and good if it's truly needed," he said, but "it should be service-driven, not sales-driven. Customers should feel comfortable when one of our guys walks into their home that they're not just there to sell something."
Employee loyalty
The workers appreciate the difference, too. All but one of the 29 employees in place on opening day had worked for Broad Ripple Heating & Air under Howald's ownership. Three of them—daughters Hayley (human resources and accounts receivable) and Mary (customer service) and sister Linda Cassity (HR and accounts payable)—put the family back in the business, and Howald's wife, Gina, designed the company logo.
They hope to draw former customers back into the fold, too.
"Folks from around here want to spend their money with someone in the community helping to keep the neighborhood strong," Howald said. "We will all try to appeal to the customer any way we can."
Lynn Smith, founder of Indianapolis-based general contractor DesignSmith, didn't take much convincing. He did business with Howald during the Broad Ripple days and during Lennox's ownership. And he doesn't expect anything to change now.
"Larry has been fantastic," Smith said. "He does a great job building relationships with small companies. He's right there, following up, making sure things are done right."
Smith, who manages design and construction of high-end homes, worked with a number of other HVAC contractors before finding Howald. The others also were snapped up by industry giants, but he said Howald managed to keep the family feel for some time.
The differences were subtle but important, he said, citing the switch to an automated phone system and the call center.
"That wasn't the way Larry did business," Smith said. "You could always call and know the person you were talking to. You'd know they'd get you taken care of."
Ambitious goals
Howald is pleased with the progress the new firm has made in its first couple of months, and he's planning some creative—albeit still-secret—marketing initiatives to help it make a name for itself.
By the end of this year, he'd like to have signed up 1,000 customers for Comfort Fit maintenance agreements—something he described as a fitness program for a heating and air-conditioning system. Howald expects annual revenue to approach $3 million by next September.
He saved the proceeds of the 2000 sale, and used that money to get the new business going. Returning to the owner's seat means Howald again has to think about things like making payroll and paying bills, details he was happy to leave to his corporate bosses. But he said regaining control is worth the worry.
Howald is in good health, managing his neurological disease with rigorous exercise—bike riding, racquetball and mountain climbing—and good humor.
"It doesn't hurt, it won't kill me, and it makes shaking hands effortless," he said of the tremors.
His daughters are older now and with two of them involved in the business, Howald has high hopes for its future. Not that he's planning to go anywhere anytime soon.
"Those two months at home really scared me," he said of the time he spent cooling his heels while attorneys worked on his behalf. "I don't ever want to quit, really."•
Please enable JavaScript to view this content.